Last weekend I ran up a new-to-me mountain south of San Francisco with about 120 others in the inaugural event for Inside Trail Racing, an exciting new addition to California's relatively large and diverse group of trail race directors. Piercing rain and blasts of wind at the summit of the 1900-foot Montera Mountain North Peak couldn't dampen my spirits as I took in views of the foamy, foggy waves along Pacifica's coast and ran pell-mell down loose rock and mud, through manzanita and eucalyptus forest.
The distances offered ranged from 10K to 50K, and I chose the 30K (just under 19 miles). I focused on breaking three hours and sprinted like mad down the final mountain loop while doing the math in my head to realize how close I was to the three-hour mark. I crossed in 2:59:30 to finish 1st female, 8th overall.
What seems more interesting to me than my individual experience out there was the event itself and what it reflects about the growing sport. I decided to depart from a regular race report to share some thoughts that occupied my mind as I surveyed the runners at the start and pondered the various events I run—thoughts about how trail running has evolved, who's doing it and why.
This event attracted a wide range of runners, including a marathon training group from San Francisco venturing out to do a long run on dirt, and younger participants in the 10K who looked like college or high school cross-country runners. The body types ranged from ultra fit top-notch ultrarunners (guys like Gary Gellin, Leigh Schmitt, Scott Dunlap) to larger folks who got hooked on trail running for health and wellness—guys like Chris Thomas, formerly over 400 pounds, who finished the 50K in 7:41. He's captured on this inspiring little video (thanks to Lia Kuek for posting):
The event also featured quintessentially friendly volunteers. I do trail races as much to enjoy the scene as to compete, and volunteers are key players in determining whether it's a good day out there. I liked shooting the breeze at the start with "the Tims" (co-RDs Tim Long and Tim Stahler) and UltraRunnerPodcast's co-founder Eric Schranz.
Ultimately, what I greatly enjoyed about this event was not only the trails and topography of Pacifica's San Pedro Valley Park, but also the group's intimate, not-too-competitive feel. Sure, I like the hoopla and high stakes of the North Face Endurance Challenge 50M, but I also love the less-crowded, low-key nature of a lower-profile event like this, which was very professional and well-organized but also had an "old-school" vibe of a group picnic with legs. I also appreciate that the short-to-long distances of 10K to 50K encourage more runners to consider graduating to ultra distances.
Is there a downside to these events that convert more runners from road to trail and spark more people to sign up for true ultras? Only insofar as demand outstrips supply when more and more people try to register for classic, big-name ultras, and the scene grows so big that it feels more like a crowd than a community. A lot of longtime trail/ultrarunners understandably have been worrying over the past several years that hordes of participants could send entry fees through the roof, sponsors could make the events too slick, and the sport could lose some of the magic stemming from its humble, organic roots. (In this post I'm using long-distance "trail running" and "ultrarunning" synonymously, but I know there are differences—read here for a nice definition of terms.)
Earlier this month, I went through a ritual shared by many: developing a calendar of races for the year. Since I'm a newbie to events 50M and longer, I didn't throw my name into any of the high-stakes 100-mile lotteries, but I know many who did. For ultrarunners, the exercise of picking and registering for races takes on a sense of urgency because the marquee events fill up early, and a lottery system often determines who gets in. Unlike road marathons that accommodate thousands, trail race permits limit the field to hundreds. This inevitably leads to disappointment, as in the case of one woman I know who wrote on Facebook last month, "No Western States for the 5th try and no Miwok," and then wrote the other day, "I hate lotteries. No UTMB [Ultra Trail du Mont Blanc] either." I felt sorry for her—and grateful that I got a coveted spot in the Miwok 100K.
One person who takes both credit and blame for changing the sport is "Ultramarathon Man" Dean Karnazes, as I found out last year while reporting a profile on him for Trail Runner. (Click here to download a PDF if you'd like to read it.) Dean is a self-made celebrity in a sport where many top athletes eek out a living through day jobs while training and racing in relative obscurity, and he elicits strong reactions among runners, from adoration to antipathy. To some degree those mixed reactions reflect the feeling that Dean did to ultrarunning what Oprah, Team In Training and the Rock 'N Roll marathon series did to marathoning: opened it to the mainstream. If anyone can "run" a marathon—which now is generally accepted as crossing the finish line with a lot of walking breaks and slow jogging along the way, as opposed to really running the whole 26.2—then what's to stop anyone from finishing an ultra distance?
As Dean's good friend Topher Gaylord, a very accomplished ultrarunner and president of Mountain Hardwear, told me, "Dean is one of the first people who brought ultrarunning to the masses. A lot of people would like it to remain a close-knit niche sport, so I think it's perhaps a natural reaction that some would criticize him. … By no means is running 100 miles mainstream, but I think some people who really like that small, almost home-grown feeling feel like it's being diluted, and that's the growing pains of a sport."
Scott Dunlap, who has known and run with Dean for many years, shared a great anecdote with me about him that illustrates the tensions in the sport: A couple of years ago, Scott was riding the shuttle bus to the start of the Ohlone 50K when he heard a couple of old-timers say it's hard to get into the event now because Dean Karnazes is "ruining" the sport. Scott turned around and told them, "I'm so tired of hearing that." Then he stood up and did a quick poll to ask how many on the bus were running their first ultra, and a little over half indicated they were.
"If just one of those rookies gets as much out of the sport as I have over the last ten years, then Dean's efforts are paying off beyond measure," Scott said. "He's giving people permission to add adventure to their lives, and I'm sorry if it means you have to register early, but it feels like a very positive change."
I completely agree with Scott's view, and to think otherwise seems kind of elitist. I used to be one of those beginners toeing the line at local 10Ks in the mid-1990s, and then I was a purple-shirt-wearing Team In Training groupie flooding big-city marathons around the year 2000. I felt like I found my tribe and discovered a new world when I ran my first trail marathon on Mount Diablo seven years ago. My horizon expanded further when I graduated to the 50K and 50M. I wouldn't want to deprive anyone else of that discovery.
I would add, though, that while Dean was a catalyst for the sport's growth, due to the popularity of his 2005 book Ultramarathon Man, it has since grown beyond him. More people are running on mountains and trying ultras due to numerous factors, such as Chris McDougall's book Born to Run and incredible videos by Salomon Trail Running. Running a marathon may no longer be that big of a deal, but ultramarathoning is.
Ultimately, the market seems to be meeting demand, and I believe it will continue to do so—hopefully helping the wilderness (through open-space preservation) more than hurting it in the process. Though you may have a slim-to-none chance of getting a spot in Western States, you can choose to participate in dozens of other hundred-milers and scores of races in the 50K to 100K range that are happening around the country. Just check out Ultrasignup.com, which has a comprehensive calendar along with a "hot list" of soon-to-sell-out events. New trail-racing companies spring up to put on more events, and if you look hard enough, you can probably find a group that's planning ultrarunning's version of a flash mob: a fat-ass run.
So while I sympathize with those who are disappointed by the lottery system and understand the concerns some feel about the state of the sport, I feel we're pretty blessed to have so many different trail-running events to choose from, and I welcome newcomers to the events. When I flip through the terrific Tribute to the Trails calendar, which lists many but by no means all trail races on the national and international calendar, I'm amazed and inspired by the variety of events happening in the year.
I also believe that some of the best trail racing can happen on a quiet, rainy Sunday, when you're solo or with a small group, and the contest comes down to you and that rocky, slick chute of dirt. Can you really run up all those switchbacks, and then can you sprint down without falling on your face? What flora and fauna will surprise you around the next bend?
The trail and your watch may be all you need for a great race.
For a colorful writeup and photos on the Brooks Falls event, see Scott's race report. Thank you, Scott, for the use of your photos. This one below shows Gary Gellin, me and Scott—three members of the new Inside Trail Racing team. Can you tell I was having a good time out there?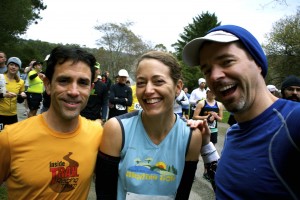 Call for comments: What do you think are the pros and cons of how trail running & ultrarunning have changed? Have you altered your annual race plans because of the challenge of getting into some of the most popular events?