Below is a schedule of events where I plan to speak about my book and about the sport. Please see the schedule in the column to the right, "My 2017 Race Calendar," to see where I'll be participating as a competitor or pacer.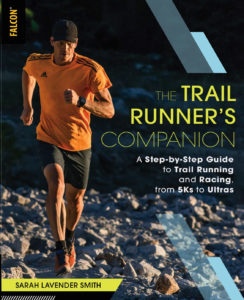 You can order my book and read more about it through this post. Additionally, check out this media coverage:
Trail Runner Magazine excerpt from book, "What It Takes to Be An Ultrarunner"
Scott Dunlap's review; he called it "hilarious" and "wonderful."
REI's Trail Run Project Blog: A Q&A with me about trail running, the book, and my training/racing advice.
"Running By Some Good Advice: Runner, writer from Piedmont taking advice into practice by competing in ultra event in Hawaii," local news article in East Bay Times. Plus, the follow-up article.
Upcoming Events:
Wednesday, May 31, 7pm. Book launch party and reading! A Great Good Place for Books, 6120 LaSalle Ave., Oakland. Details.
Sunday, July 9, time & location TBD in Telluride, CO: A reading & presentation co-hosted by Between the Covers Bookstore. To kick off the Hardrock 100 week, I'll share family history about the San Juan Mountains along with lessons from the book about how to cultivate the mindset and fitness for mountain/ultra/trail running.
Friday, October 6, evening in Kanab, Utah: I'll be the featured speaker on Day 2 of the three-day Grand Circle Trail Fest.
More to come after I firm up events related to the book launch. See below a clip from the Trails In Motion Film Fest in April, during which I read from the book's Introduction to tell a story about my transition from road to trail running (and I even break out into song!).
Past Events:
Saturday, April 22, 5pm. Trails in Motion Film Festival, Walnut Creek. (See video below)