Below is a schedule of events where I plan to speak about my book and about the sport. Please see the schedule in the column to the right, "My 2017 Race Calendar," to see where I'll be participating as a competitor or pacer.
Upcoming Events:
Thursday, November 16, San Francisco: I'll be at the Trails in Motion Film Fest, 6pm at the Sports Basement Presidio, to sign/sell books and chat with attendees. This is a great film fest—check it out.
Wednesday, November 22, Piedmont: I'll sign and sell books during the afternoon registration and packet pickup for the Piedmont Turkey Trot. Details.
Saturday, January 20, 2018, Corte Madera (North Bay Area): I'll speak at the Book Passage at 4pm. Details.
Reviews and Media: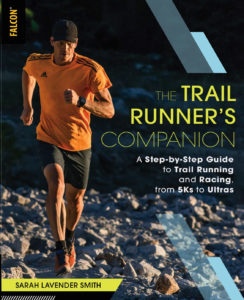 You can order my book and read more about it through this post.
– Trail and Ultra Running review: "Sarah Lavender Smith, seasoned and successful trail and ultra runner, draws from years of experience to provide a comprehensive how-to on our sport. She has run everything from road 5Ks to multi-day ultras all over the world. She knows what it feels like to stand on the podium, as well as sit on the side of the trail in despair. From training tips to nutrition to back-country safety, Lavender Smith couples her own experiences with science to create a telling story of how to improve your skills. …a compelling guide to how to improve your trail and ultra running performance … insightful and helpful."
– Trail Runner Magazine excerpt from book, "What It Takes to Be An Ultrarunner"
– Coach Mario Fraioli in his Morning Shakeout newsletter: "an informative, practical and above all, approachable, guide to becoming a better trail runner. … Lavender Smith does a nice job blending her own personal narrative with tried, true and trusted information and insight, to form a sound resource that you'll find yourself revisiting for years to come. It's comprehensive and engaging: training, injury prevention, nutrition, gear and safety advice that will benefit any trail runner, whether you're just getting started or finished multiple ultra-distance races, presented in a way that won't bore you to bits."
– Trail Sisters Review: This influential, grassroots women's-running site called the book a "must-have" and wrote, "The attention to detail, along with beautiful photos and an easy-to-read format, reminds me of running all day in the mountains with your BFFs and sharing valuable trail experiences …. Sarah has managed to cover everything and anything having to do with trail and ultra running in an accessible format. … She also includes the intangibles of our trail-running culture."
– Denver-based 5280 magazine spotlights my coaching advice and the book in its article, Colorado Women Are Among Ultrarunning's Best.
– The Just Curious Show interviews me about my book, my coaching/writing career and more.
– Jade Belzberg's review: Jade is an accomplished ultrarunner and writer, who knows the running-book genre well. She wrote, "Humor aside, one aspect that makes The Trail Runner's Companion stand out amongst a plethora of trail and ultra running books is its honesty. … It's easy to find a book with a standard 12-week training plan; it's not so easy to answer questions about mental toughness, getting lost on course or during a training run, and knowing when to turn back or quit a race. This book answers all of those things. … a must-read."
– Scott Dunlap's review: he called it "hilarious" and "wonderful."
– Conor Bandon review: This British blogger wrote, "I didn't just enjoy this book, it's the one I'll be reading over and over. It's a practical instruction manual for doing ultra trail running well. It's mixed with lovely anecdotes and all of the nuts and bolts instructions are done in a really approachable way."
– Liza Howard's review: Liza is a highly respected ultrarunner and coach, and she writes:  "Sarah's book will remind you how fun it is to delve deeply into something. It'll also remind you how satisfying it is to read something that has been put together thoughtfully and is well written. The book has all the information someone new to trail running might need to run trails safely and successfully. … Sarah's deftness at weaving stories and examples throughout the book really makes it an engaging read for longtime runners too. Its layout is superb, and it's easy for runners to find specific information. The scope of the book is so broad, there really is something for everyone."
– RunUltra UK post and excerpt: This UK-based ultrarunning site published an excerpt from the book, along with an intro describing my stage-racing experience, "How to Judge Mid-Ultra Whether to Tough It Out or Quit."
– REI's Trail Run Project Blog: A Q&A with me about trail running, the book, and my training/racing advice.
– "How to Transition From the Road to the Trail," an excerpt from the book's Chapter 1 published on the women's health and fitness site Fit Bottomed Girls.
– "Running By Some Good Advice: Runner, writer from Piedmont taking advice into practice by competing in ultra event in Hawaii," local news article in East Bay Times. Plus, the follow-up article.
Past Events:
Saturday, April 22, 5pm. Trails in Motion Film Festival, Walnut Creek.
Wednesday, May 31, 7pm. Book launch party and reading! A Great Good Place for Books, Oakland.
Sunday, July 9, 6pm, Wilkinson Public Library in Telluride, CO: A reading & presentation co-hosted by Between the Covers Bookstore and Wilkinson Public Library. To kick off the Hardrock 100 week, I'll share family history about the San Juan Mountains along with lessons from the book about how to cultivate the mindset and fitness for mountain/ultra/trail running.
Friday, July 28, Outdoor Retailer in Salt Lake City, UT: I attended the Outdoor Retailer show and was at the Ultimate Direction booth to sign books and talk to conference attendees.
Wednesday, September 6: I was in Steamboat Springs, CO, for the Run Rabbit Run 100, and had a reading and signing at Steamboat Springs' independent bookstore, Off the Beaten Path.
Saturday, November 4: I was the featured speaker at the Lake Merritt Joggers and Striders Fall Picnic at the Sports Basement Berkeley.
I really appreciate shout-outs on social media like this: