Michelle, a flatlander from Chicago in her late 40s, had never encountered the kind of rocky, washed-out segment of trail we faced.
She arrived in southwestern Colorado only a day prior, and consequently she needed to adjust to the thin, dry air we breathed at high altitude. The first mile of our first run through an aspen grove, with the town of Ouray framed below, featured switchbacks on a talus field, and the chunky, sharp-edged rocks felt wobbly underfoot. As if immediately ascending some 500 feet on this terrain weren't enough of a challenge, I was asking her to pick her way through a recently flooded slide of dirt and mud that dropped to a canyon below.
She looked frozen with doubt. But, trekking poles in hand and determination on her face, she pushed forward and navigated the tricky spot.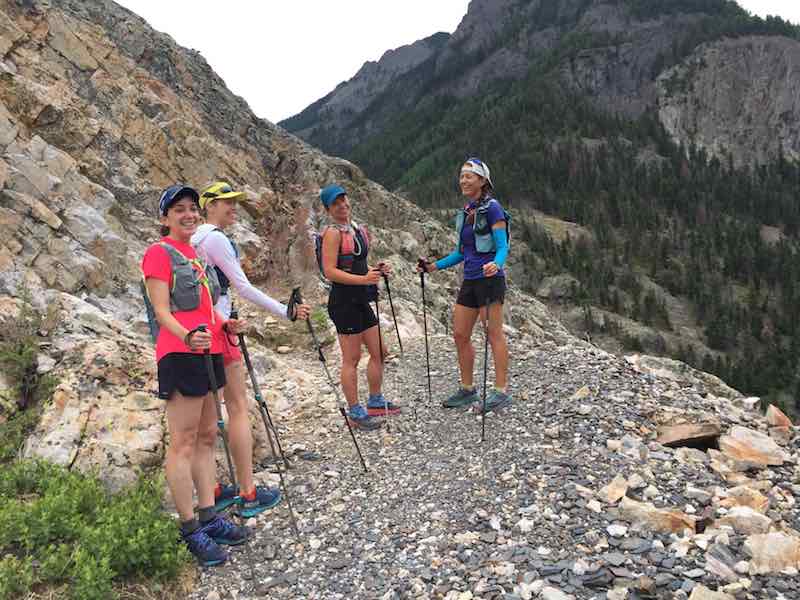 "For these three days," I told her and others in the group, gathered for our inaugural San Juan Mountain Running Camp, "I want you to encounter and experience challenges on the trail that you don't expect, and that perhaps intimidate you, because you'll discover that you can get through and handle more than you think you can. And you'll develop one of the key traits for success at mountain running: adaptability."
Last week, along with my runner friend and mountain maven Allison Snyder, I co-guided and coached a small group who had signed up for our camp, which took place in the mountains above the town of Ouray and the tiny historic mining village of Ophir, not far from my home in Telluride. Parts of our routes overlap part of the Hardrock Hundred Endurance Run route near the Chapman Gulch and Ouray aid stations.
Everyone involved, myself included, felt these three-and-a-half days together made a highly worthwhile and magical getaway in the mountains. We're doing it again September 23 – 26, and spaces are still available to register; check out the website for details.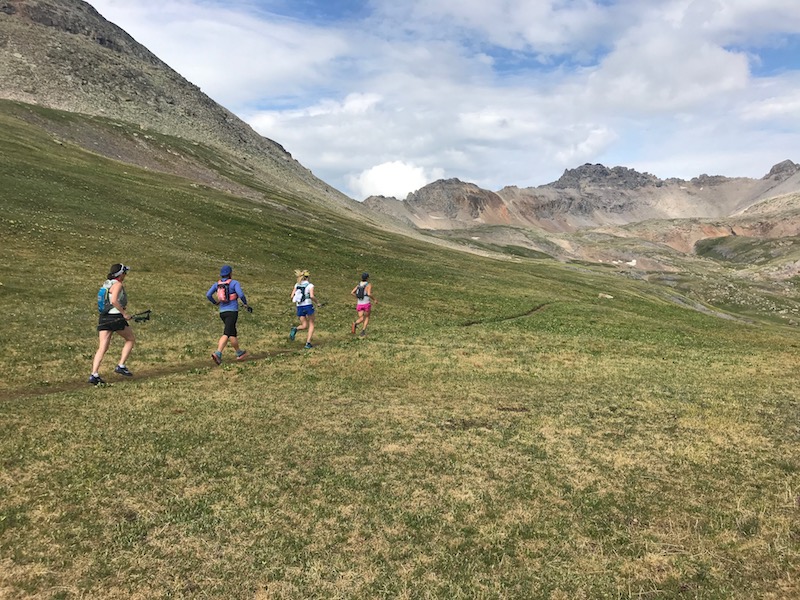 Another participant, also named Michelle but from the Bay Area, called the camp "the highlight of my summer—sharpening my skills in mountain running, navigating difficult terrain, power hiking, proper trekking pole use, downhill technique, scree wall scrambling and high elevation training. We worked HARD, tackled tough terrain, challenged fears and laughed!"
Here are four key traits or skills I sought to nurture among the participants as their coach:
Adaptability
I explained that I wanted this camp experience to be like the one I experienced in Juneau, Alaska, in 2012 with Western States 100 champ Geoff Roes—a camp that proved pivotal in my development as a mountain/ultra/trail runner. During that time in Juneau, Geoff took us on routes that made me hug and climb over a downed tree lodged in an avalanche flow, glissade down a snowy mountainside on my backside, and fish my shoe out of shoe-sucking mud. I used my hands and moved my body in ways I never normally needed move to as a regular runner. I learned to adapt to, and get through, whatever surprise the trail presented.
A flexible mindset, and problem-solving for troubleshooting, enhance adaptability. Thankfully, our group didn't encounter any significant problems aside from quick-changing weather that frequently prompted us to take layers of clothing off and on. Mainly, the newcomers to the San Juan Mountains had to adapt to the complexities of the terrain and the steep slopes, learning to use trekking poles efficiently and to take care of their bodies along the way through refueling, rehydrating, and protecting their skin and regulating body temperature due to strong sun and moments of precipitation.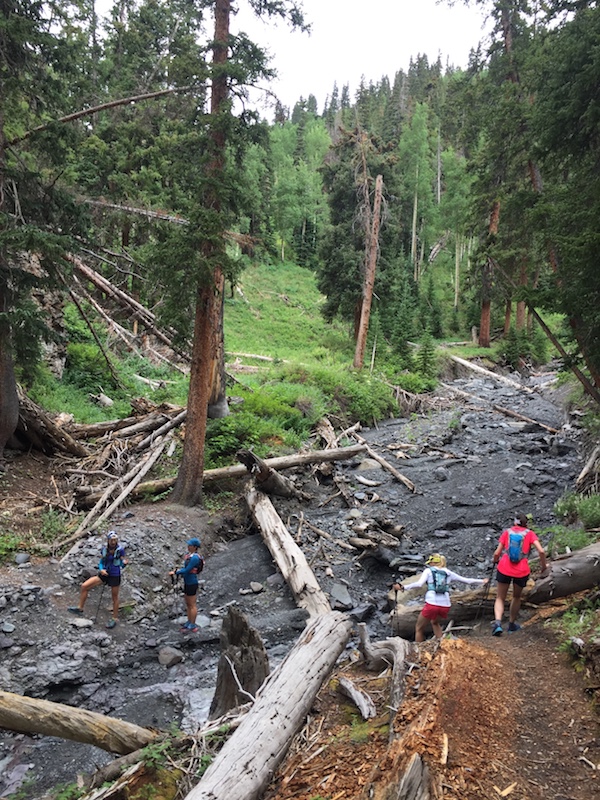 Safety & Self-Reliance
Over dinner on the first night, I gave a show-and-tell of the gear I carry in my hydration pack for mountain outings. "Ask yourself, if you got hurt and had to stop moving—say, from a rolled ankle—could you take care of yourself, and stay warm as your body temperature drops, for a half hour or longer? Would anyone know how to find and help you?" Then I showed my pack's contents:
Hydration (including a Katadyn Befree Water Filter with Collapsible Flaskto refill at streams) and extra calories
First aid kit including self-adhesive bandage to wrap an ankle, a small syringe to flush out a wound, lots of bandages, and antihistamine in case I come upon someone suffering an allergy attack
An emergency bivy
A signaling whistle
A light source (lightweight headlamp if I head out in the afternoon; otherwise, I keep my phone on low-battery mode and could use its built-in flashlight)
Map (paper map and/or photo of a map on my phone)
Matches
Extra layers of clothing: gloves, hat, windbreaker, lightweight poncho
Sunscreen and other sun protection
My phone with the sheriff's search and rescue number listed under "favorites"
A SPOT GPS Messengertracker that shows my family where I am and can send an SOS message to search and rescue with my GPS coordinates in a life-threatening situation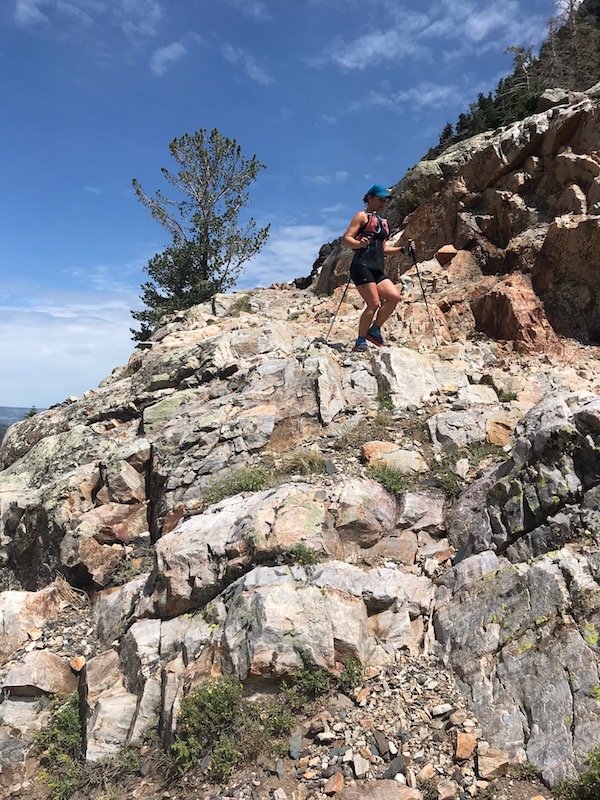 Agility
On the morning of Day 2, we ran a half mile from the backcountry lodge where we spent the night and paused at the summit of Ophir Pass Road, elevation 11,789 feet. I gave tips on downhill running technique to help them smoothly navigate the uneven terrain with a quick, light footstrike for about 1000 feet of elevation loss over 1.5 miles. I told them to keep their poles packed away and to let their arms float freely by their sides, acting as stabilizers. We did a head-to-toe check of how eyes, shoulders, arms, core, glutes, knees and, of course, feet all assist in downhill running, the goal being to reduce impact through good form, and to avoid tripping and falling. They repeated after me, "Pick your feet, lift up your knees!"
Agility on technical terrain is a skill developed over time, as eye-foot coordination improves and the mind learns to "read" the trail for the best line. Experienced trail runners seem to float over the roots and rocks, lightly touching the surface for a split second, rather than over-thinking where each foot should land and braking with each step. They also learn to transition seamlessly between brisk hiking and running, whichever feels most sustainable and efficient given the trail segment's character.
Becoming more agile—and gutsy—built the runners' confidence on sketchy slopes and segments of narrow trail that featured drop-offs. (If you want details on downhill and uphill mountain-running technique, I hope you'll order and read my book, The Trail Runner's Companion: A Step-by-Step Guide to Trail Running and Racing, from 5Ks to Ultras,
which features a chapter called "Conquer Hills and Navigate Gnarly Terrain" that covers this topic in depth.)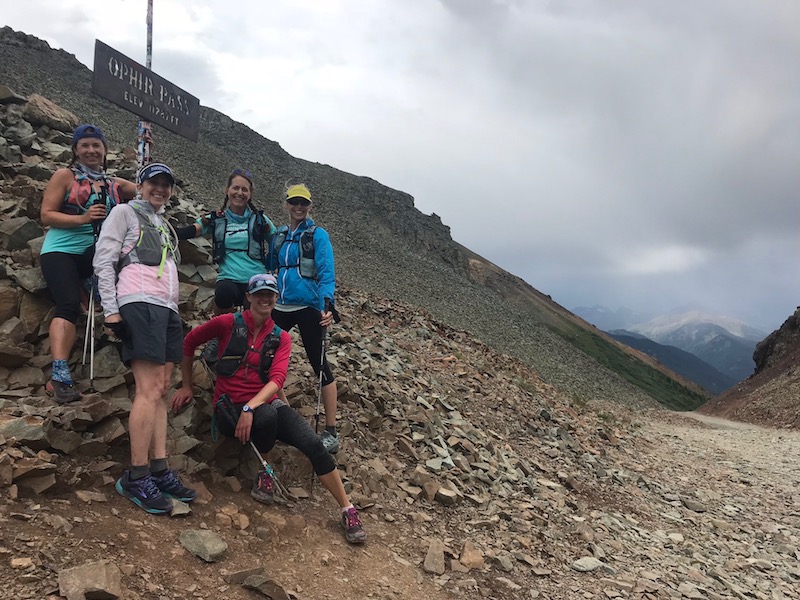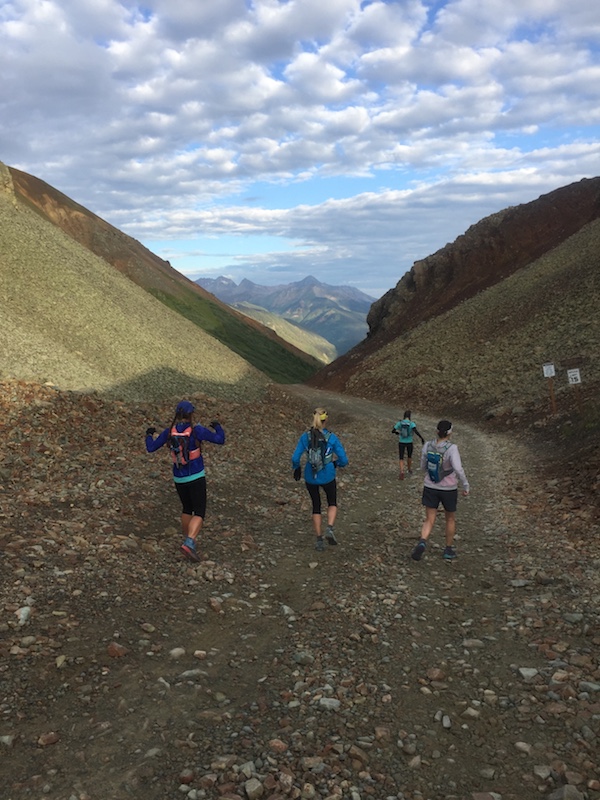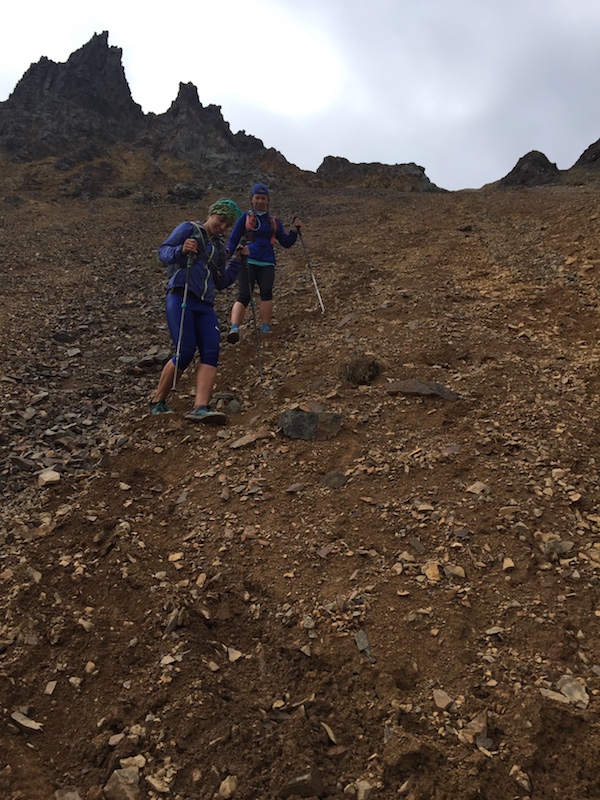 Endurance
Mountain running takes more of everything: more calories and hydration, safety gear, and especially, time and patience. That's because the pace tends to be extra slow. It's not unreasonable to expect high-altitude mountain "running" (broadly defined to include a lot of hiking) to average only 3 miles per hour, or a 20-minute-per-mile average pace. The steep uphill ascents on loose, rocky terrain, ascending some 3000 feet in a couple of miles to reach above tree line at 12,000 feet or higher, slows the hiking pace down to the 25-minute-per-mile range or slower. We run the flats and downhills, but the uneven terrain and thin air make for a slow running pace in the 10- to 12-minute-per-mile (or slower) range.
Mountain runners consequently need to endure the elements and move steadily forward at a slow pace for a much longer duration than typical running at low elevation on smooth surfaces. Runners can bolster their endurance not only with patience, but also with a mindset of "no whining, no complaining," a sense of humor, and an unplugged mindfulness that makes them look around, notice and appreciate the present surroundings.
Our itinerary shows that while our mileage was relatively low, our time on feet added up to many hours (including breaks for picnicking and picture-taking) due to the challenging terrain and thin air. We did the following on the three mornings (and then spent the afternoons relaxing and taking shorter walks), totaling about 31 miles or 50K:
8.75 miles, 4 hours, 2600 feet of elevation gain
14 miles, 5.75 hours, 4000 feet of gain
8.25 miles, 3.25 hours, 1550 feet of gain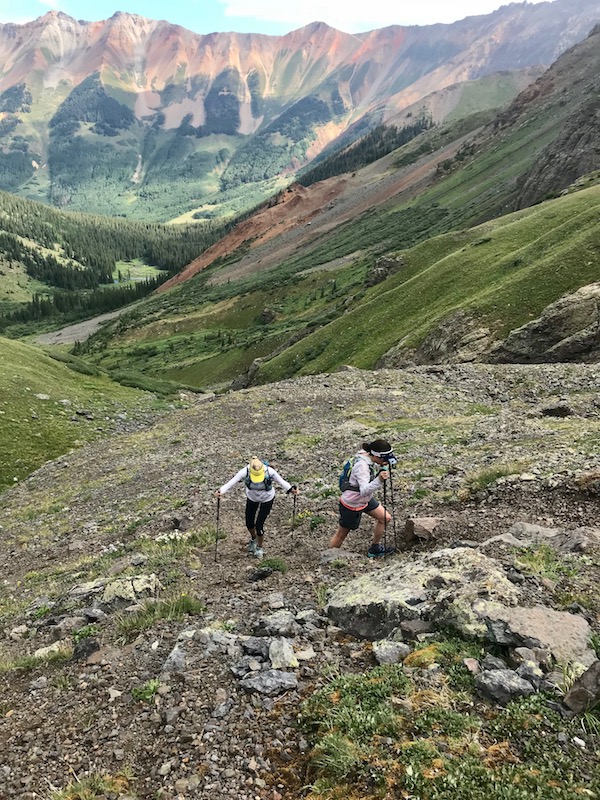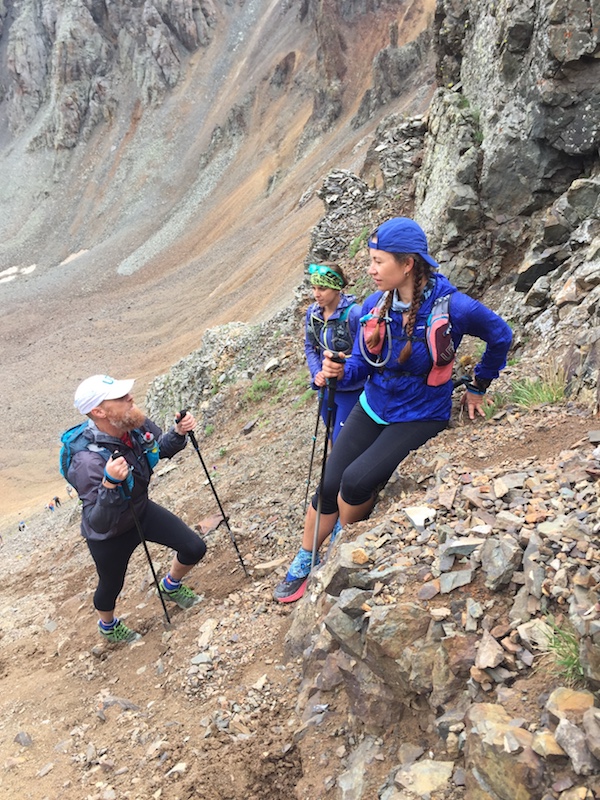 More Camp Details
We spent the first night in the town of Ouray, then transitioned to two nights at a backcountry hut called The Opus, nestled in an alpine basin flocked with wildflowers at 11,700 feet in between Ouray and Ophir. Though "hut" sounds rustic, the lodge features a cozy kitchen and communal area with an in-house cook preparing delectable, healthy meals, along with comfortable beds and nice bedding for up to 16 guests.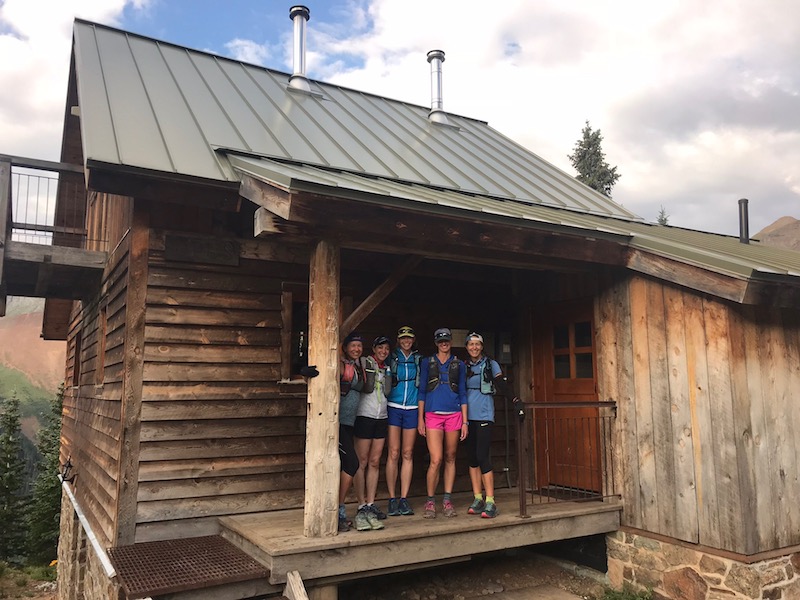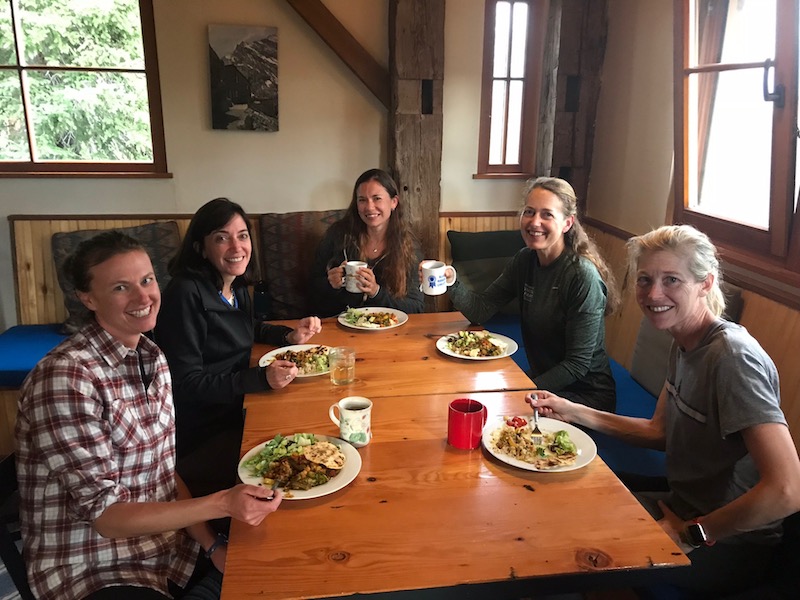 One of the participants called it "an unforgettable experience that combines gorgeous mountains and unique running instruction—a great learning experience over varied terrain that really builds your confidence. Whether you are new to mountain running or have done ultras, Sarah and Allison provide invaluable instruction."
Please check out the website for details on cost and to register for the September 23 – 26 camp, and "like" and rsvp on the Facebook events page. Message me if you'd like to know anything more about it.
I'm so glad this camp came together—and I'm grateful to my collaborators: Allison Snyder, Jared Vilhauer of Highline Running Adventures, and special guests representing the Boulder Running Co., Joshua Stevens and Ray Nypaver, who joined us for part of the time.
Enjoy these photos, which tell more of the story: