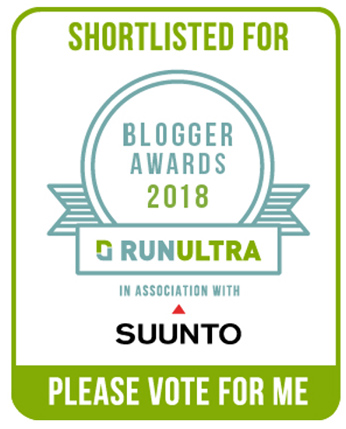 Last year, I was voted the "Best Blogger" in a competition sponsored by RunUltra. The site is holding its contest again, and I'm nominated. If you like my blog, I'd sincerely appreciate if you vote for me here! 
UPDATED: I did the New Year's Eve 24-hr event, and you can find a mini report and some photos here.
A bunch of crumpled, snot-filled tissues surround my keyboard, and I'm sipping honey-infused tea to soothe a sore throat. My lungs wheeze, and my head aches as if hungover. I can't recall the last time I had a whopper of a head cold like this.
New year's eve, three days away, should be interesting. If the past two months had gone according to plan, I would have logged 80-mile weeks from mid-November through mid-December with a focus on steady, flat running in preparation for this challenge: the new year's eve 24-hour One Day ultra in San Francisco, whose route is a one-mile flat loop in Crissy Field. I signed up with the intention to beat my 115-mile win there in 2015 (race report), hoping to get to 120 miles this time. (That's only a 12-minute average pace, which is super slow. When estimating a timed ultra, however, you've gotta factor in time to eat, change clothes, go to the bathroom, take irresistible and restorative walking breaks, and maybe even a quick nap, all of which combine to make a 12-minute average pace aspirational.)
Of course, nothing goes according to plan! While achieving good consistency, my running lacked high volume after we returned from Colorado in late October. Most weeks I hit the mid-40s to low-50s in mileage, and only two weeks reached 60. I ran one 50K and two long runs in the mid-20s. That's it—not bad, but not ideal for what I know I need to reach my potential at a 24-hour timed ultra. The two long training runs felt much harder than they should have. On the plus side, I had a wonderful Christmas season with lots of wine, chocolate and culinary adventures with my kids and husband, as if in full-on vacation mode. So now I've got this cold stuffing up my head and a couple of extra pounds weighing on my body. So be it, no regrets!
Yesterday morning, I was in a grumpy stressed-out mood about various things I need to deal with (household, financial, parenting) when a saying came to me: "You have only moments to live." It's the title of the first chapter in Jon Kabat-Zinn's classic Full Catastrophe Living.
 I have no idea why it hit me then and there, but I considered the play on words. It means life is a series of moments strung together, and you can choose to dwell on or worry about the past or future, or you can live more aware of and grateful for each moment. Beyond that, the phrase suggests you may have only a few moments left to live. Is this how you'd want to spend those last moments, how you'd want to be remembered?
Recalling that saying helped me reset my mood in that moment, to be kinder and more relaxed. I realized I need to adopt the same attitude toward this 24-hour ultra, which I still plan to attempt in spite of my head cold and under-training. The ultra is a series of moments, and miles, strung together, and each can be vivid in detail and rewarding in its own way.
The event also is a gathering of a tribe of kooky runners and crew members there to party and support one another. It's a crazy hamster-wheel experiment. (Here's an essay I wrote for Trail Runner about it in 2015, if you want to know more what it's like.) Who gives a flying F if, nine hours or so into it, I'm on pace to reach my goal of 120 miles or on the verge of DNF'ing with cramped-up hamstrings? Either scenario, or something in between, is possible. The point is to just keep going in that lap, in that moment, period. See how it plays out, soak it all in. When I approached my first marathon back in 1995, someone advised me to "be zen about it" and view it not as a 26-mile race, but rather as one mile run 26 times. I'll try to take the same line of thinking on new year's eve.
It's not just my head cold driving this mellow mood. It's also a sincere, bittersweet sense of gratitude that these moments are precious because of the fragility of life and of our planet. I've experienced despair at times this past year, mostly from the mendacity of Donald Trump and the baseness of his agenda, the senseless massacres from gun violence, and the acceleration of climate change. So much of 2017 has been so fucking depressing, unnerving and eventually numbing. What can you do but do the best you can, be the change you want to see, make the most of each moment, and raise loving, tolerant kids?
I want to remember and appreciate the good times of 2017, and fortify my confidence and motivation in the face of uncertainty that I can in fact get things done and reach goals. Similar to last year's post, "5 Things I Accomplished or Improved in 2016 In Spite of Myself," I'll use this space to recall some highlights from 2017.
5 Things I Accomplished or Improved in 2017
1. Published and launched a book. A year ago, I was so nervous about putting my manuscript out there and promoting it. I worried that others would rip it to shreds, and I had flashbacks to the time a professor at UC Berkeley's School of Journalism, Bill Drummond, said my final in-depth reporting project was "like watching paint dry." (What, don't you find the conversion of Mare Island Naval Shipyard and the revitalization of Vallejo riveting?)
I'm so relieved and gratified The Trail Runner's Companion: A Step-by-Step Guide to Trail Running and Racing, from 5Ks to Ultras
 received positive reviews (see excerpts on this page). This photo below shows me on Telluride's main street, right after I came down from a run in the San Juans and discovered a sign on the sidewalk in front of the bookstore advertising a talk about my book. Being a first-time author doesn't get much better than that!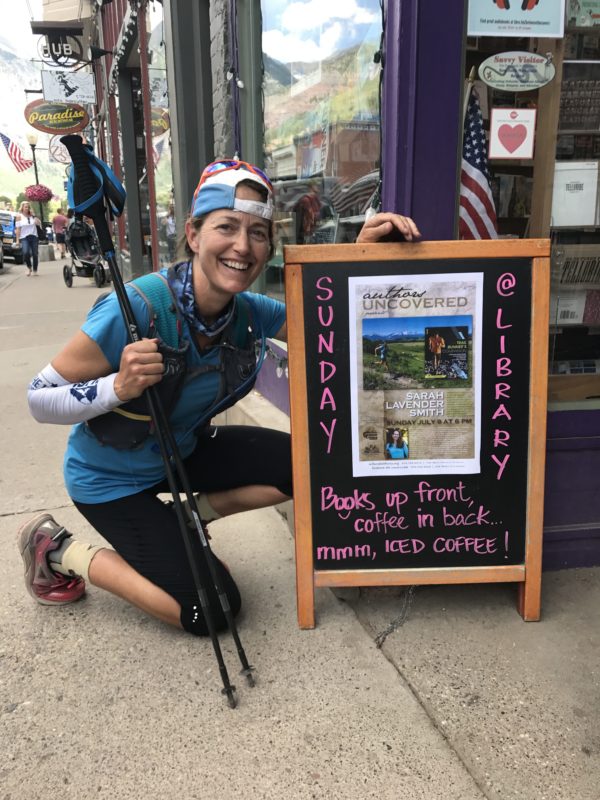 2. Became a better horsewoman. I've always considered riding to be my first love and sport. But as a kid and teen, I didn't need to worry much about my horse's care beyond daily feeding and mucking. This summer, my husband Morgan and I cared for our family horse and two neighbors' horses, which meant learning about pasture management, basic equine medicine and other fundamentals. I took a class in equine physiology and management. I also endeavored to become a better rider with the help of this excellent book.
Now we're boarding our horse, Cobalt, nearby in the Oakland hills and I'm riding almost daily, which sucks the free time out of my life but is worth it. While not vigorously athletic, it's a great workout for the body and mind. (I recommend this recent blog post by fellow ultrarunner and equestrian Katrin Silva, "Better Living Through Horsemanship," as it articulates what one can get out of a relationship with a horse.)
3. Ran 2500+ miles and avoided injury. I set a goal of 2500 miles this year, reasoning that I wanted to average 50 miles/week and also give myself a couple of weeks completely off following big ultras. 50 weeks x 50 miles/week = 2500 miles for the year. My weekly volume waxed and waned from lows in the mid-20s to highs in the 70s. Most weeks amounted to around 45 miles. One week last spring, while training for the Mauna to Mauna Ultra, my mileage peaked at 80. The two weeks I ran the most included the 155-mile Mauna to Mauna Ultra in May and the 100-mile Run Rabbit Run in September. As of Wednesday, December 27, I'm at 2516, yay! So with the NYE ultra, I could cross over to 2600. Plus, I consistently did strength conditioning two to three times a week, and I avoided run-stopping injuries. I'm proud of and satisfied by my races this year (listed in the column to the right, under the heading "My 2017 & 2018 Race Calendar." Random running pic from this year, testing out the Ultimate Direction Ultra Vesta 4.0 that will be released this spring.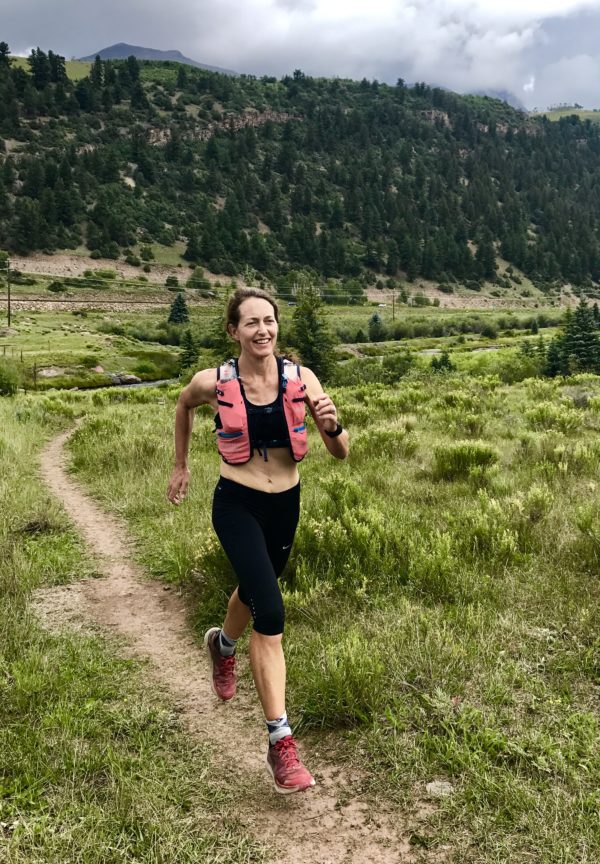 4. Fulfilled a nine-year commitment to serve on a board and started volunteering and serving on the board of another nonprofit. I look forward to helping Running For a Better Oakland strengthen in the coming years. I got so much out of being a trustee for Thacher School for the better part of a decade—both in terms of professional development and friendships. I took on a leadership position that was stressful at times but also challenged me to "lean in," find my voice and grow. I'll never forget how good it felt when, during my final PowerPoint presentation at a Thacher board meeting mid-year, a colleague snuck in the following slide as a joke and also in appreciation for how I helped launch a capital campaign and advocated to raise the fundraising goal ever higher so we could accomplish more long-term improvements.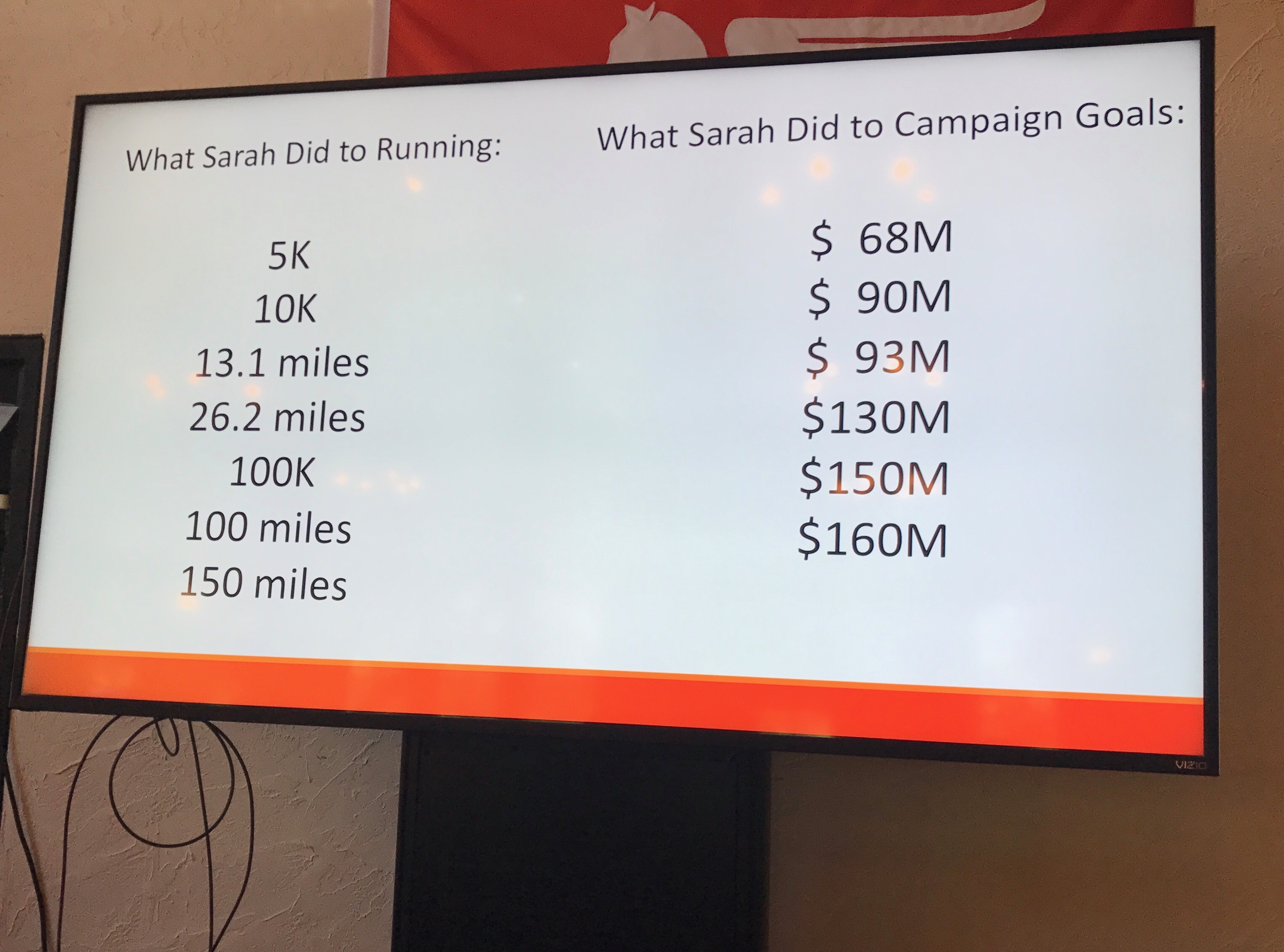 5. Read more books. I made an effort to carve out more time in the mornings and at bedtime to read. I admit, I read more books because I read the news less; I couldn't stomach the news, so books became escapist. I tried to balance trashy easy reads (two recent favorites: The Woman in Cabin 10
and Modern Lovers)
with higher-quality literature. (See this post for some recommendations as well as the column to the right, "My Bookshelf.")
I'm struck by how much happened this year, as my husband Morgan and I juggled different projects and figured out a way to make two-state living between CA and CO work. I am so grateful for him and for our partnership. (If you caught this podcast interview with me on The Just Curious Show, you know a bit about our marriage and some challenges we faced….)
It's hard to believe we're so old, and that our 40s are in the rearview mirror—I'll turn 49 in 2018, and he'll turn 52—when we don't feel that old. End-of-year reflections spark musings about the whole arc of life. Our daughter will turn 20, our son will turn 17. I recall as if it were just a decade ago, not three, when Morgan and I were teenagers going on 20.
My priorities and goals for 2018 involve coaching, parenting and homebuilding. I haven't settled on athletic goals or race plans. At this new-year midlife juncture, I need to sort out thoughts about the coming year and beyond, and that's another reason I'm looking forward to this 24-hour hamster-wheel ultra on new year's eve—it'll be a retreat of sorts, a chance to get offline and do nothing other than think during steady forward motion. At times I'll probably feel I'm going crazy, but I bet I'll also clear my head.
In Case You Missed It:
I'm grateful for the continued opportunity to co-host UltraRunnerPodcast with Eric Schranz, whenever our schedules align and I can get up to Sacramento to record with him. Earlier in December, we recorded our year-in-review and predictions for 2018 episode with Jamil Coury. Have a listen here if you want to hear our commentary on the sport.
Another podcast, Becoming Ultra, interviewed me recently about training tips and the state of the sport. Here's the episode if you'd like to hear it.
And lastly, for new year's inspiration, I wrote this article for Trail Runner: "A Different Kind of Trail-Running Goal." 
Thank you for reading! I hope you will consider voting for my blog here.  Happy new year, and I invite you to share some of your goals for 2018 in the comments below.
Race recap and photos from the 24-hr event on my FB page here.