Quick update on a couple of my time-sensitive priorities—and I promise, in the next blog post, I won't write in this tone of an announcement bulletin! 
Getting Over a Peak in Training
Four weeks ago, I wrote about peak training for the Mauna to Mauna Ultra, which starts in less than two weeks (May 14). Good news: the training is in the bank. Not close to perfect, but good enough. I might give this recent phase of specific training a grade of B+, with bonus points for staying healthy and injury-free.
I did everything I set out to do: increased duration and vert, pushed hard with weekly speed and hill work, trained several times with a loaded pack, suffered through sessions in a steam room (more frequently this week) for heat/humidity adaptation, kept up effective strength conditioning, and ate healthy (enough). I wish I had done a little more of certain aspects of training, but oh well, too late. Now it's taper time.
Looking at the past seven weeks since March 13, I see that five of the weeks went over 60 miles total; one hit 80. I averaged 65 miles and 11,800 feet of elevation gain weekly for this period. And that doesn't count increased walking during the day (such as walking to errands more, rather than driving, and after-dinner walks to adapt to more time on my feet). It's not super high mileage by the standards of top-tier long-distance runners; but getting in a groove of consistently running 50 to 60 a week, and then going longer during peak weeks, is still a stretch for me.
My bar chart since January looks like this, intentionally allowing for easier weeks of reduced volume for added recovery or for weeks when real-life complications like travel make long runs difficult. (I have stats on Training Peaks that could produce some cool data visualization with one click, but I think a hand-drawn bar chart is pretty cool too. An old-fashioned log will always serve as a beloved backup to tech tools.)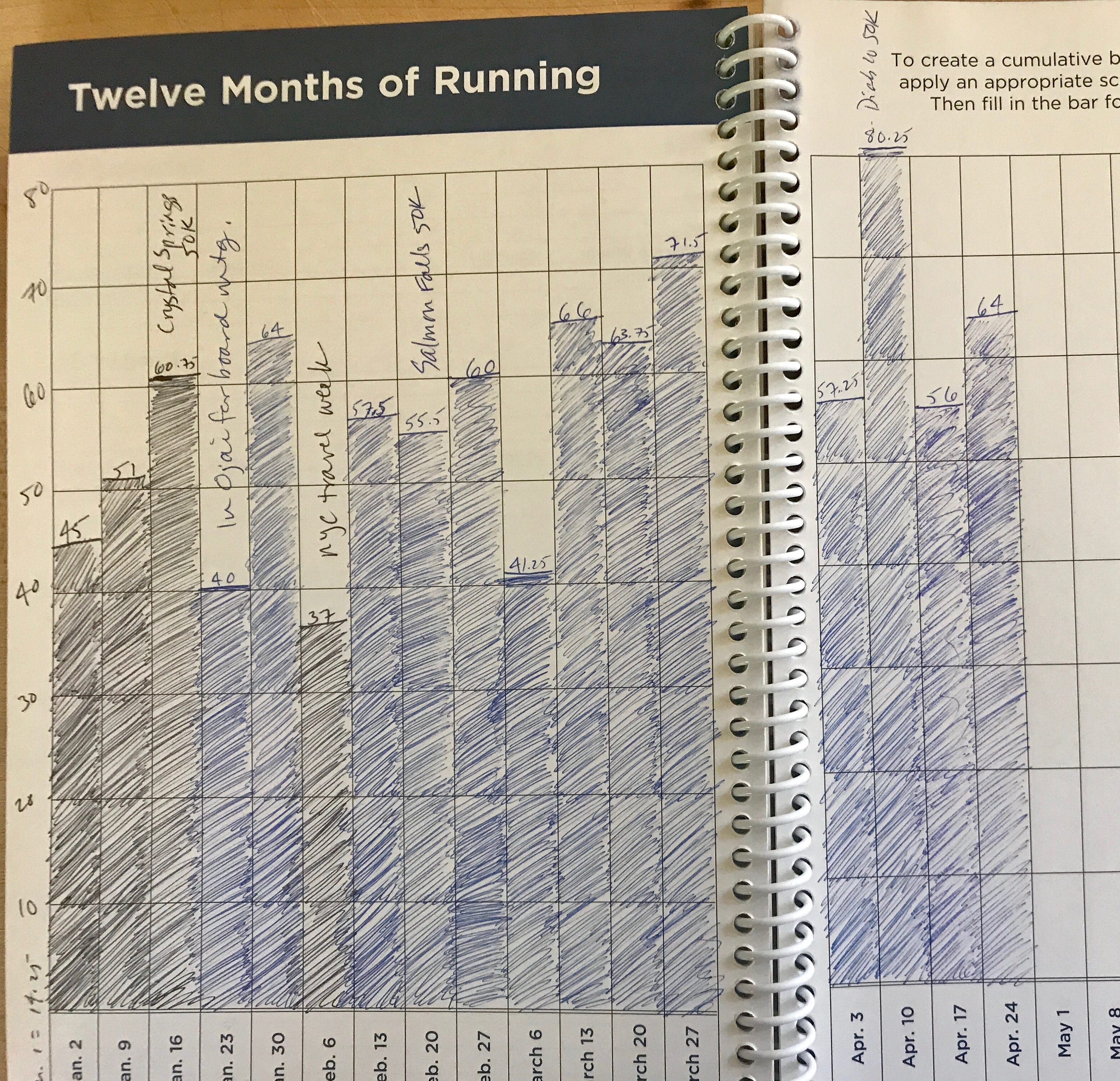 But, I'm still not ready. I have to scramble in the next couple of days to prep and pack all my food and gear for the weeklong race; plus, get ready for a board meeting presentation in Ojai during the second half of this week. I am fantasizing about arriving in Hawaii on Sunday afternoon, May 7, for six sublime vacation days before switching into Mauna to Mauna Ultra mode. I plan to write a post that week detailing my gear (as I did in 2014 and in 2012 when prepping for the Grand to Grand). I'll also share in that post some links in case you want to follow the event from May 14 – 20.
Now, let me tell you about something really important!
A Sports Camp Where It's Really Needed
If you read my post in February, "All Women Should Be Free to Run: A Campaign For Those Who Face Violence and Repression," then you may recall that I'm raising money for Free to Run. I'm excited to share that the money raised will be used specifically to help fund a week-long summer camp for young women in Afghanistan to experience sports and the outdoors, in the process promoting self-confidence, empowerment, gender equity, and a greater understanding between the country's different provinces.
Free to Run can't share details about this summer camp's planned location or dates, due to security concerns. But, the organization put on the first camp of this kind last year, and made the following video about it. I hope you'll watch it; the woman who speaks in English midway through is named Zainab, and she's the Kathrine Switzer of her country, the first female to run a marathon in Afghanistan in 2015 (inspiring many more girls to run a 10K in 2016; see prior post for details).
Zainab says in the video, "It's important for the girls to experience these expeditions because they will be aware of their rights; they will know that women and girls have the right to go out of the house, to travel alone and with a team, not just with their father or brother. In Afghanistan, it's a new idea to bring women and girls out of the house and teach them—show them—that there is another world outside of the home." Through the camp, she said, "they learn life skills."
The last girl to speak, whose face is blotted out for security reasons, is 15 years old and participated in Free to Run's camp last year. "I had never had a trip where I could share my idea with other girls," she says. "I'd like to meet more people from different provinces and share our ideas and experiences."
I sincerely hope you will make a donation to my campaign through this link.  To be clear, all money I raise will go to Free to Run; I am not using any of the fundraising to offset my race and travel expenses (which some charity runners do). I am fundraising around the Mauna to Mauna Ultra only to raise money and awareness for a budding nonprofit that I believe strongly in, and that will expand its impact with our support.
Oregon-based ultrarunner Amy Sproston, a Free to Run ambassador, participated in the camp last year as a mentor and witnessed the impact that coming together, hiking in the mountains, and engaging in physical activity had on this group of some 20 young women and teens. "Most of these girls have never done anything like that before," Amy told me. "To be alone with 20 women in the mountains is kind of unheard of. It created opportunities for them so they can see what the possibilities are."
Amy developed an interest in Afghanistan after traveling there three times during the mid-2000s as part of her work for a U.S. aid contractor (she now works for Mercy Corps). "In a place like Afghanistan, you can't just go out for a run as a woman. You need to have some kind of group you can meet up with, in a park or somewhere that's secure," she explained.
The sports camp sparks a greater interest and awareness among the participants about running, outdoor recreation and other sports; then, many of the young women return to their communities as ambassadors and advocates for starting a running club locally.
Free to Run's coordinator in Afghanistan, Taylor Smith, said in an email to me that the positive ripple effects for change, starting with the girls Free to Run mentored and sent to sports camp, are spreading and making waves. Two Free to Run ambassadors started running clubs in their communities, "one of them mixed gender, which is a huge first for the country of Afghanistan. We also managed to expand the team's sports activities to ice skating, skiing, self-defense and hopefully soon, rock climbing. A few of the running club members are now starting their own running clubs in their schools."
This year, Free to Run (founded in September of 2014) is working with about 100 girls in three provinces of Afghanistan, and is poised to reach more. Please join me in supporting their efforts by making a tax-deductible donation. I still have a long way to go to reach my fundraising goal of $10,000, but I believe that with time and commitment, I will raise that support!
Free to Run has a foothold in Iran, too. I love the caption on this Instagram:
One last thing …
I made a new page on this blog, labeled "Schedule" in the menu bar, to share info about my book launch. I invite you to check it out.