For the past couple of years, I've been such a fan of Ultimate Direction's Ultra Vesta hydration system that nearly all of my running photos show me in it, as if I permanently had two little 10-ounce bottles for boobs.
See? Here's a picture of "the classic" Ultra Vesta from Ultimate Direction's women's-specific Jenny Collection: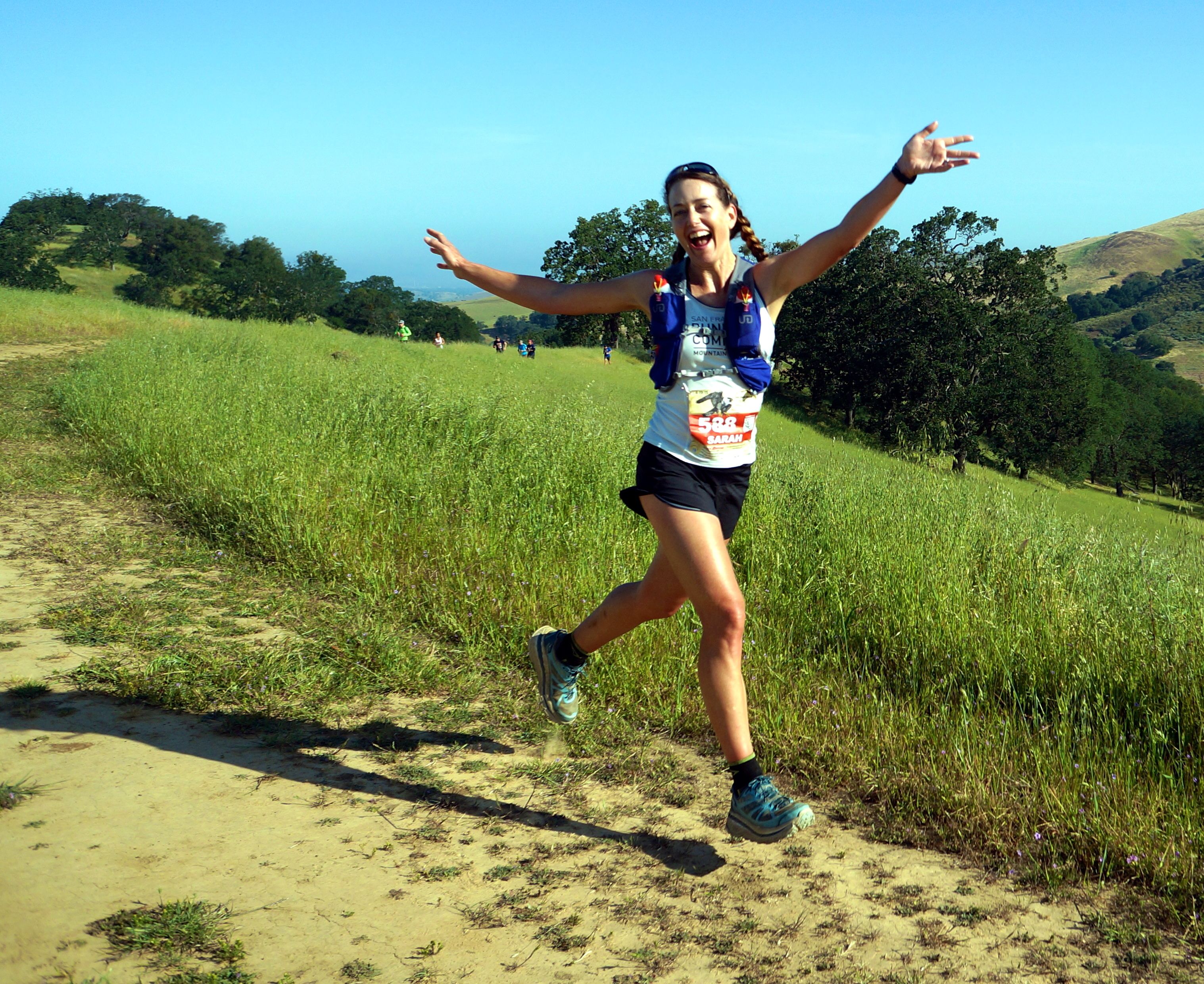 So when Ultimate Direction came out with a new-and-improved version—and also launched a women's version of the larger-capacity SJ Ultra Vest (which I use for longer, unsupported treks)—you bet I was excited to try the new vests. What follows is a review of the 7L Ultra Vesta Running Hydration Vest
(which I wore for the first time last Saturday on a 20-miler), and a preview of the 9L Adventure Vesta
(which I haven't fully tried out yet).
Full disclosure: I'm sponsored by Ultimate Direction and consequently got these vests for free, and if you decide to buy them by clicking on the links below, I will get a very small commission. But I hope you'll read on and trust my review, because I would not promote their product unless I truly preferred it to others on the market. Also, it's satisfying to know that I and other runners on their team gave input on the earlier versions of these products, and they used our feedback to make these improvements.
First, it's worth asking, why run with one of these vests? Why not use a combination of hand-held bottles and/or a waist pack with bottle holders? Everyone has different preferences, but I strongly prefer and recommend hydration vests with bottles in holsters on the shoulder straps for three reasons:
You're more likely to run symmetrically and have an efficient, strong arm swing if your hands are free. I used to run with one 20-oz. bottle in my left hand. I finally realized that this one-sided bottle was throwing off my form, exacerbating imbalance and fatiguing my arm muscles. The only time I'll run with a hand-held now is when I use the small 10-oz Fastdraw 10 Hand-Held for short runs when I don't want to wear a vest. Sometimes I'll use a Fast Draw 10 in both hands, for a total of 20 ounces on hotter days, so my arm swing stays balanced and my arms don't get too tired from the weight.
If you only use a hydration bladder (aka reservoir) in back, like the traditional Camelback design, then you cannot see how much liquid is left. Also, it's a pain and time consuming during a race to get it out for refill.
The weight and tightness of a waist belt with bottle holders can irritate your gut or lower back, and on some people it tends to ride up and bounce.
The new version of the Ultimate Direction Ultra Vesta ($134.95) looks slightly larger than its predecessor but fits snuggly, eliminating bounce, and at 8.6 ounces (without the bottles) weighs barely more than one-tenth of an ounce more. I'm 5'7″ with a 35″ chest and wear the M/L size; it also comes in a XS/SM.
My chief complaint about the first-generation vest was its pockets were too small; and, if I wanted to use an optional hydration reservoir in back, it was difficult to get it in and out. The new Ultra Vesta takes care of this and offers many other subtle but significant improvements. Here's how it looks front and back: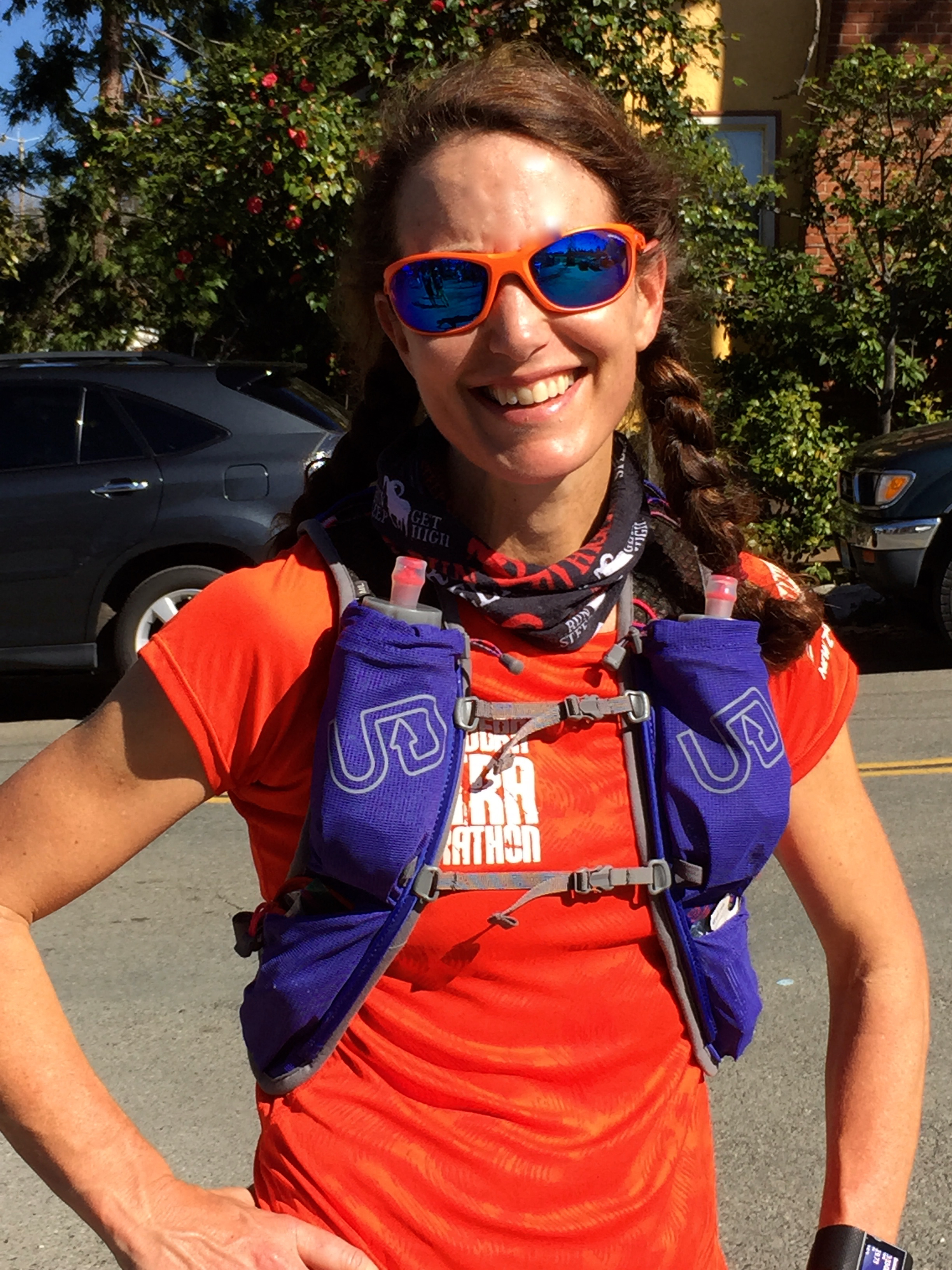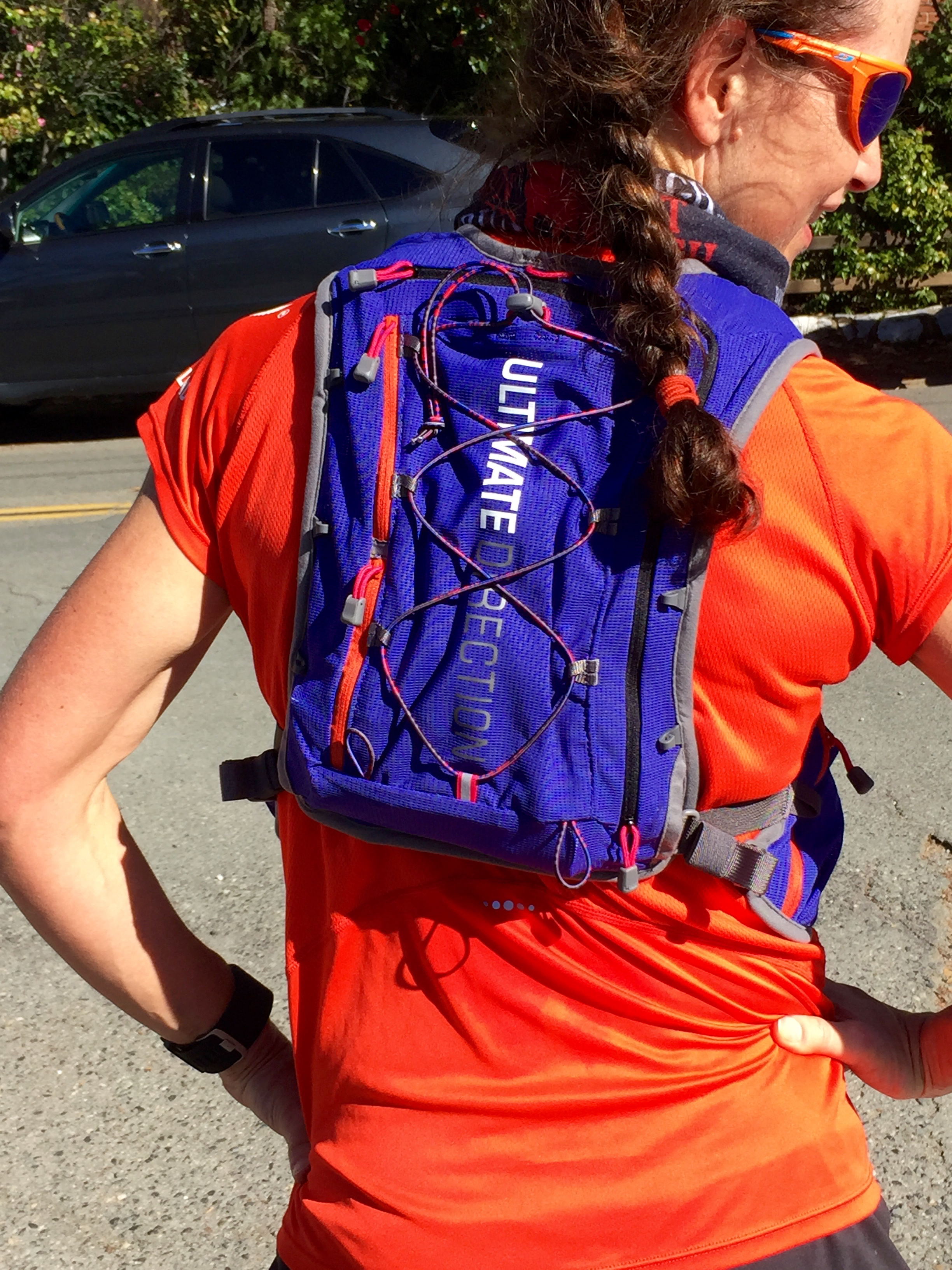 5 Great Things About the New Ultra Vesta
1. 17-oz soft Body Bottles instead of 10-oz hard bottles: Regardless of what hydration vest you use, if it has pockets, then I encourage you to buy some soft-flask Body Bottles
for it instead of using regular plastic bottles. I have fallen in love with these bottles because they feel better on my chest, they're easier to drink from, and you don't need to pull open a valve; you just squeeze and suck on it. They collapse on themselves as they empty, so they get smaller and free up pocket space. Most delightful of all, since there is no air remaining in the bottle once you start drinking from it and squeeze the air out, they do not make a sloshing noise. I had become so accustomed to a slosh-slosh white noise while running that I was pleasantly surprised to hear the quiet when the Body Bottles eliminated that noise.
Two of these Body Bottles means I can carry up to 34 oz of liquid up front, instead of just 20, which is a welcome addition, as 34 is usually enough to get me between aid stations in races even on hot days, eliminating the need for added hydration either in a hand-held bottle or in a bladder in the back.
2. Bigger pockets for the bottles and bigger front pockets for phone, calories & other stuff: I no longer have to worry about having everything I need quickly accessible in front pockets (e.g. gels, phone to take a photo or check a map, toilet paper in a baggie, small tubes of sunscreen and anti-chafing lube, etc…)
Here's the old (left) vs. new (right) side by side. The bottle pocket is deeper, and it's a handy place to shove your gloves when you don't need them. The lower pocket on the new one is big enough to hold my iPhone 6. Also note the better, more breathable mesh fabric on the new one: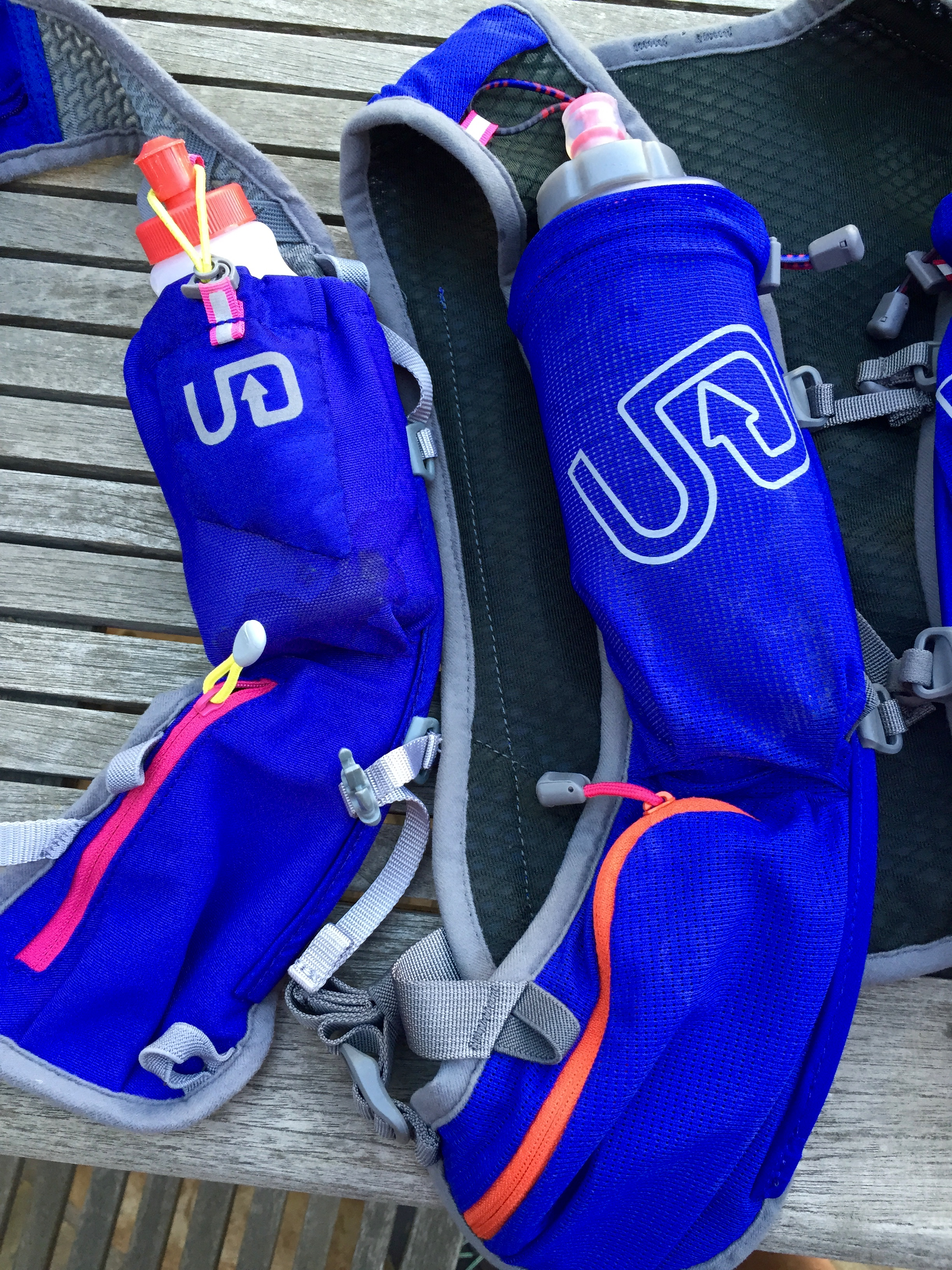 3. A much easier way to get the hydration bladder in and out of the back: If you need extra liquid, you'll want to get reservoir sold separately, such as this Hydrapak Elite 1.5L Reservoir
to use in the back pack. The new Ultra Vesta has a zipper that curves from the bottom all the way across the top so it's much easier to get that full reservoir bladder in and out, and to attach it to the velcro tab at the top, like this: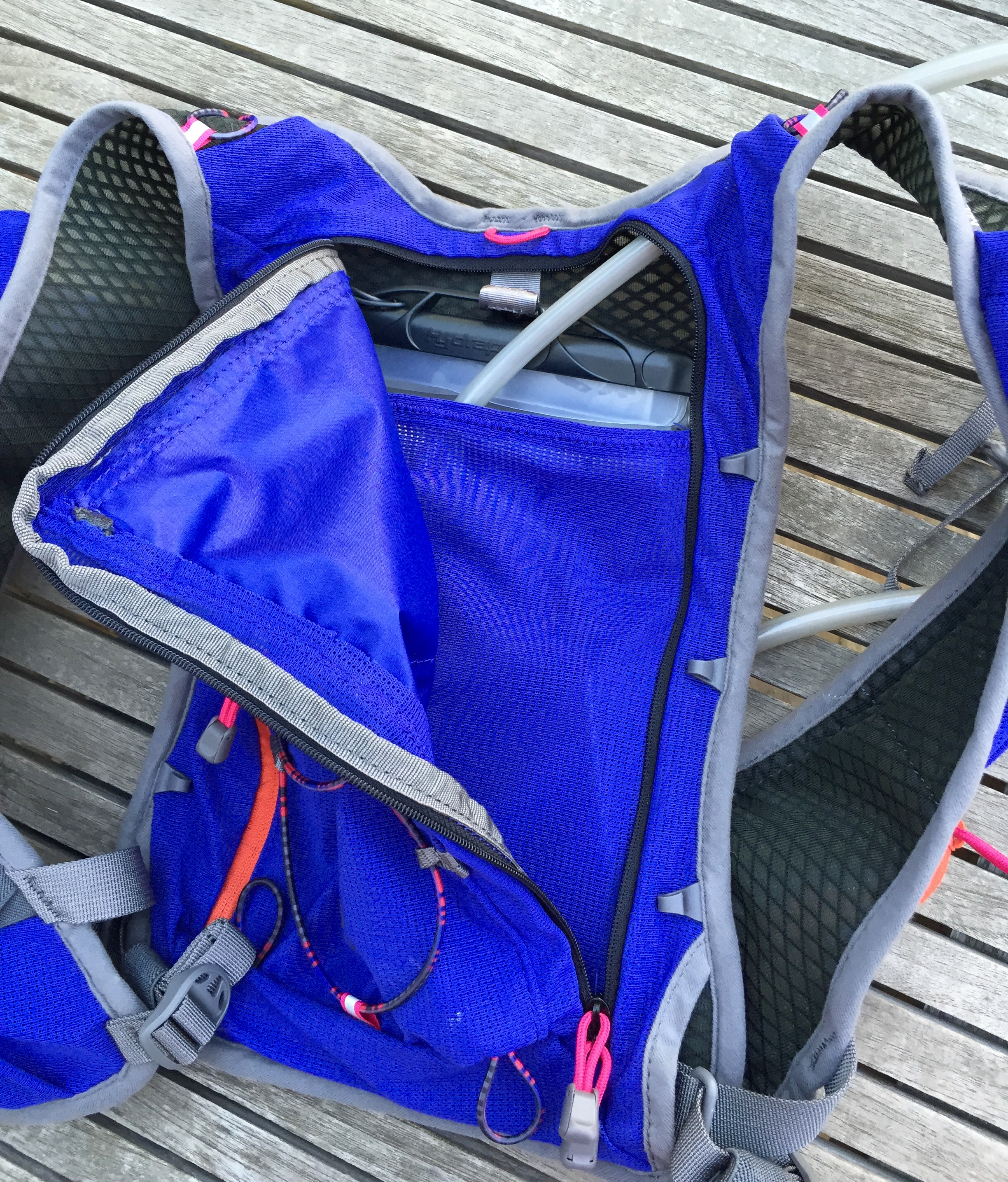 4. More nifty, better-designed pockets in the back: In addition to the main compartment in back, which has an inner pocket for the reservoir, the new Ultra Vesta has two horizontal pockets in back (whereas the old one had one big vertical one and a smaller one on top), making it easier to organize and separate things. It also has an expandable outer mesh pocket where you can put bulky stuff, which is especially useful for wet clothing. Here, you can see I shoved my ultra-lightweight yellow Marathon Shell Jacket
(which I also highly recommend and wear all the time) in this outer mesh pocket.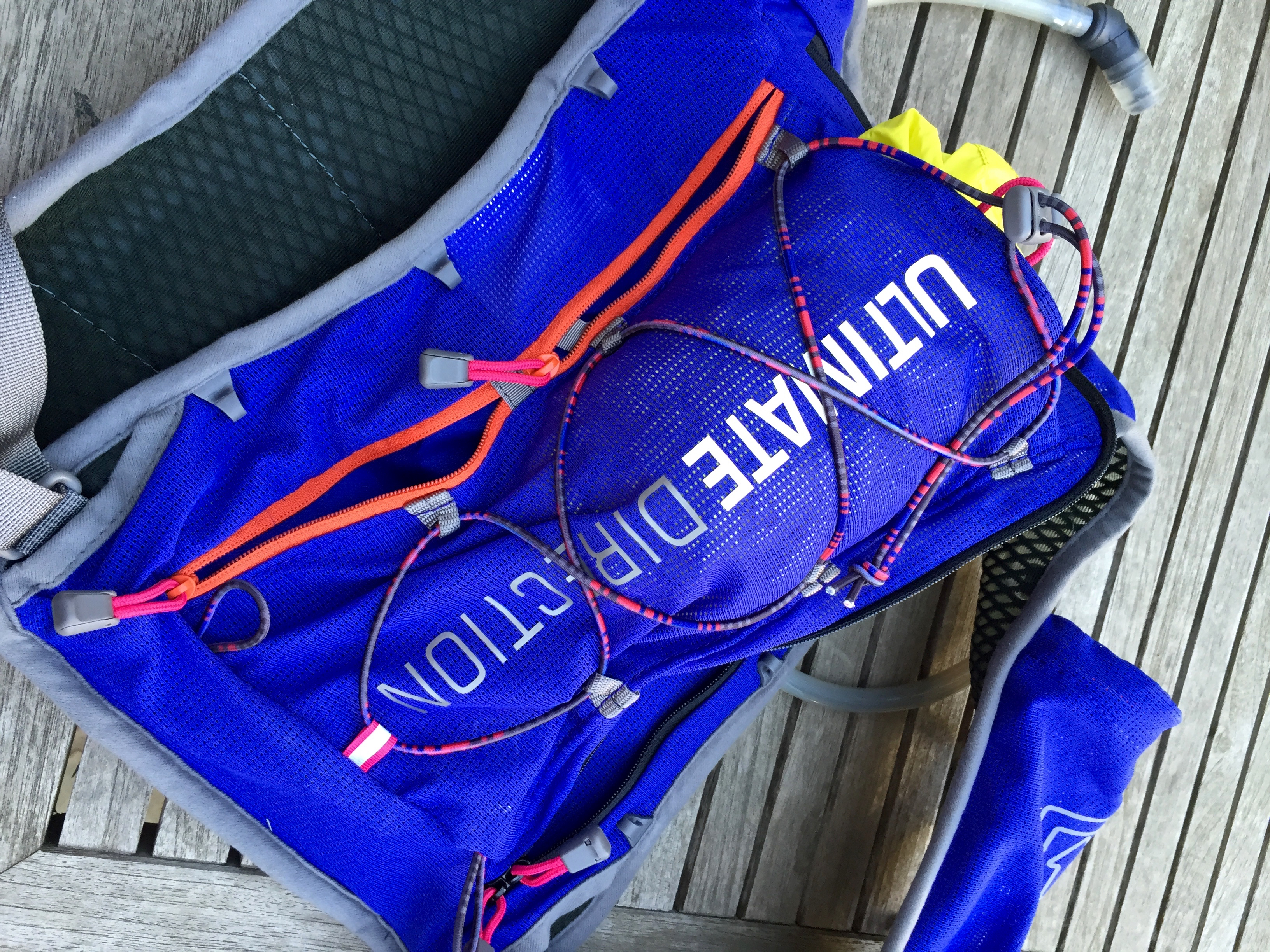 5. It's the little things that count: The other features that make this a great vest include the trekking pole loops, the adjustable sternum straps, the key clip (which comes with a ponytail holder, a signature feature of all Jenny Collection products and a nice touch), a compression bungee to attach more stuff like extra clothing (and the bungee cord hooks on those tiny hooks on the edge, so you can get a tight fit for awkward-shaped items), and a built-in safety whistle.
One little complaint: The safety whistle is attached above the left bottle holder, which makes sense insofar as that's close to your mouth and therefore easy to blow if you're in trouble. But, the plastic whistle bangs on the top of the bottle, making an annoying noise. You have to securely tuck the whistle down so it doesn't pop up and rattle against the top of the bottle.
The Adventure Vesta
When I needed a vest with more capacity—say, for an all-day trek or an extra-long, unsupported run—I would use Ultimate Direction's SJ 2.0 Ultra Vest,
an excellent vest, especially for men. You can see it here in this pic from a year ago in New Zealand. Only problem: It felt too big—too wide, to be specific—and consequently rubbed and bounced when I ran with it.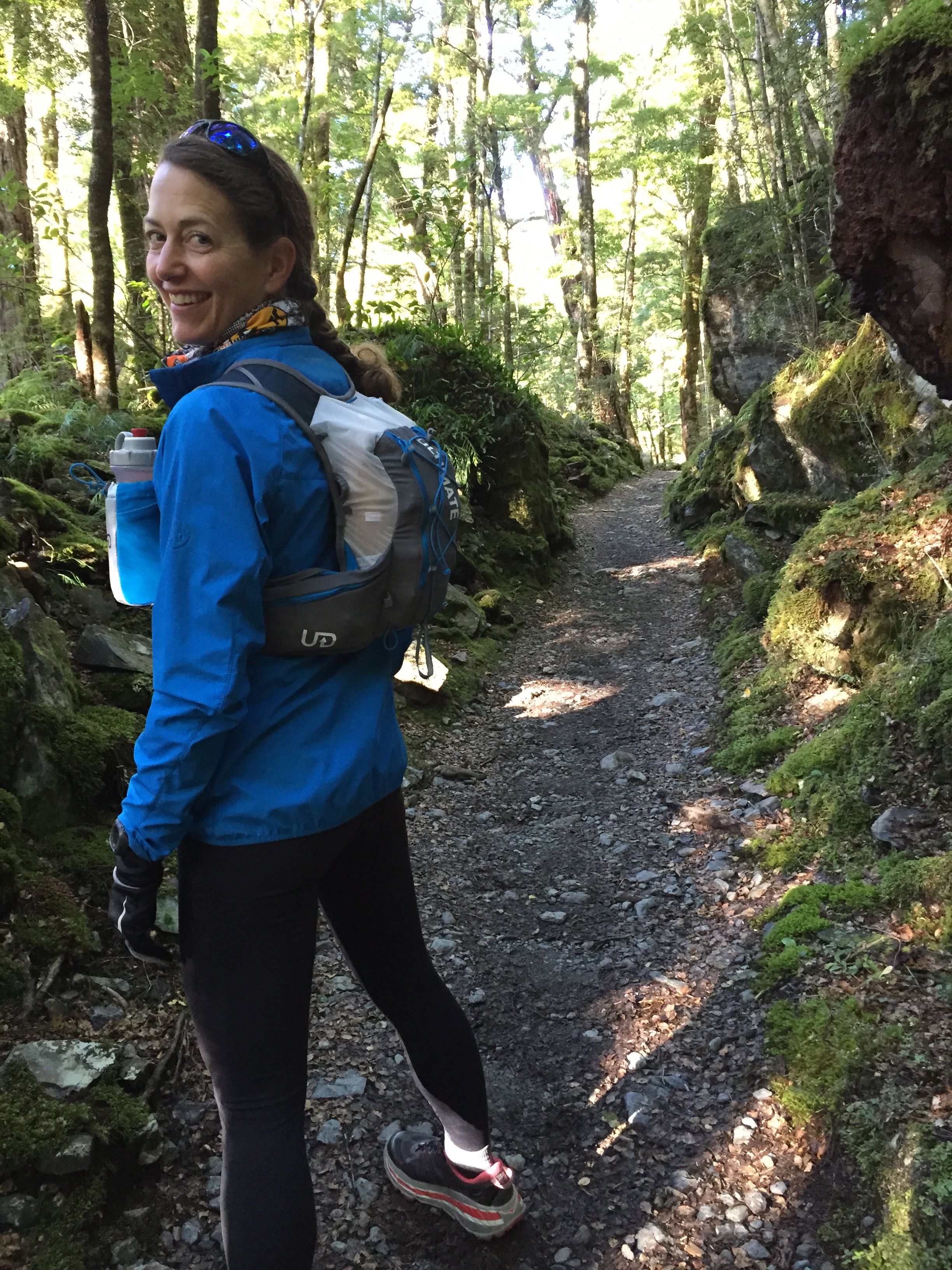 Thankfully, Ultimate Direction introduced a similar pack especially designed to fit better around a woman's smaller frame and breasts. This is the new Jenny Collection Adventure Vesta ($149.95), and my first impression is that it is awesome! But, I haven't tried it out beyond putting it on in my back yard and jumping up and down, so I recommend you watch this short video for a full tour of its features. I can't wait to try it on a real outing.
One of things I noticed and liked right away: It has Velcro side tabs for very easy adjusting around the waist. It'll be nice to tighten or loosen this when I'm on long runs or hikes, depending if my tummy feels bloated or if I need it more snug.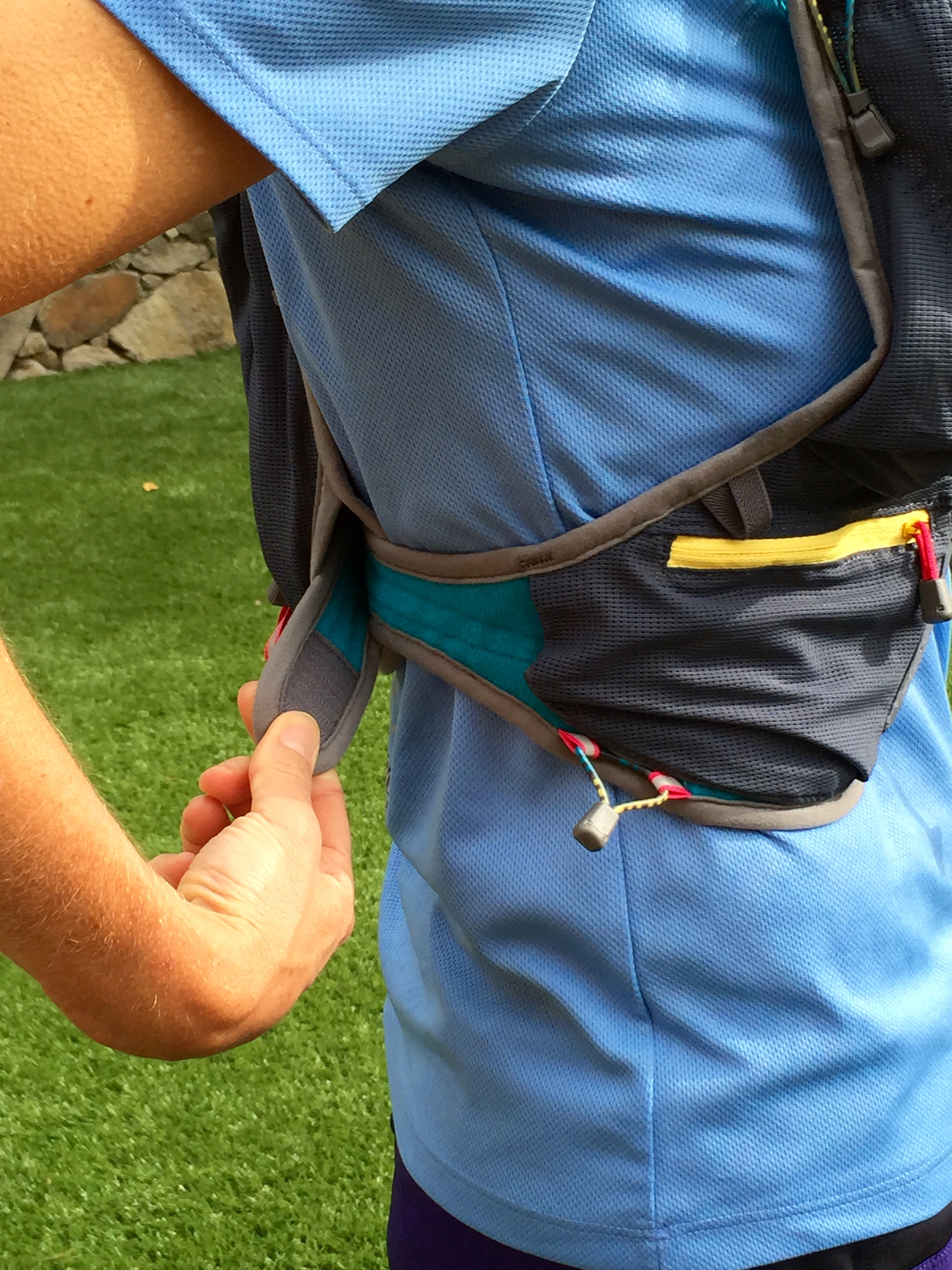 It also has a clever system for holding trekking poles up front, so they would be easy to slip in and out (whereas trekking poles held in back necessitate taking the pack off and on repeatedly). There are extra trekking loops in the back, along with an ice pick loop. This vest is built for serious adventure, to be sure! Here's the rear view: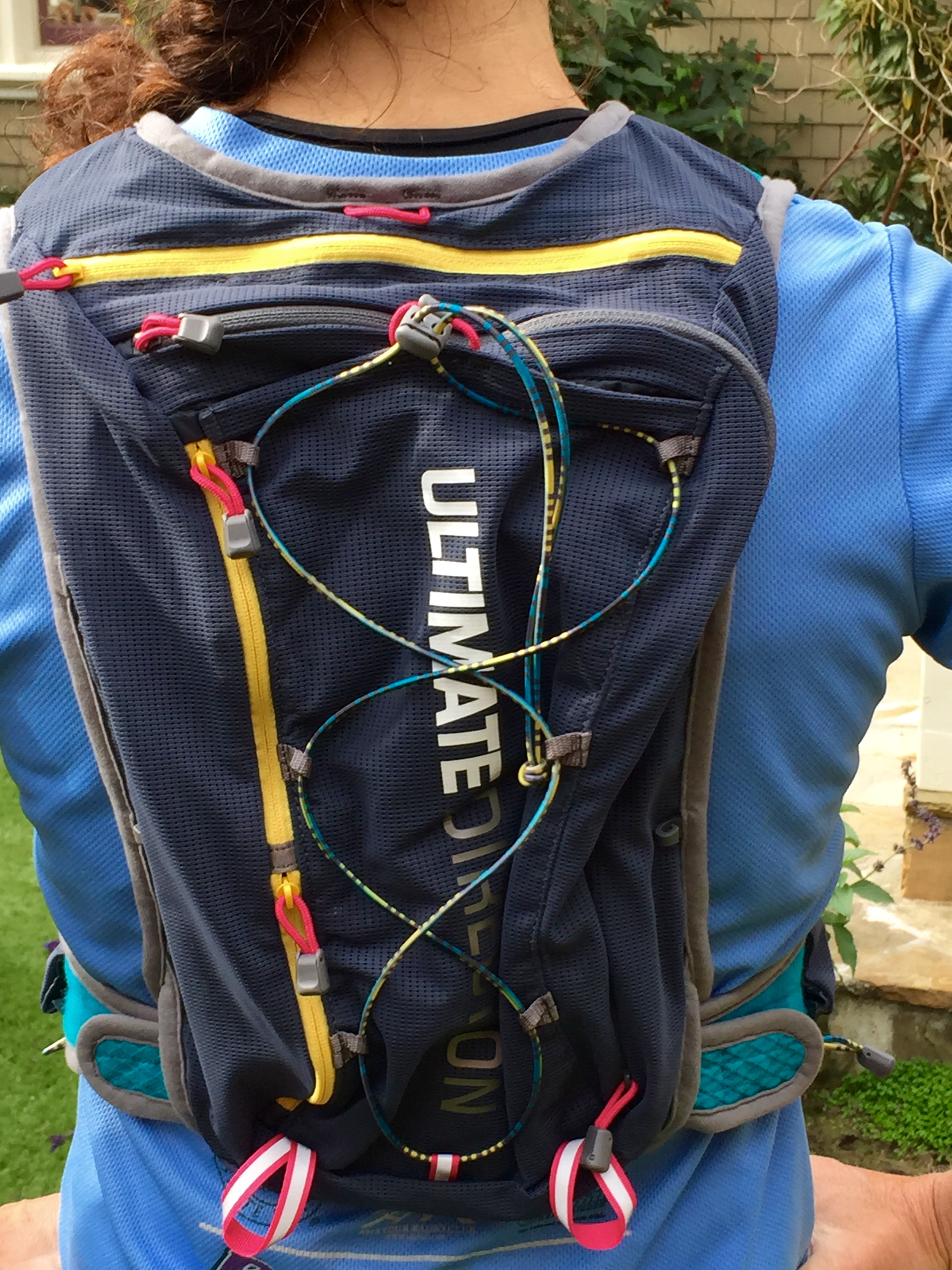 If you get either of these vests, let me know in the comments below what you think of them.
One last note: Please don't give me grief about having a perfect green lawn in drought-stricken California! Several months ago, we had our dead lawn replaced with pet-friendly artificial turf so we would not need to water it. I never thought I'd have fake grass, but it's great!