When I approached the start of the "Night Sweats Marathon" last Saturday at 8 p.m., my nervousness had less to do with the 26-mile distance and 5000 feet of climbing through the Marin Headlands, and more to do with the darkness. I worried my light wouldn't be strong or comfortable enough, since in the past my headlamp has bugged my forehead and slipped around.
When I try to run trails at night, the darkness strains my eyes, messes with my depth perception and casts confusing shadows around every bump in the trail, which makes me slow way down and step gingerly through rocky stretches. Worse, if it's rainy or foggy, then the precipitation creates a swirling pattern in the headlight beam in an almost hallucinatory way that frustrates and fogs my brain.
But after years of trial and error, I found a lighting combination that works well and gave me the confidence to run hard last Saturday night. It has three parts:
1. Fenix PD32 Compact 315 Lumen LED Flashlight
2. Black Diamond Spot Headlamp
(or any headlamp that works well for you; this is the one I happen to like)
3. Original Buff Headband
(I prefer the half-size rather than full-size buff)
First, the flashlight: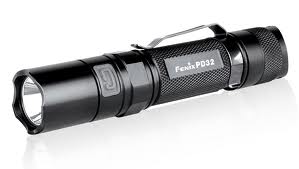 This Fenix PD32 is awesome. It puts out an intense light at four brightness levels; the third-highest level is plenty bright, and the battery life at that level is 8 hours, 15 minutes. It's waterproof and easy to turn off and on. It has a strap to wrap around your wrist so if you fall or drop it, you won't lose it. And it's very lightweight—2.2 oz. plus battery weight. I don't know the exact weight with batteries, but it feels about as heavy as a banana and about half the size. It costs about $68 if you buy it with batteries included; it takes two CR123A batteries (you can find these types of batteries online or in a hardware store).
I also like how it fits into the front pocket of my pack: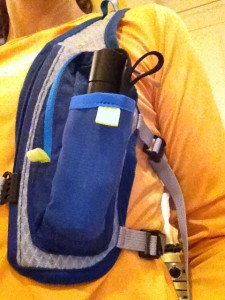 Secondly, the headlamp/buff combo: Some people like to run with a headlamp over their hat, but this has never worked for me because the brim always seems to interfere with the beam of light. But if I put the headlamp directly on my forehead, then it irritates my skin and leaves a red welt that looks like a third eye. I finally discovered that wearing a buff on my head is an ideal solution because the thin fabric keeps the headlamp from slipping or bouncing around. The buff also provides the right amount of warmth for my head in this climate (windy, with temps in the 40s), since a thicker cap would have felt too heavy and hot.
So here's how it worked:
During the race, more than half the course followed relatively smooth fire roads. On this terrain, my headlamp alone provided sufficient light, so I kept the flashlight tucked in the pocket of my hydration pack. That way, I could enjoy running with nothing in my hands and also save the flashlight's battery life.
But as soon as we were on rocky single-track, the flashlight proved invaluable to illuminate the terrain and prevent me from tripping. I had been so nervous about navigating the Pirates Cove section of the Coastal Trail in the dark—it plunges down toward the ocean, over rocks and slippery wooden steps—but I managed at nearly the same pace I'd run it in the daytime. The handheld flashlight in concert with the headlamp made the shadows of rocks and other tripping hazards much less confusing and less ominous.
Here's what Pirates Cove looks like, in a photo of me taken during last year's Marin Ultra Challenge. Imagine running it under the stars, not seeing the surf or cliffs, yet hearing the sound of the waves crashing and the distant honk of a fog horn. The field of vision doesn't extend beyond the small bubble of illumination created by the headlamp and flashlight. With all senses acutely attuned, the experience is at once dream-like and vividly real, which makes it all the more exhilarating.
Fog began to blow onshore as I climbed from the sea back up the ridge, and the headlamp's beam created a cloudy, increasingly confusing blur at eye level as the moisture in the air thickened. Hence, I switched off the headlamp and used the flashlight alone. The effect was like turning off your headlights and using fog lights in a car—instead of seeing a dense cloud at eye level, you see only the ground level. This option is one more reason I like the headlamp-flashlight combo.
Finally, there's the advantage that if one source of light fails, you have a second one to use. I brought extra batteries but didn't need them, since they worked fine for the five hours I was on course.
I'm still in comeback-from-injury mode, carrying an extra 4 to 5 pounds of bodyweight that doesn't seem to want to budge, and being very cautious with weekly mileage. I ran this nighttime marathon instead of the following day's Oakland Marathon because I'm not at all in road-racing shape, and I didn't want to risk re-injury by pounding pavement at a hard pace. Yet I felt so good on the trails Saturday night, and unexpectedly confident thanks to this lighting system, that I pushed the pace to try to break 5 hours. I finished 2nd female overall in 4:57, less than two minutes behind winner Carrie Peterson-Kirby, and 18th overall. The male winner, Rickey Russell of Novato, finished in 3:30 (!).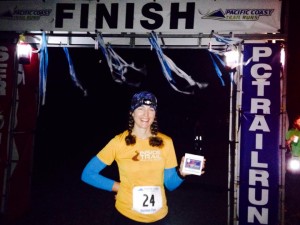 Sidenote: This is the first Pacific Coast Trail Runs event I've done since the ownership changeover a year ago. Kudos to John and Maureen Brooks for directing a well-organized event with stalwart volunteers who braved the nighttime cold and wind. PCTR will hold another "Night Sweats Marathon" on September 13; here's the link to register.