I read a paperback in 6th grade called There are Two Kinds of Terrible, by Peggy Mann. A boy breaks his arm at the start of summer, which seems terrible to him. Then his mom develops cancer, and the boy has to cope not only with her loss but also with his emotionally devastated dad.
I thought about that book, and contemplated the varying degrees of "terrible," while peddling for four hours and 85 miles yesterday on a spin bike at the gym.
These past two weeks, I felt like I moved toward terrible. First, I went to the podiatrist Dave Hannaford to get his read on the recent MRI of my foot and his prognosis on when I can start running again. I still feel the injuries while walking around the neighborhood. He said the stress fracture in the third metatarsal is slowly healing; the bigger problem is the chronic, progressive condition in the ball of foot and big toe (I first blogged about it two years ago in this post, "5 Truths About Running Injuries"). I have the onset of Hallux Varus, which means my big toe is deviating away from my foot. The ligament there is tearing, and the two little sesamoid bones in the ball of the foot are out of their grooves and rubbing against another bone, creating a spur. The whole thing is inflamed and out of alignment, even after eight weeks of rest.
Hannaford used phrases like, "anatomical change that's irreversible and pathologized." I should be able to get back to running when the stress fracture fully heals, but my big toe pain will be "limiting." I may need surgery down the road. Bottom line: It will be difficult, and require a great deal of management and moderation, to train with any consistency again.
Like the boy who sees his fun summer plans dashed by a broken arm, I thought that news was pretty terrible. I've signed up for two 100Ks this spring that I really want to do (Coyote Backbone in March, Miwok in May), and I'm signed up and have a deposit down on September's Grand to Grand Ultra, the self-supported 167-mile stage race, which I absolutely have my heart set on doing again. After that, I would like to do the Rio del Lago 100M in November, so I can fulfill a suspended goal leftover from this year.
It's hitting me: I might not do any of those events. I might have to let go of ultrarunning dreams. Who knows? I could get back to running at a high level, or not. Either way, I need to take the recovery week by week and emotionally detach myself from those races and goals.
In part to cope with that news, I kept quite busy with working, parenting and volunteering. The whole time, however, I was distracted by a growing concern and gnawing anxiety that unexpectedly shifted away from the running injury and toward my dog.
Let me tell you about Teddy, our 7-year-old Portuguese Water Dog. We adopted him in October of 2006 when he was two months old, before the Obamas got Bo and made the breed better known. (Teddy looks just like Bo, but Teddy's white socks are a different height.) We wanted a non-shedding dog due to my daughter's allergies, but not a yappy small dog and not a hyper big Labradoodle. Medium-sized Teddy was just right in every way. He became my third child and the center of our family, utterly devoted to us and us to him.
Teddy has impeccable manners, and I feel maternal pride when he receives compliments about how well trained he is. But I don't love him just because he is smart and polite. I love him because he is a cream-puff love-bug, bushy-tailed with bright, soulful eyes. He is kind, patient, and mellow until he unwinds at high speed by running circles in the yard. He lounges on and around us like a cat.
Teddy has a piece of lambswool that he carries around the house in his mouth like a security blanket, and he holds it between his paws when he lies down. We call it his "woobie." Teddy is my woobie, the comfort object I want to hold and keep nearby.
Two days after Thanksgiving, I discovered some dried throw-up on the rug, which seemed odd. The next day, Teddy lost interest in his kibble, but he still seemed perky at the park. During the week, he vomited more and developed  diarrhea, so we fed him small amounts of boiled chicken and rice to go easy on his stomach. He barely touched his food. We took him to the vet December 5, and he spent a good deal of the next 48 hours there. They did all kinds of tests, plus an Xray and abdominal ultrasound to see if he ate something that was blocking his system. None of the tests showed anything.
He began to improve, so they sent him home. Last Wednesday was the best day of the week. Teddy perked up and finally produced something almost normal-looking out his other end. He seemed not 100 percent, but on the mend.
Then everything changed in 24 hours. He stopped eating and became withdrawn, and he leaned back on his leash in gentle protest when I tried to take him out for a walk. Later, he started dry-heaving. I slept on the couch with him Friday night and took him to the vet Saturday morning. They did another round of tests to rule out every virus and condition they thought it could be, but the test results wouldn't come back until Monday (today). They sent us home with a kit to inject him with fluids to help him get through the weekend.
Saturday night, I woke in the middle of the night and went to check on him. He looked at me with pleading eyes and wagged his tail, but he did not want to get up. I transferred him to the couch and lay my head next to his and held him for the remainder of the night, knowing in my heart that he was critically ill and in deep pain. As I rubbed his ears, he moaned and burrowed his head into my cheek.
We called our vet, and she came to our house early yesterday morning. It was time to get Teddy to emergency care, she said, because he might have a blockage that the earlier ultrasound did not detect, and he needed pain relief.
I had an event on the calendar for that day, a fundraiser "spin-a-thon" at the gym. Under the circumstances—Teddy getting hospitalized for urgent care, me sleep deprived and congested with a head cold—it seemed out of the question to go to the gym. But Morgan encouraged me to go while he checked Teddy into the pet hospital. I decided to follow through with this event that I found out about just a few days beforehand.
On the verge of crying in front of strangers, I began pedaling and concentrating on the music and the sustained effort.
My legs and seat got progressively sore, I lost myself in music and thoughts, and I appreciated the company of the eight or nine others who were spinning. I closed my eyes and imagined running and wondered if I'd ever run four hours straight again. I visualized Teddy on our walk in the park and wondered if he'd ever run at full speed down those paths again.
I never once got off to take a break, and I rode as hard as I could during the final hour to reach 85 miles before the 240 minutes were up.
Morgan visited me toward the end and filled me in on Teddy's condition: the radiologist reported seeing the small intestines extremely dilated, nearing the point of rupture, so there could be something blocking him that the earlier Xray and ultrasound did not reveal. They were preparing to operate later that afternoon. I pictured an object like a cork plugging up his gut, and I felt a surge of hope because it could be removed—a relatively easy, clean fix.
We left the gym and went to the pet hospital in Berkeley. Fortunately, our son Kyle was on a full-moon hike with his Boy Scout troop rather than with us, so he didn't see how much I cried when we got the news.
The surgeons didn't find a blockage; there was nothing to remove. What they found instead were Teddy's small intestines severely dilated and inflamed, visibly unhealthy. They took biopsies, but we can't get results for two days. The vets narrowed their guesses for a diagnosis to either cancer or severe inflammatory bowel disease, which can be treatable but requires a great deal of intervention and management.
We're not sure how many days Teddy will be in the hospital or what his recovery will look like. We're also not sure how aggressively we want to treat him, whether it's cancer or not. I picture my dad last February in the ICU, and how with grief but also a bit of relief we suspended hope of recovery and made the switch to peaceful palliative care in hospice. I picture making that same switch with Teddy and transferring him home to give him as much comfort as we can.
At the hospital today, Teddy made every effort to wag his tail and to focus on me through sedated eyes. Face to face, we locked eyes and he gave me a token lick on the chin.
His stoicism and trust tear at my heart. I massage his ears and whisper in them that he is a good dog, the best dog, and that I love him so much. I tell him that I'm so sorry, that he in no way deserved to get this sick, and that everybody wants him to get better. Good dog, such a good dog. But as I hold his collar and stroke his neck, I hold back from telling him that I'll never let him go.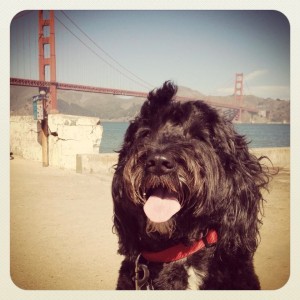 Update Thursday, Dec. 19, 2013: Teddy's condition worsened Monday through Wednesday. I visited him throughout each day in the hospital, and he would wag his tail a bit when he saw me and drink some water, but he refused to eat and only wanted to lie down. He was happiest with his head in my lap, so we spent hours like that. I knew he was dying and assumed it was a fast-moving cancer. But the biopsies that came back late Tuesday were cancer-free. Instead, they believe he had a severe autoimmune response to something attacking his system. The muscle lining around his duodenum, and his small intestines, were disintegrating and nonfunctional, so he would never be able to pass food again.  We kept him going until Wednesday afternoon, when my daughter arrived back in town from school for her winter break. We broke the news to both kids when they were together at home, and they were devastated because they did not realize Teddy's condition was so far gone, and then we went to the hospital. We could not take Teddy back home because it would have been too painful and stressful on him to transfer him in the car. Instead we gathered in a small private room with Teddy on his bed that we brought from home. When Teddy came in the room, he was confused and disoriented for a moment, but then he focused on Colly and squeaked with pleasure and wagged his tail at recognition that she had returned. Then he lay down with his head in her lap and did not want to move after that. The four of us spent about an hour showering him with affection, crying over him and recounting all our best memories with him. It was the most loving and peaceful goodbye we could give him, and he was so ready to go. He died instantly, in Colly's lap and with all our hands on him, when the vet gave him the injection.
We are letting the vets do a full autopsy because researchers at UC Davis want to see if he had the deadly new canine form of Circovirus, which may be spreading from Midwest states. There are signs it could be, but also signs that maybe it's some other lesser-known virus that did not show up on their regular tests. It is a mystery why an otherwise healthy dog full of vitality would become so sick over two weeks.
I am so grateful that Teddy could see Colly and Kyle one last time because he was at peace being loved by them, and they said their mutual goodbyes. I am full of sorrow for the suffering and confusion Teddy must have endured in his last week in spite of the pain medication. He was so trusting and innocent, and he is irreplaceable.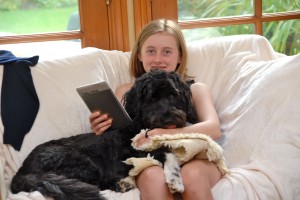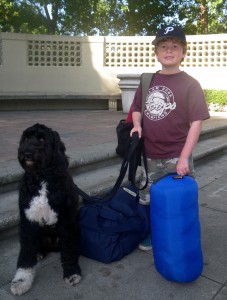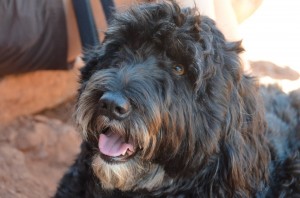 My sincere thanks to everyone who has sent me encouraging comments this past year. I'm going to put this blog on hold indefinitely until I can get back to the topics of trail running and travel.