I never thought I'd like to run or hike with poles. I prefer to hit the trail hands free, with minimal gear and no clickety-clackety noise. But then several people recommended I use poles while pacing at Hardrock, so I caved and bought Black Diamond Ultra Distance Z-Poles—ultralight trekking poles that became my favorite gear discovery this year.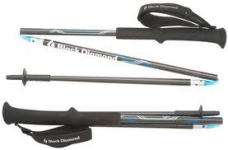 They took some getting used to. But once I did, I didn't want to let go. They felt like a natural extension of my body, a safety net to right my balance and stop a fall. It's like getting used to a seat belt in a car and then feeling odd and insecure when you drive without it fastened.
Here's a 20-second clip of me running earlier this summer in Ashland with the poles during the first time I used them:
I don't use them on regular runs. But for hiking and running on trails with a great deal of elevation loss and gain plus technical footing, they're a lifesaver. At Hardrock, they relieved some of the pounding on my knees on the precipitous downhills, helped me power up the steep slopes, and saved me from slipping down snowy crossings.
At only 9.5 ounces for the pair, these poles are incredibly light (other poles on the market range from about 12 to 20 ounces). They're so light that when I hit a flatter, runnable stretch and want to stride out, I don't mind transferring both poles to one hand and carrying them as if I were running with a hand-held water bottle. The poles fold up quickly and easily, but I find it's easier and more efficient to carry them fully extended while running rather than repeatedly folding and re-extending them.
When and if you need to fold them, though, it's no problem. I folded and stuck them in the outside straps of my hydration pack when I needed both hands.
The poles retail for about $150. The only downside is they're not adjustable, so you can't share them with another person unless that person is close to you in height. I'm 5'7″ and use the 110 cm size.
For more info, view Backpacker Magazine's video review. The poles earned the magazine's 2011 Editor's Choice award.
Disclaimer: I have an affiliate link with REI, so if you click through to buy the poles and/or shop their running store,
I get a very small commission. I only recommend products and retailers that I truly like.
Call for comments: What's been your experience with running/hiking with trekking poles? When do you take the poles for outings, and when do you leave them behind?