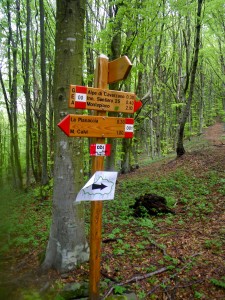 I like to think of running in terms of a trip, in all senses of the word: a journey, a mind-bending head trip, and an occasional stumble that represents unexpected challenges and comebacks. Infected by wanderlust, I love to take all kinds of trips. I came up with "the runner's trip" to capture those concepts and desires. If "the runner's high" is a peak, then "the runner's trip" is a whole mountain range.
The Runner's Trip is for runners who love to travel, who want to keep improving and evolving as runners, and who aim to find a new route (literally and figuratively speaking) wherever they may be. It's also for would-be runners getting into the sport, and for travelers seeking to explore destinations on their own two legs in a more adventurous and memorable way. It's for all of us who want to avoid feeling burned out and stuck.
Over the past couple of years, I had a running blog and a travel blog. I decided to combine these two topics through The Runner's Trip because each enhances the other. I realized firsthand that running enriches travel, and travel recharges running.
When my husband Morgan and I shaped a ten-month family travel itinerary around running events and trails in numerous countries, we discovered a way to connect with the environment, meet locals, and cultivate meaningful experiences on a deeper level than we experienced during typical vacation travel. Travel also helped me fall back in love with running—not that I ever really fell out of love with it, but as with any long-term commitment, the passion dwindles, replaced by habit and duty. Running in new places with camera in hand rekindled my joy of running—an appreciation for each mile, not just the feel-good end result.
When we moved back home in mid-2010 after our long trip, the cornball phrase "keep the journey alive" kept going through my head. Rather than push it away, I thought, "OK, but how?" This blog represents one way I'm trying to nurture my traveling lifestyle while we go about our regular, at-home lives. By that, I mean I'm trying to maintain a sense of adventure and willingness to try new things. A less stressed, more mindful way of going about the day. A commitment to plan and execute out-of-the-ordinary outings—be they day trips or long-term sojourns—that keep me feeling younger than my 41 years. A belief that it's possible to go places and do things that seem nearly impossible and highly impractical. And an awareness that our time on Earth is quite limited, so make most of the here and now.
Running and travel can bring out the best in people and be forces for good in the world. Sure, that's a lofty thing to say, but there's no denying the degree to which running improves health and wellness, and that travel enhances our sense of connection to the rest of the world. Rick Steves put it well when he wrote, "In this Global Age, the world's problems are our problems. It'll be all hands on deck. … Lessons learned from our travels can better equip us to address and help resolve the challenges facing our world."
A bazillion blogs are vying for your attention. A library full of great books are waiting to be read. Meanwhile, you need to squeeze in a run while making a living. I fully understand that your time is precious and truly appreciate that you've read this far.
May you run long, travel far, and discover more!