(Ahem, brief introductory note …) Dear readers, if you have ordered and read my book, thank you! You could do me a huge favor by writing a short customer review on this page.
Whether The Trail Runner's Companion rises toward the top in online searches for running-related books, or languishes like a back-of-the-pack ultrarunner hanging out at an aid station, depends a great deal on how many Amazon reviews it receives and whether those reviews are mostly five-star. If I can get over 50 reviews, then The Trail Runner's Companion
will get fresh legs for a stronger run! Any help you can give to spread the word about my book, via reviews or social media shout-outs, is greatly appreciated. 
Where Did February Go?
I do this thing most mornings where I scrawl on Post-Its what I have to do for the day and week. Part of me knows I will not get everything done, but unrealistically—nay, optimistically—part of me believes I will. Inevitably, by evening, the lists mock me.
This pattern continues daily. Isn't doing the same thing over and over again, and expecting different results, one definition of insanity?
I'm going to use this post to reflect on some special projects and endeavors taking extra time, to reassure myself I'm not going crazy, I'm just spreading energy in different directions!
Mountain Running Camp in the San Juans
Last summer, I started talking with Jared Vilhaur—an expert guide, ultrarunner and owner of Highline Running Adventures based in Ridgeway, Colorado—and adventurer Allison Snyder, a trail-running buddy based in Ophir (near Telluride), about starting a mountain-running camp to introduce trail runners to a glorious slice of the San Juans.
Fast forward six months, and it's a go! I will be coaching and co-guiding at this four-day retreat, taking place between Ouray and Ophir, during two blocks of dates: July 11 – 14, and September 23 – 26. If you have any interest in running up and down some gorgeous mountains in southwest Colorado, and you'd like to learn or practice trail-specific, high-altitude running skills, then please check out the website and register. The site has the details about the degree of difficulty and what to expect. Also feel free to message me with any questions about it.
Check out the pic below of the cozy Opus Hut at 11,600 feet off of Ophir Pass, where our group will stay two nights: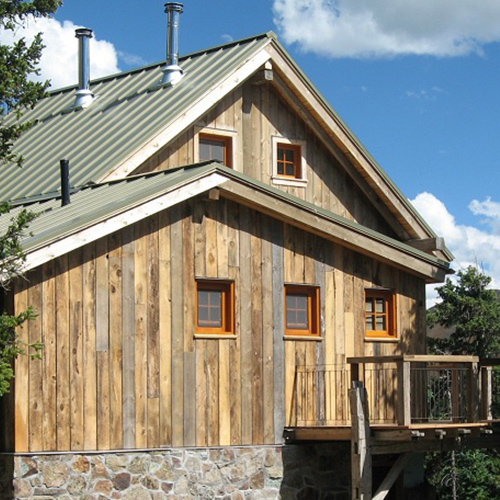 Speaking of camps, I will be attending coach Jason Koop's Memorial Weekend high-altitude ultrarunning camp in Colorado Springs. I've also attended Geoff Roes's ultrarunning camp in Juneau, Alaska, and a weekend retreat with Magdalena Boulet. I can personally attest to the awesomeness of a good-quality running camp/retreat with likeminded trail enthusiasts. It's also an excellent way to accomplish a multi-day block of higher mileage for training. Treat yourself and invite a friend!
Building a Dream House
In early 2016, my husband Morgan and I stretched our assets, took a deep breath and decided to anchor our future on a parcel of undeveloped rural property six miles outside of Telluride, across the street from the five acres my dad bought in the early 1970s and where my brother and sister-in-law now live. We've lived there the past two summers in an Airstream, and the time has come to build a house and start living there a full six months out of the year.
I never imagined I'd get to work with a team to design a house. The opportunity feels indescribably exciting, intimidating and daunting all at once. We're building something that will take the vast majority of our personal resources. We want it to fit into the environment, house our kids and their kids, and live on after we die. What if we get it wrong?!
We've spent lots and lots of hours with our builder and his team to finish the plans. It'll be a two-story, three-bedroom rectangular home in a farmhouse style. We're down to the level of details such as figuring out where the light switches should go. We just purchased tons of old, reclaimed lumber harvested from vintage farm buildings, so the home's boards and beams will have character. Fingers crossed (and approvals pending and weather permitting), we'll break ground on the foundation as soon as the snow melts in early May. It's hard to believe this is really happening …
Horsing And Running Around
Back in November, we transferred our family horse, Cobalt, from Southern California (where my son had been riding him at the Thacher School) to Oakland so that Morgan and I can ride. It doesn't take a psychologist to recognize that I craved a horse in part to fill the empty-nest void created by my son being at boarding school and my daughter at college, and in part by my desire to reconnect with my horse-centric youth.
Over the past three months, I fell back in love with riding and developed a strong bond with Cobalt. I visit him four or five times a week (Morgan rides on the other days), and I alternate between exercising him in an arena and on trail. While riding is not exactly satisfying athletically—because it doesn't raise my heart rate, and there's nothing competitive about it—I find it extremely satisfying mentally and emotionally, sort of the equestrian equivalent of yoga or meditation. To inhale the smells of the barn, to use both hands to groom Cobalt's sides and to saddle him up, and then to work with him so that he responds to subtle cues and smoothly transitions between gaits—all of this fills me with pleasure and is worth the two to three hours that each visit to the stables takes. (The barn is located in the Oakland hills, 15 minutes from our house.) We'll transport him to Colorado when we move there in May.
Often I hike next to Cobalt's side while leading him, periodically getting on his back to ride bareback, and I'm working on training him to trot by my side while I run. Training him to be a trail-running partner inspired an essay that will appear in the April issue of Trail Runner magazine, for which my photographer friend Tonya Perme took these photos.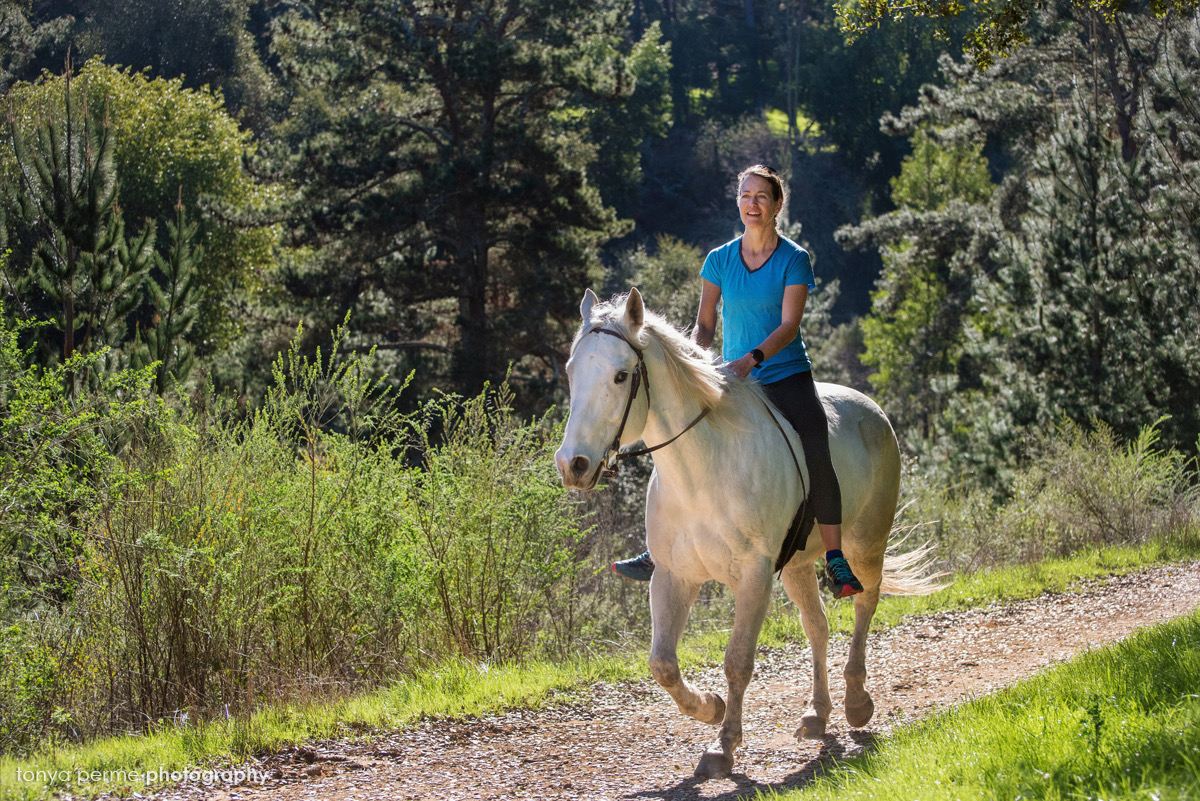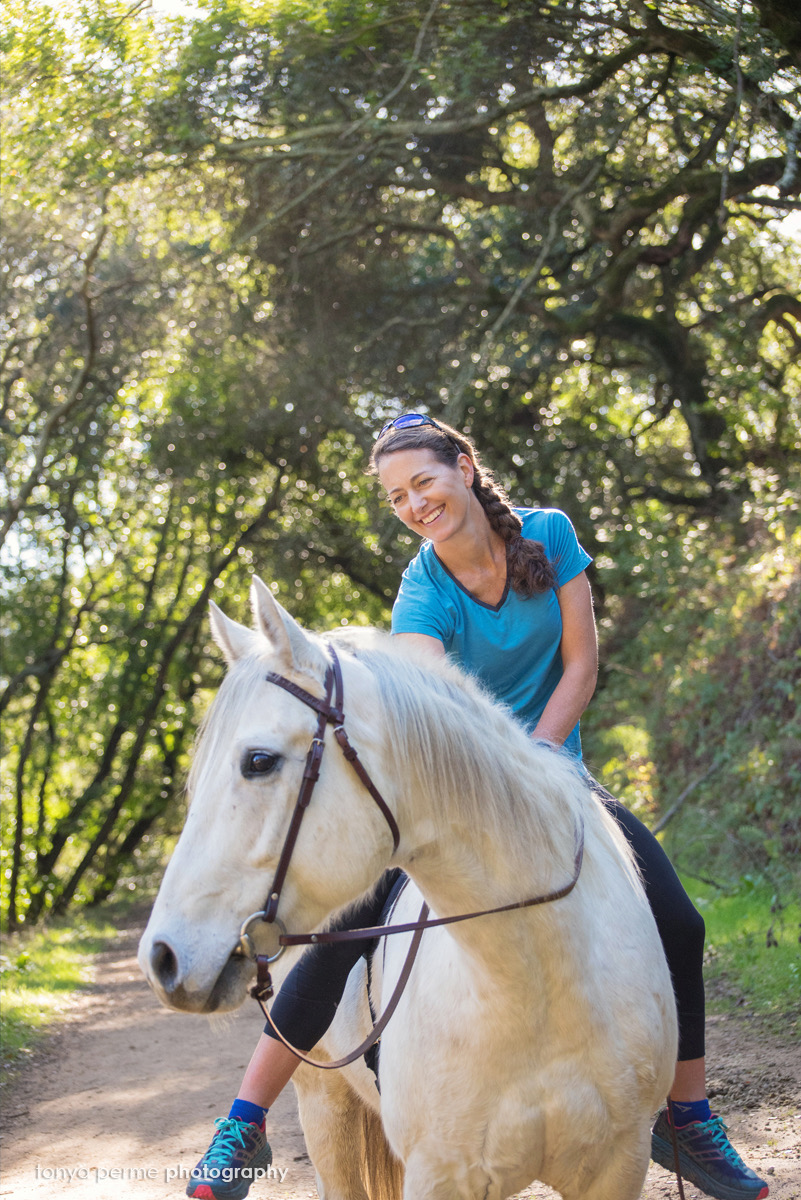 Only eight weeks remain until my first big goal race of the year, the Canyons 100K on the Western States trail near Auburn. I'm trying to fit training into my week, and grow my weekly mileage from the low 50s to 70s, and—well, some weeks are better than others. I had two good "just for fun and training" practice races during the past two weekends, a trail marathon and a road 5K. The road 5K came about as a favor to a running friend and mentor, Len Goldman, who wanted to pair up for a relay. I am not in speedy 5K shape but I managed a sub-7 pace for a 21:43 finish.
I'm not going to really think about the two biggies on my race calendar, the San Juan Solstice 50 and Ouray 100, until May. I just have to train for Canyons 100K, transition to Colorado, and then the challenge gets real.
Running for Good
It's challenging, but not impossible, to make time for weekend long runs now that my Saturday mornings revolve around running and mentoring students with Running for a Better Oakland. I'm helping the high-schoolers train for the March 25 Oakland Half Marathon, and at the board level I'm assisting the organization with its fundraising and strategic initiatives.
A few weekends ago, we bussed scores of students up to Sibley Regional Park to introduce them to trail running. Last weekend, I ran with several students including an 11th-grade student named Tricia (pictured below), who completed three laps—9.5 miles—around Lake Merritt, the farthest she had ever run. We spent much of the time talking about college and her other aspirations. This is a great organization—promoting better health and achievement through running—and if you'd like to support it, please make a donation through my friend Christine's fundraising page.
Mom time
My son Kyle is home on spring break, and we just returned from a college trip to Oregon. Writing this blog post got delayed by running an errand with Kyle, and then my daughter Colly emailed and asked me to proofread her application to study abroad next year. I love my almost-all-grown-up kids so much, and I savor all these mom moments!
Misc.
I have some good news (make that "GU'd news"): I have become an athlete ambassador for GU, the product I use and like the most! I was previously sponsored by a competing brand but was not entirely satisfied with their product or packaging, and I've always used GU gels, chews and drink mix. I'm gratified to be on the team of a company based here in the East Bay, which is doing innovative research and product development thanks in large part to my ultrarunning hero Magdalena Boulet.
I started a column for UltraRunning magazine that will appear every other month, and I used the words diarrhea and poop in the debut.
A podcast and running community called Heartland Running invited me on their show. We spent about an hour addressing all sorts of questions about trail running. I was delighted to discover this podcast and talk with the hosts. Here's the episode if you'd like to listen.
And that's about it. I feel slightly less scattered, having written this post, and I promise next time I'll write more of a narrative and less of a grab bag.