Here we go again—for the fifth year, I've compiled a roundup of nifty products I discovered and used this year to better enjoy running and the outdoors. I admit, I do this annual gift guide to generate a small amount of commissions through the links below, and that revenue helps support this ad-free site. But mainly I do it to get the word out about things I genuinely like and recommend.
If you discovered a must-have, super-cool running-related product this year, then tell us about it in the comments below!
The Ultimate Chair for Crew Stops and Recovery
Earlier in the year, at the Trails in Motion Film Fest, I watched the film One Step At a Time featuring three bad-ass ultrarunners trying to break a FKT record on 453 miles of the Oregon PCT. Each time they met their crew, the runners were treated to a trio of amazing oversized reclining chairs in which to briefly rest. I whispered to my husband Morgan, whom I had dragged to this film fest, "I want one of those for my birthday!"
Morgan blew me away by actually surprising me with one of these, a Timber Ridge Oversized XL Padded Zero Gravity Chair,
as seen here in my kitchen on my birthday and later in Colorado on the deck of our tent. The chair also sits up in a regular position and folds for easy carrying. It's marketed toward extra-large people—"supports 350 lbs!" states its description—but whatever your size, you'll surely want to sit in it for long periods of time (conveniently forgetting the warning for mid-ultra, "Beware the Chair").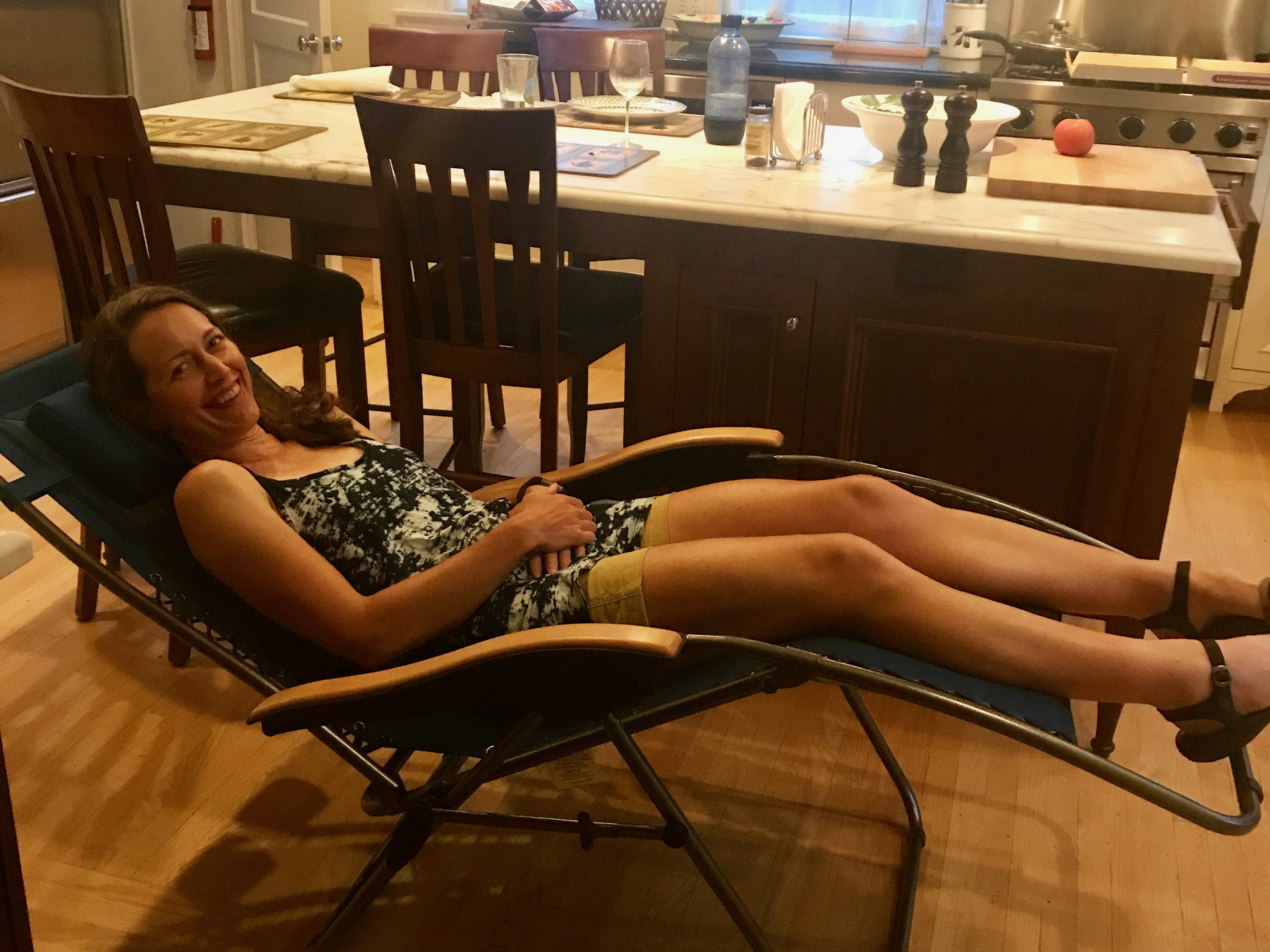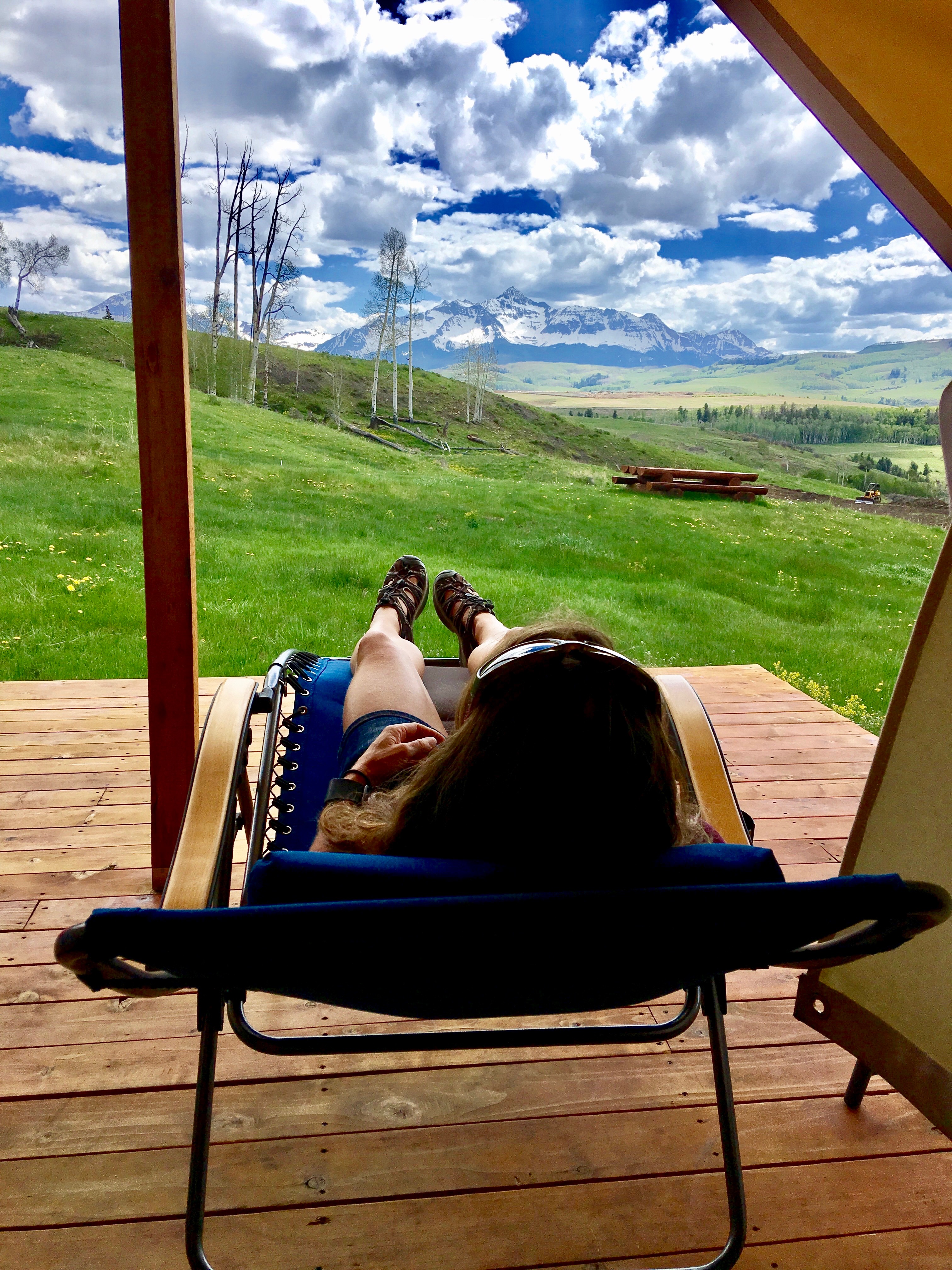 Treat Your Feet
When I competed in the Mauna to Mauna Ultra self-supported stage race (read report), which combines camping with 155 miles of trail racing, I knew I'd need good flip-flop sandals for the campsites to let my feet air out between the stages. I discovered the wonderfully lightweight yet cushy OOFOS flip flops.
 OOFOS cradle your feet and support your arches in a way that feet deserve to be treated after you've beaten them up for 50K or longer. The photo below shows my feet toward the end of the Mauna to Mauna, with four toes taped with Rocktape Kinesiology Tape, a miracle tape I also recommend; it has numerous purposes, including taping toes to deal with blisters.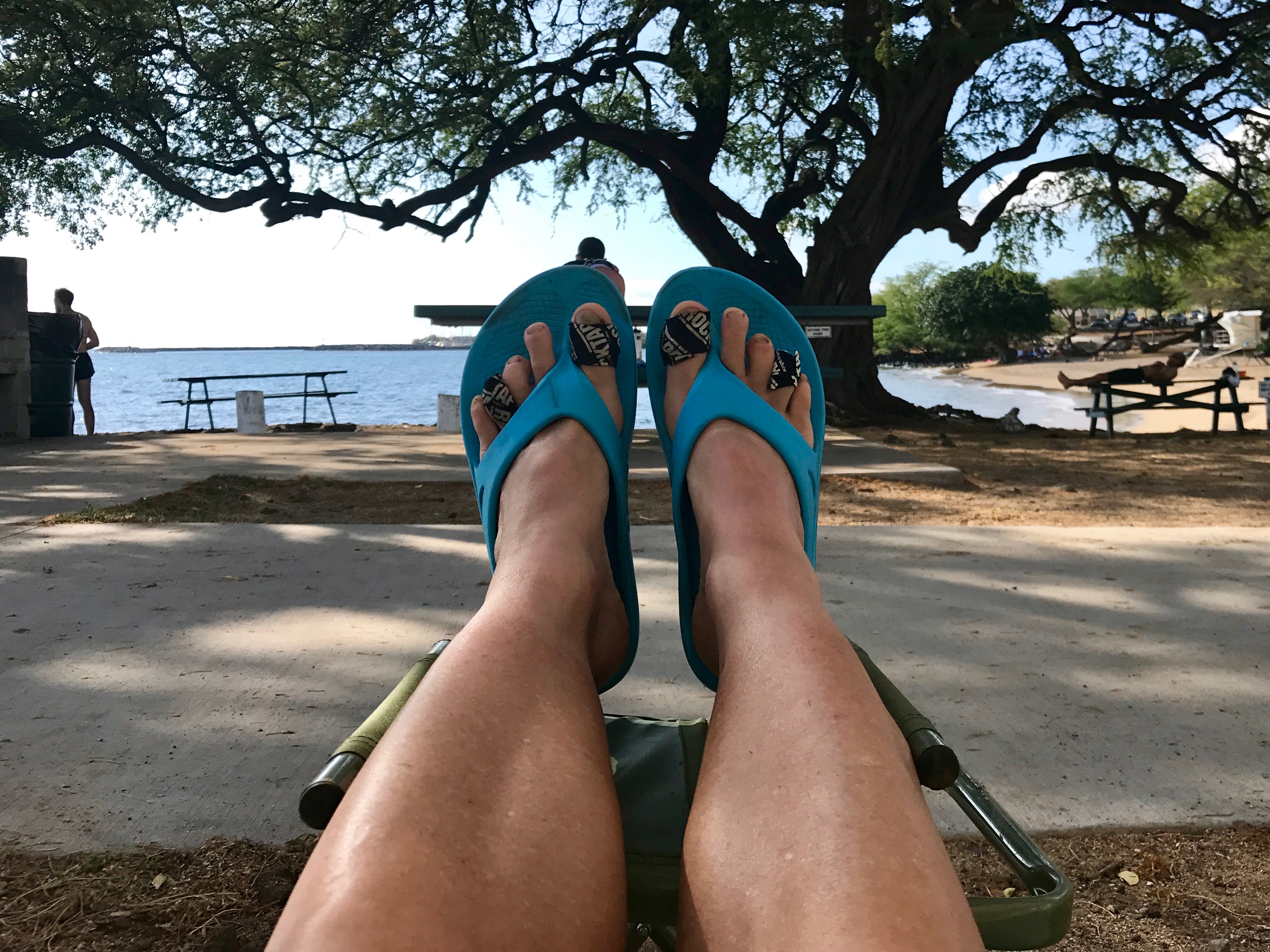 The GPS Watch That Also Cooks You Breakfast and Teaches You Spanish
I'm kidding, it doesn't actually cook, and so far it doesn't have a language-learning app (for those things, I recommend The New York Times Cooking App and Babbel, both of which I use almost daily).
But the Garmin Forerunner 935
 performs a mind-boggling combination of tasks. I finally came to terms with the fact my FitBit Sport watch was nice, but not entirely accurate with regard to distance and wrist-based heart rate, and I needed a top-notch watch with all the bells and whistles a mountain runner could need. (Note: that's an expression; it doesn't really come with a bell to scare away bears or an emergency whistle, but that'd be cool.)
The Garmin Forerunner 935
 took me a few days to fully customize and learn how to use, and now I'm addicted. I particularly like its altimeter and navigational tools. As a coach myself, I often beg to differ with the coaching advice that the watch sends me post-workout (e.g. how much recovery time I need), but it's interesting to see what the data concludes—just take it with a grain of salt. I also like the Garmin Connect app. Read DCRainmaker's exhaustive review of the Garmin 935 or watch the video below for details; his page has additional videos showing how to set up the watch.
This Little Light Of Mine, I'm Gonna Run Better At Night With It
For nighttime trail running, I advocate a two-light system (see blog post) of a headlamp plus an ultralight, powerful flashlight (this one is my favorite).
The two separate light sources work together to better illuminate the tripping hazards on the trail. But a flashlight doesn't work well when you're gripping a trekking pole in each hand. For a secondary light source under this scenario, you should try the clever little UltrAspire Lumen 115C Clip Light,
which clips hassle-free onto a hydration pack's sternum strap or onto the waistband of your shorts.
The UltrAspire Clip Light also makes a great choice when you don't need a lot of light; for example, when you're running in predawn darkness in an area partially illuminated by street lamps or a full moon, on pavement or smooth dirt when you don't need to worry too much about uneven footing. For this reason, I'll use this clip light on New Year's Eve when I ring in the new year by running the San Francisco New Year's One Day 24-hour ultra, which features one-mile loops on a smooth path. It sure will be nice to run hands-free and not have a headlamp weighing on my addled, sleepy brain after all those hours.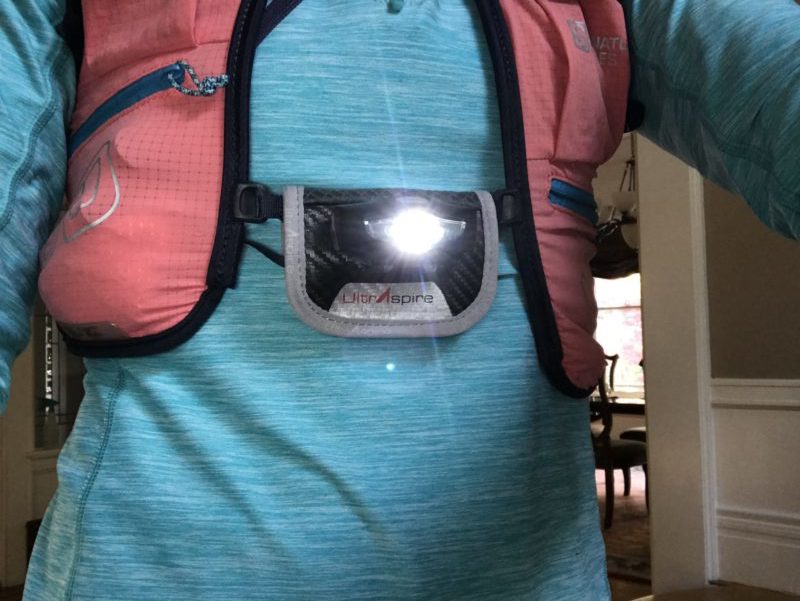 The Book for Anyone Who Loves Running and Adventure—Signed by the Author
You bet I'm gonna include my own book in my gift guide! If you follow my blog and social media, you may be sick of hearing me promote The Trail Runner's Companion: A Step-by-Step Guide to Trail Running and Racing, from 5Ks to Ultras.
Please bear with me, because it's darn hard to get a book to break out these days. I've been stoked by the positive press my book has received—you can read reviews & excerpts on this page to learn more about it—and I especially appreciate how many experienced ultrarunners as well as rookies have told me that they learned valuable advice and found it entertaining to read.
You can order it from Amazon for the fastest and cheapest way to get it, but if you'd like a signed copy & to support my favorite local bookstore, then order through this link. It'll cost more and take at least a week for me to sign it and for the store, A Great Good Place for Books in Oakland, to ship it, but you'll have a personalized copy and support a small business that's a community treasure. Just note on the ordering form any name or info you'd like me to include when I sign it.
If you've already purchased my book, THANK YOU. Please consider it as a gift for someone else, and I'd sincerely appreciate if you would leave a customer review on its Amazon page and/or give it a shoutout on social media (tag me & include the hashtag #trailrunnerscompanion). I love love love shoutouts like this:

If you're in the Bay Area on the afternoon of Saturday, January 20, come to my book signing & reading at The Book Passage in Corte Madera (North Bay)! Details.
For more book recommendations, see my recent post, 5 Recommended Books About the West, or check out "My Bookshelf" sidebar in the righthand column.
Simply the Best Gel & Drink Mix
VFuel. It's my favorite gel and drink mix because of its taste, texture, digestibility and energy, and I'm delighted to be on their ambassador team. Use the code Sarah20 when you order through their website to save 20%. If you have stomach troubles in ultras, then fructose-free VFuel may be what you need.
The Best Lightweight Waterproof Outer Layers
I'm a fan of all Ultimate Direction hydration gear & wearable gear (check out their website), but when I visited their booth at last summer's Outdoor Retailer show, two items in particular caught my eye: UD's new version of its Ultra Jacket, with more breathability and waterproofness, and its all-new Ultra Pant (aka rain pants). I definitely plan to use these next summer in the San Juan Mountains. They're surprisingly soft yet sturdy. The Ultra Jacket V2 comes in a men's
and a women's
version, and here's the Ultimate Direction Women's Ultra Pants V2
and Ultimate Direction Men's Ultra Pants V2.
The next time I'm stuck in a hailstorm at 13,000 feet, I hope to be wearing my Ultra Jacket & Pants!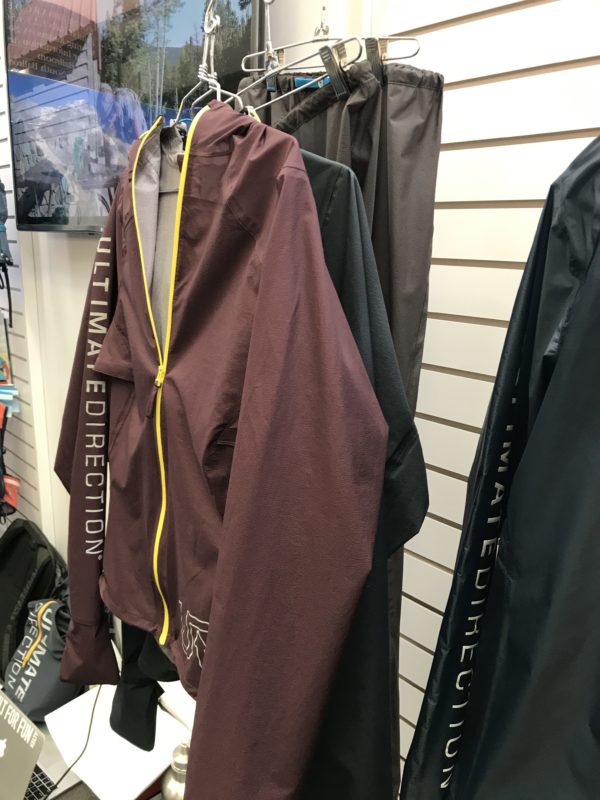 Fill 'Er Up Anywhere
Also at the Outdoor Retailer show, I picked up a Katadyn Befree Water Filter With Hydrapak 0.6L Collapsible Flask.
 This thing became a ticket to freedom—the freedom to go farther in the wilderness with less worry about where to refill your water bottles. Now, I fill up at streams without fearing illness from contaminants. I used the Katadyn on every mountain run or hike in late summer and don't know how I got along before without it.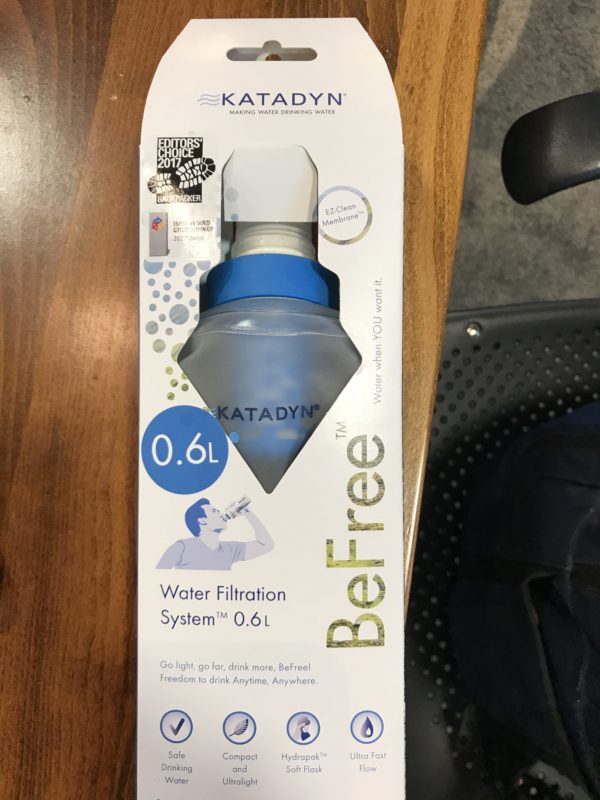 Shorts You Can Live In All Week
Early in the year, I became familiar with rabbit's brand of running clothing thanks to this review by Jade in UltraRunnerPodcast. I subsequently bought a pair of rabbit hopper shorts (the company uses lowercase only) and really love these low-riding, snug-fitting, smooth-seamed shorts. I like how the wide waistband holds tight (but not too tight, just right) without a drawstring. Here are pics of the two pairs of rabbit hopper shorts that I bought this year; the second photo shows the pair I wore all week at the Mauna to Mauna, and they held up great and never chafed. Use this link to their site to receive 10% off through December 21. If you're between sizes, then size down, as they run a bit big.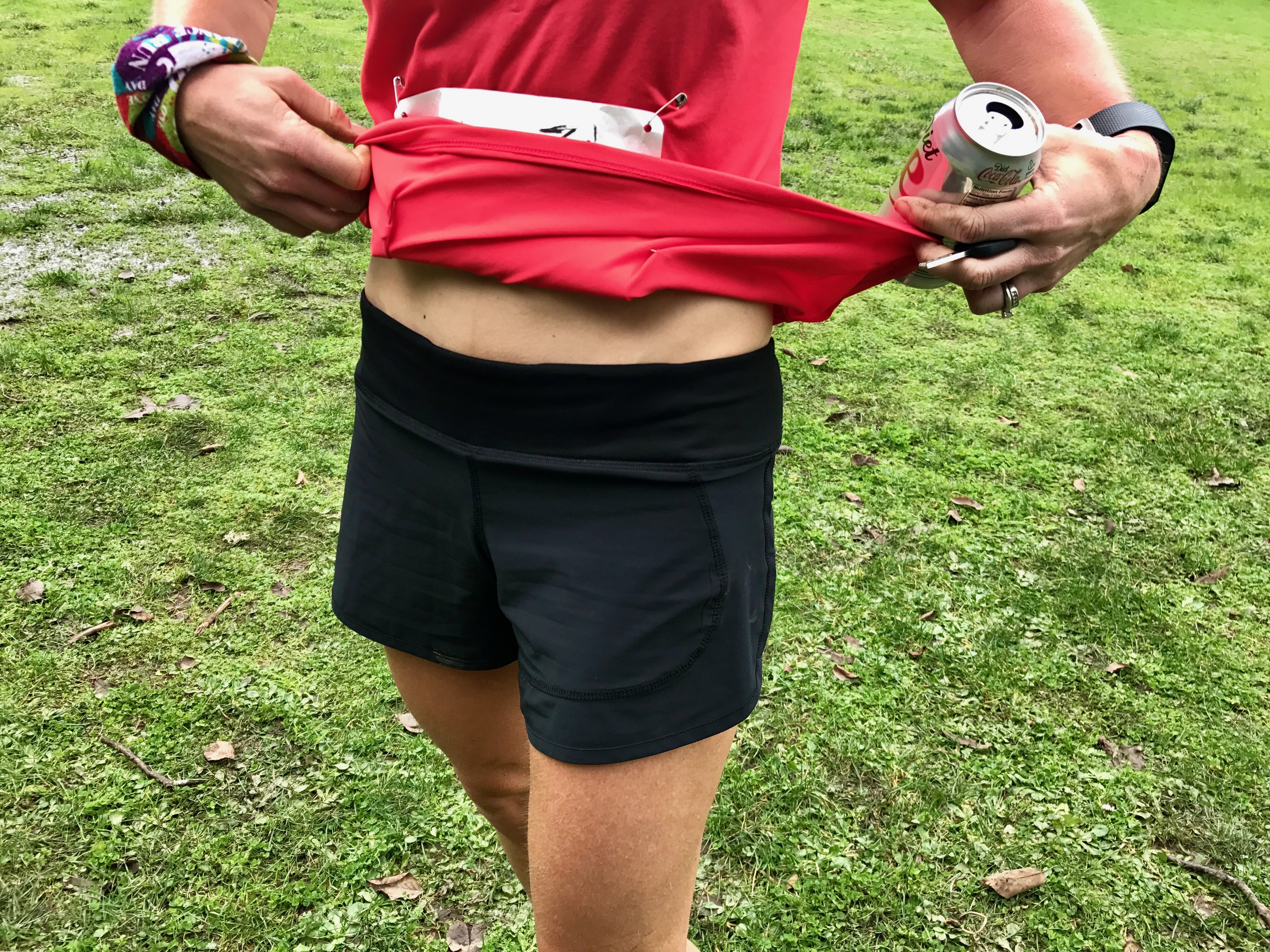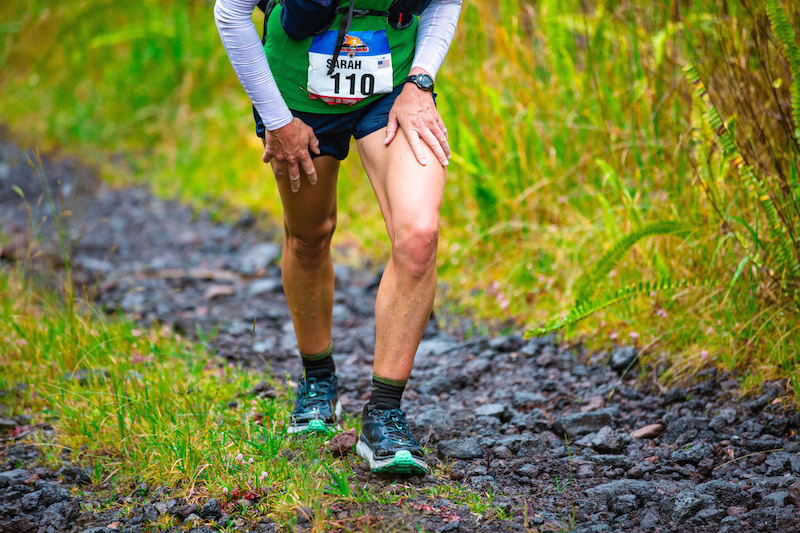 Running for a Better Oakland
As in years past, I'm closing this annual guide with a request to join me in supporting a worthwhile nonprofit that promotes health and improves the community. This year, I urge you to learn more about Running for a Better Oakland, which trains students in Oakland—most of them low income, many first-generation immigrants—to run 5Ks and a half marathon. By meeting together on Saturdays for a group run, the kids and their parents learn about healthy lifestyles and experience the achievement of crossing a finish line. They also build supportive relationships with volunteers and receive free running shoes. I've been volunteering with the group this fall and have seen firsthand how the program has a positive impact, and I'm proud to have joined the board to help RBO build in 2018. This fall's 5K training program served 235 students in grades K – 12 and also involved dozens of parents who became inspired to run alongside their kids. You can donate through their website.
Here's a group photo of some of the participants last weekend, during the final training of the season before the Thanksgiving Day 5K. With fundraising, this spring we'll be able to expand the program to transport the students up to the Oakland hills' regional parks and introduce them to trail running!