I almost didn't write this post, because I should be spending time getting other things done, but ultimately I figured it's important as a coach and dedicated runner to share struggles and less-than-flattering portrayals, because I suspect the majority of us go through times of transition when our confidence and control prove fragile and completing anything, even an awkward introductory paragraph, feels onerous.
My calendar says that a week from now, I'll fly to Denver and drive three hours to Steamboat Springs, Colorado, where I'll host a book promotion event at a local bookstore and then, 36 hours later, line up to start the Run Rabbit Run 100.
I will fly there from Providence, Rhode Island, where Tuesday (four days before the race) I'll help my daughter move into an apartment for her second year at the Rhode Island School of Design. Morgan has to stay home to work, so heavy lifting, here I come.
I just drove up to our Bay Area home from Ojai, California, where I moved my son into his junior year at The Thacher School.
To say I'm unprepared for next week is an understatement. Drop bags? Yeah, I need to figure those out and pack them, too.
We've been living in Colorado all summer, so half-unpacked suitcases clutter our bedroom floor, next to laundry piles and bags of gear. Our century-old house here in Piedmont, which we left in the care of our daughter and other extended family members over the summer, needs "a mother's touch," the kind of care that only I seem to give it. I keep spotting burned-out lightbulbs, dusty cobwebs, misplaced items jumbled in drawers.
Instead of straightening out the house and getting my travel and race plans together, time slips by as I scroll the news, captivated by video of flooding in Houston and fires in Oregon, signs of catastrophic climate change but at least a distraction from potentially apocalyptic nuclear threats. I switch to Facebook or Instagram to see stunning, almost utopian, photos of ultrarunners I admire as they cavort in the Alps in prep for the Ultra Trail du Mont Blanc. They fill me with irrational, overblown negative emotions ranging from insecurity to annoyance (which I know is hypocritical, since I posted scenic photos of me all summer romping around the San Juan Mountains near Telluride), so I flip back to the real news.
Other than caring for my coaching clients—corresponding with them and modifying their plans, and probably on some level living vicariously through them as I feel more genuine interest about their training than my own—I can't focus on responsibilities, I can't finish the book I've been reading, I can't get any shit done. At night, I nurse myself with spoonfuls of peanut butter and bottles of beer.
Feeling adrift from saying goodbye to our son, and from the impending departure of our nearly adult daughter, I wake up in the middle of the night filled with excessive worries about their whereabouts and well-being. Wandering down the hallway, I discover my daughter left a light on in her room, and the Subaru is gone, which means she spent the night elsewhere (which on one level I don't mind because I trust her and who she's with, but it hits me how much she's grown up and how I've aged). My son is camping with his schoolmates and a teacher somewhere in the Eastern Sierra this week, which objectively I realize is wonderful, but I picture him sunburned and dehydrated. Accuweather sends an "extreme weather alert" to my phone warning of potential lightning-sparked forest fires in the area where he's camping, which is not what I need to read right now. My kids are beyond my reach, and I want to pull them back.
Just the other week, we had an idyllic time, with all of us together before school restarted. This is how my 16-year-old son Kyle and 19-year-old daughter Colly look now: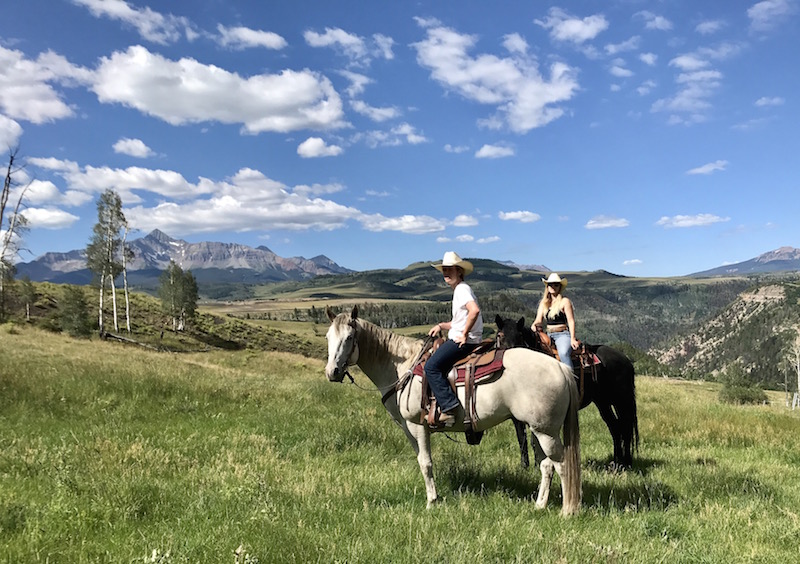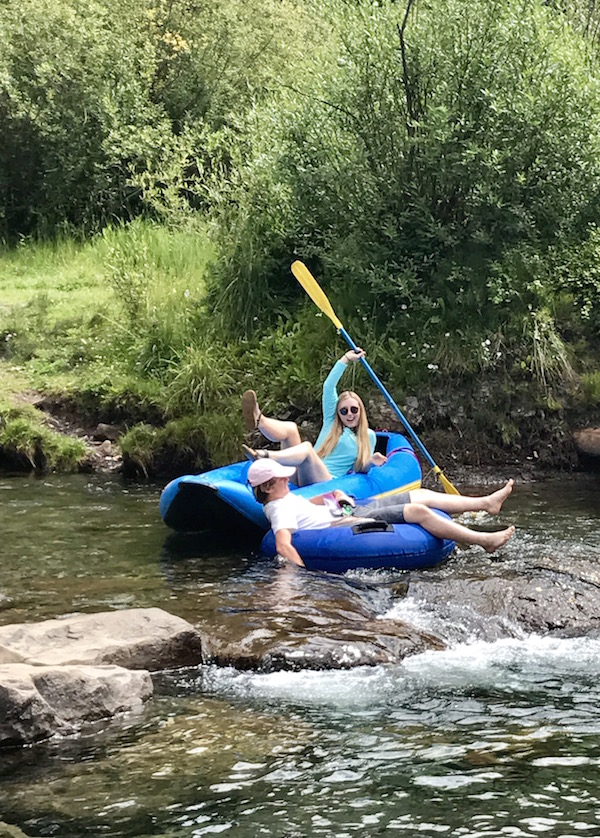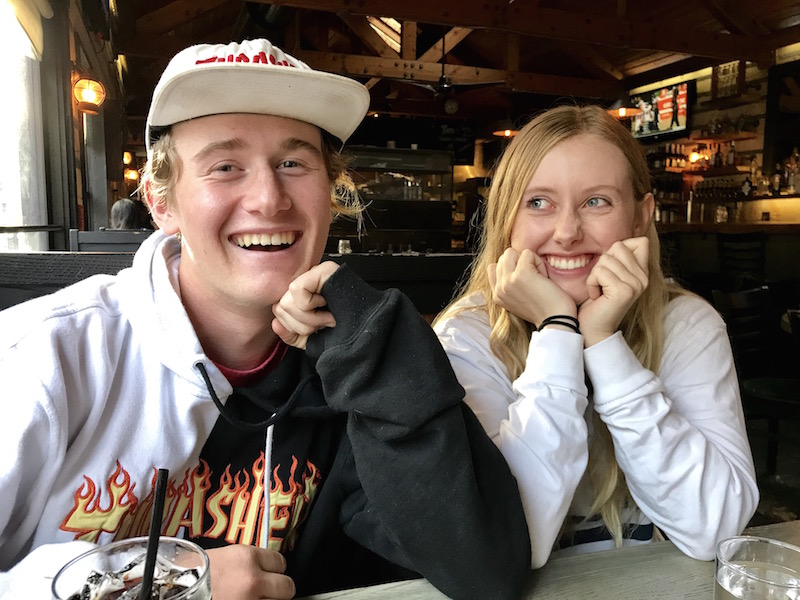 I fall back asleep, only to jolt awake by a recurring nightmare of falling. That sensation of catching a toe, tripping and landing with a thud—a real-life thing that happened less than two weeks ago, leaving my forearms scarred and still too painful to perform a forearm plank—haunts me and makes me tentative when I'm on the trail.
Dreamily, I think about our horse and our summertime rhythm of feeding and grooming, giving carrots after dinner, picking out hooves, mucking out the pasture. I feel the weight of the wheelbarrow handles in my hands, hoisting and emptying a fragrant load of manure onto the pile we created in the aspen grove to compost and spread for fertilizer next year. I feel the horse's soft muzzle nibbling my palm and nosing my pockets in search of a treat, hear the clip-clop of his hooves, sense the flexing of his back under the saddle and the reins alive in my hands that gently communicate with the bit in his mouth.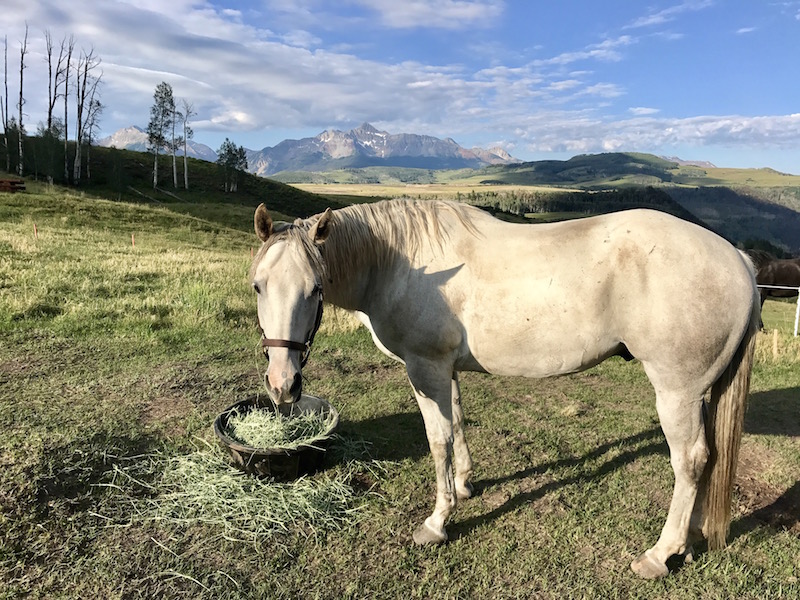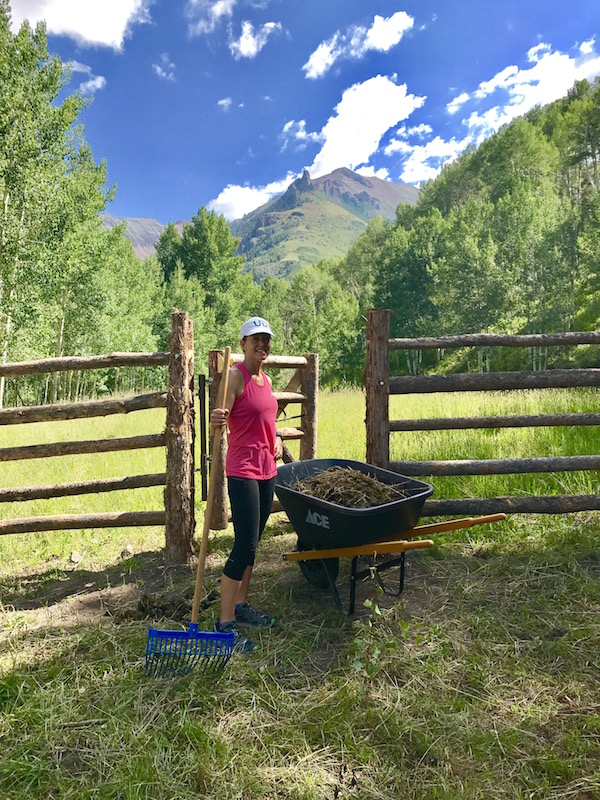 I mentioned it in passing at the start, but I can barely face this monumental thing demanding my attention, this 100-miler on September 8.
Returning to our home after a summer away, I rediscovered the trophy I earned at the Mauna to Mauna stage race back in May. That Hawaii trip feels like a year or more ago, not a season ago. The person who trained assiduously, whose every workout had a purpose and goal attained, who meticulously planned every piece of gear and meal for a week of self-supported running and camping—that seems like another person, and she's not here now.
After that event, we transitioned to Colorado, and something both liberating and worrisome happened: I cared a lot less about my running. I spent a lot of time on the trail, but most of the time, I hiked. Or I rode the horse, savoring the feeling of trotting and cantering up the switchbacks, rekindling my first sport and love. Others use the phrase, "like riding a bike," but for me it's a horse.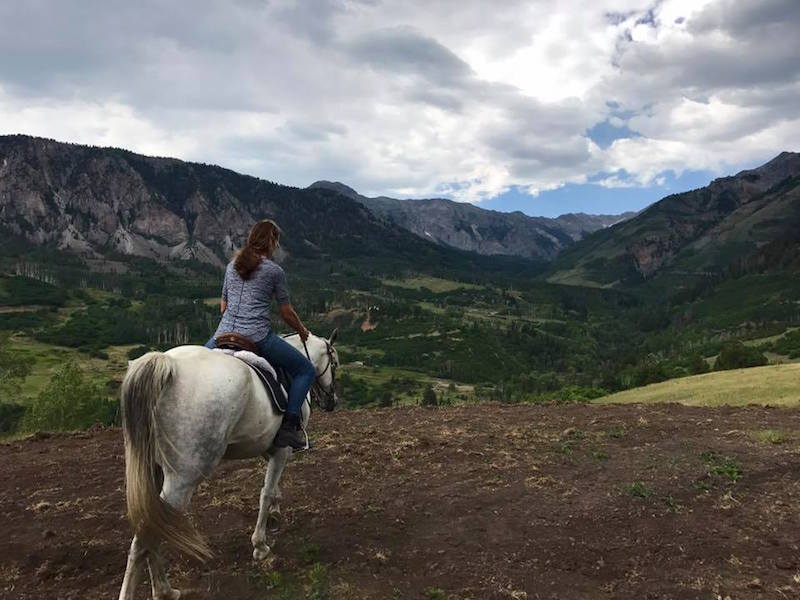 In contrast to that natural, powerful movement in the saddle, running steadily felt unrelentingly and unusually hard, even on the gentler valley trails—and unnecessary. I skipped more days than usual. When I'd work on my clients' training plans, I'd feel mild envy mixed with guilt because my own training seemed so subpar compared to theirs.
Sometime in early August, after the enthusiasm from pacing in July's Hardrock 100 wore off and after the Speedgoat 50K thoroughly humbled me and felt more like a 50-mile effort, I headed out on the trail near our house and promptly began hiking the switchbacks, feeling no drive to run even the flatter straight-aways. I knew I should be peak training for this 100-miler in early September. If I followed my own coaching advice, then my training volume would be nearly double and more specific than the half-hearted training I was doing. I felt deeply unmotivated, but also, blissfully relaxed and appreciative of the surroundings. What, me worry? I'll just mosey along and enjoy the views.
What if—during one run on Deep Creek Mesa overlooking Wilson Peak, I opened the door to ominous questions—what if what I've been doing with regard to running has been, at least in part, an enormous waste of time and energy? I reassured myself that it hasn't been, and I'm proud that my adult life's passion culminated in a coaching business and a book that shares all that experience. But still, what if? Or, what else?
I imagine that others who cultivate time-consuming, decades-long, mostly solo pursuits occasionally flirt with similar doubt and contemplate the worthiness of it—the concert pianist who spends the better part of a lifetime at the keyboard, for example, or the ballerina who endlessly repeats those positions and movements. What if it's time to move on to something else? What else could I, should I, be doing with my life? I've been a runner half my life, since grad school as a twentysomething. It defines who I am. It evolved from hobby to profession. What more am I meant to do? That run became a daydreaming hike—contemplating future possibilities and past decisions, contemplating turning 50 and embarking on other meaningful projects, ideally to serve a greater cause—and I felt content to turn back early, after a mere hour or so.
I thought about pulling out of the Run Rabbit Run 100 race, but I need to finish it to have a qualifier to enter the Hardrock 100 lottery again. The goal of running/hiking Hardrock sometime in my lifetime remains intact.
There's no denying I am truly undertrained and logistically underprepared for this event. I already made up my mind not to race it, to do it on my own terms non-competitively, and to that end I'm thankfully enrolled in the event's "tortoise" division instead of with the "hares," which allows more generous cutoff times and the use of trekking poles and pacers. But stress about getting there and getting it done, combined with other life stressors, is making me doubt my ability much more than usual.
If you've stuck with this slow-moving-train-wreck of a blog post this far, thank you, and I apologize for being a downer. But it gets better (really, I'm not being sarcastic).
A few things transpired in the past 24 hours to get me moving and thinking more positively again.
First, I met the Rocket yesterday morning at Lake Merritt. We had a routine of meeting on Tuesdays, as described in this post. It was my first morning back in the East Bay, and I felt disoriented and stiff from the prior day's long drive. He approached me walking with a slight limp, his knee aching and palms scabbed up from two bad falls on the trail the prior Saturday. We hugged, walked and talked, and after a mile our walk transitioned to a slow shuffle. It felt just fine—fulfilling, even—to go that slowly, as if we were slowing down time and enriching our three-mile lap together. He is still committed to his daily running streak and to his planned 100-miler in one month, in spite of being less than optimally trained and suffering a setback that made him hobble.  He was the angel and mentor I needed to relate to my doubts and weaknesses, to reassure me that this thing we do called ultrarunning is a profoundly complex metaphorical journey that goes beyond physical exercise to breathe life into life and help us cope with challenges such as anxiety and aging.
Later that day, I corresponded with an accomplished fast runner who's training for the California International Marathon in December. Pretty soon we were swapping training advice about fast-finish long runs and marathon goal paces, and I nostalgically relived in my mind the sensation of running the vineyard-bordered Napa Valley Marathon course, which I haven't done in eight years. I surprised myself by calculating split times and wondering with a flicker of curiosity how I'd do if I were to do it next March. For the first time in months, the idea of a track workout didn't fill me with dread.
Finally, I saw the announcement from Hal Koerner canceling the Pine to Palm 100 due to Southern Oregon's massive forest fires. The smoke-filled sky and the disappointed runners really hit me with a sense of gratitude and privilege that I have the opportunity, environment and good health to spend some 30 hours traversing a scenic swath of Colorado that I've never seen before.
I am switching from viewing this 100-miler as a source of stress and potential failure, to a mini vacation for personal growth and socializing. The reality is that I'm presently in a mode where I feel like stopping after an hour, and I look at my watch in disbelief over how few miles I've covered. That may or may not change in the next week, and if I have 36 hours in a row like that at Run Rabbit Run 100, so be it. It'll be an interesting experiment at least. Ready or not, here I come.
***
Personal note: If you have purchased a copy of my book, The Trail Runner's Companion: A Step-by-Step Guide to Trail Running and Racing, from 5Ks to Ultras,
 thank you! You could do me a huge favor by leaving a short customer review of it on the amazon page, or recommending it to friends on social media. If you have not, then I hope you will consider buying a copy for yourself or as a gift to someone. If you would like a signed copy, then please order through this link to our local independent bookstore, and I will sign the copy before it's shipped (this will take slightly longer and cost more than ordering through amazon, but it supports a great store).