I wrote this post in April 2012 and updated it February 12, 2017, after we spent four days in NYC. I'm not positive the five-year-old dining and hotel recommendations below still stand, but I can vouch for the new recommendations added based on our trip last week. If you're interested in running the 2017 New York City marathon on November 5, hurry! The deadline to apply is February 17, and the drawing takes place March 2.
My infrequent visits to NYC always start with a run in Central Park. Nowhere else in the city feels as welcome and familiar yet at the same time ripe for discovery.
Sometimes I'll just cruise around the 6-mile perimeter loop, deviating from the pavement of the east and west sides of Park Drive where a dirt bridle path runs along it. Other times, I'll ramble through the pathways of The Ramble and the various meadows. Usually I do at least one lap around the 1.5-mile Reservoir Track, my favorite place for a speed workout. Each time I notice something new: an obelisk here, a castle there. My eyes scan almost every breed of dog being walked while my ears pick up conversations in languages from around the globe.
And here's how it looked in February 2017, one day after a big blizzard nearly shut down the city! I enjoyed a glorious, albeit freezing-cold, run on a blue-sky day, with fresh snow on the reservoir track.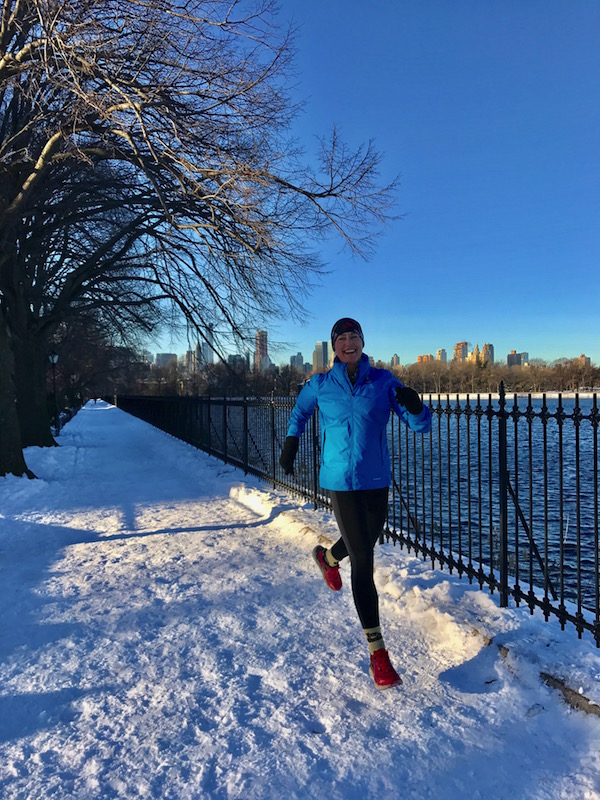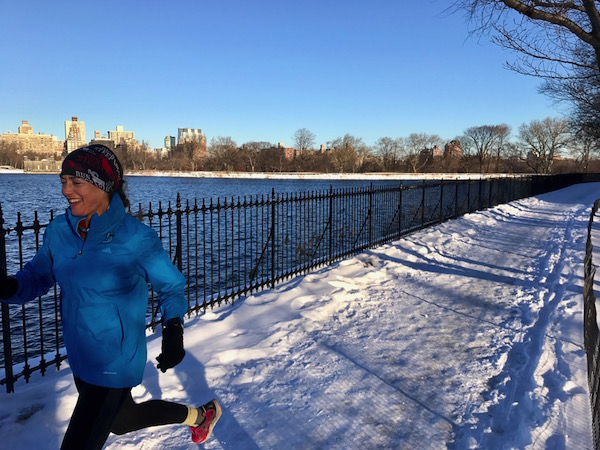 The first time I came here, I was 35, a small-town Californian dazzled to be in New York at last. It was Christmastime, a light snow turned the tree branches white, and I ran as hard as I could when I first stepped on the Reservoir Track to warm my chilled extremities. Nearly eight years later, when we returned last week (April 2012) for Spring Break, pink tree blossoms and Easter Egg-colored tulips added swatches of color to the greenery.
If you visit NYC and want advice on where to run in the park, where the nearest bathroom is, or whether there's a 5K or 10K scheduled for the weekend (as one almost always is), just stop by the New York Road Runners kiosk next to the Fred Lebow statue at the East 90th Street entrance. Lebow, a runner and longtime president of the New York Road Runners club, founded the New York City marathon and last ran it in 1992, in celebration of his 60th birthday, after he had been diagnosed with brain cancer. He died in 1994.
And here's how Fred looked last week after the blizzard. I imagined him telling me, "Put your phone away, run hard, seize the day and never take your health for granted"—and so I did.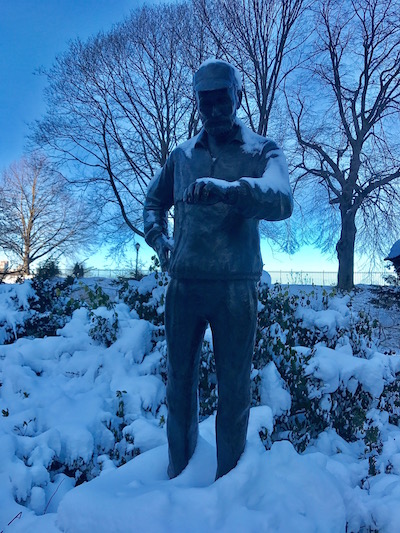 For more info on running in the park, visit the NYRR site or this Central Park guide.
And here are a few New York City travel tips from our visits:
Lodging
From 2017: We're glad we chose The W Hotel on Lexington at 49th, in Midtown; it was a good deal price-wise and featured nice modern rooms, a well-equipped and roomy fitness center, and a convenient location. It was almost exactly one mile to run from the hotel to the southeast corner of Central Park.
From 2012: I've stayed in a variety of hotels in NYC over the years and would recommend the one we chose this week as the best deal for families. The Hotel Beacon is on the Upper West Side at 75th and Broadway, easy access to the park and subway and close to great restaurants on Amsterdam and Columbus. We got a two-bedroom suite with a kitchenette that comfortably housed the four of us (the kids shared a pull-out sofa bed), and having the small kitchen to prepare simple meals was a relief from eating every meal out. The Hotel Beacon is right across the street from the Fairway, a fantastic gourmet supermarket.
Urban hikes: Walk from Central Park to Rockefeller Center and go to the Top of the Rock observation deck. If you're lucky like us, you'll catch Tina Fey outside filming an episode of 30 Rock. On another day, pass the dozens and dozens of ethnic restaurants along 9th Avenue through Hell's Kitchen and go to 10th Avenue and 30th Street, the north end of the High Line. Then walk the length of the High Line, a one-mile path and urban garden along a former raised railway. It's an ingenious example of urban renewal.
And no trip to NYC would be complete without a visit to the World Trade Center memorial (you need to reserve a time to visit through the 9/11 Memorial website). It's a stunning, humbling experience to see the footprints of the former twin towers, about an acre each, transformed into reflecting pools with cascades rimmed by the names of all those victims. In the midst of this vast memorial stands the Survivor Tree, the only living thing found by workers clearing the rubble in the month following 9/11. The pear tree was nursed back to life at a nursery, only to be uprooted during a wind storm in 2010, but then it was brought back to health again and finally planted in the middle of the plaza. Several anchors prop up the tree, suggesting frailty, but new green leaves on its branches show that it's thriving.
Restaurants
From 2017: We had three excellent dinners out, and one so-so, each at a different price point.
Most expensive and chichi but worth it: Gotham Bar and Grill, 12th Street in Greenwich Village. This place opened in 1984 but, surprisingly, it still earns and deserves its ratings as a New York favorite top restaurant. I had to-die-for pork; Morgan splurged on lobster. We will be eating beans out of cans for the rest of the week to make up for the cost, and I will be going vegetarian for several weeks to make up for a too-meat-heavy week.
Great Midtown meal: Crave Fishbar, near the W Hotel on 2nd Ave. Cozy, pub-like interior belies a sophisticated menu with (allegedly) sustainable seafood and fantastic raw bar. I feasted on a cheese plate and swordfish with a magnificent wild mushroom assortment.
Good place for a pre-theater meal near Times Square: The Glass House Tavern on West 47th. Morgan and Colly had tickets to Hamilton, lucky them! In fact, that was the impetus for this trip; Colly is obsessed with the show, so a ticket to it was her big Christmas present. (I decided to save many hundreds of dollars and skip it, so it was a father-daughter date.) Before the show, we ate here, and I had my one and only disappointing meal (braised lamb). I also wasn't crazy about the dark interior. But, Morgan and Colly's fillets were excellent and generous, and the appetizers did not disappoint.
Affordable and great for big families, near Washington Square Park and NYU: OTTO Enoteca Pizzeria at 5th Ave and 8th Street. We had a big gathering with my sister, brother-in-law, niece, nephew and nephew's wife. Finding a table for 8 that we all can afford might have been challenging, but OTTO Enoteca turned out to be perfect, with generous appetizers, excellent homemade pastas and tasty (but not amazing) thin-crust pizzas. I appreciated the attentive service and generous wine pours, too. We splurged on dessert, and it wasn't just the wine talking—those desserts were amazing.
From 2012: Three of my favorite dining experiences: The Mermaid Inn seafood and raw shellfish bar on the Upper West Side, Blossom vegetarian/vegan restaurant in Chelsea, and Ellen's Stardust Diner in Midtown, aka "the singing waitress place." The food at Ellen's is mediocre diner fare, but it's a hoot to hear the wait staff sing show tunes.
This post only captures a fraction of what we did during this memorable family vacation. I know we'll return in the years ahead because we love exploring the city—for a few days, at least. Admittedly, the crowds grow tiresome and the feet start to ache.
It's crazy, in spite of all the things we've done in NYC—all the museums and must-see sights—we still haven't been to the Met or the Statue of Liberty! Someday … (Update: See below!)
Now that Colly is a student at the Rhode Island School of Design, she very much wanted to go to museums. We spent one day at MoMA and another at The Met. If I had to pick just one, I'd definitely choose the Metropolitan Museum of Art and spend two days there if possible. It's huge, awe-inspiring and spans all of history. MoMA was certainly cool to see again, however. 
Call for comments: What are your favorite places to stay and eat, things to do, and routes to run in New York City?