I wrote this three years ago, in the spring of 2013. I'm reposting it, with a few updates inserted, because I ran these trails again last week and offer some additional perspective.
These rugged, exposed Ojai trails reveal beautiful views of the Ojai Valley, but demand a lot of endurance and heat acclimation. I plan to return in early June and spend several days training for the June 25 Western States 100 here.
Here is the original post:
I lived on the East End of the Ojai Valley from age 3 to 18, which means almost all of my growing up took place in one corner of a semi-rural Southern California neighborhood where roosters still crow in the morning, and stars, unadulterated by streetlights, glisten at night. First I lived in a one-story mid-century ranch house amidst avocado and orange orchards and went to preschool and elementary school two blocks away. Then I lived in a dorm room a mile up the road at the Thacher School, where my grandfather and dad had worked and I went to high school.
When I return there to visit and run around the Thacher campus and my old neighborhood, as I did last week, every stretch of each road throws back a memory. There's the house where I first kissed a boy in 5th grade. The driveway where my sister wrote the names of our dogs in wet cement. The bougainvillea bush where I picked purple blossoms to stick in the top of my mare's bridle so she'd look like a circus horse. The crumbling rock walls, which separate the orchards from the roads, where my friends and I climbed and poked lizards. The tangle of chaparral where that guy stashed his motorcycle so we could sneak out after hours to zoom around town.
Every oak, eucalyptus, olive and pepper tree looks familiar. The mailboxes sport names I still recognize. So even though it's been 25 years since I really lived there, I feel at home and at peace when I run around the East End.
But my relationship to the mountains that ring the Ojai Valley is quite different. From my perspective as a child, they always looked so big and far away, barely reachable. Along one stretch of the northern ridge, the hills and canyons shape themselves into what looks like the profile of an Indian chief resting on his back, with his lips, nose and one eyelid carved into the hillside. His nose, sticking up like a dorsal fin, is called Chief Peak. That formidable ridge, with its resting chief, held mystery and adventure.
As a student at Thacher, which has a robust riding and camping program, I'd occasionally saddle up with others to ride my horse over the ridge and camp on the other side in the Sespe Wilderness of the Los Padres National Forest. Those experiences always proved to be an epic multi-day adventure, and going up and over the ridge was a big deal. Even hiking up to The Pines, a campground just three miles above campus and halfway up to the ridge, felt like a major undertaking.
But I've changed since I lived in Ojai. I've developed into a mountain runner who can cover pretty long distances, which is something I never, as a teen who hated running, ever imagined I could be.
I return to Ojai frequently to serve on Thacher's board. But I don't go running in the mountains beyond The Pines. I tend to stick to the comfort zone of the East End—those long, straight, familiar streets. Then an idea took hold: I can run the ridge. I can and I should. 
It's hard to convey how exciting and surprising this epiphany felt. I always thought I needed a horse to cover those trails. To do it by foot was something only my amazing big brother, who's a hiker and mountain biker, could do.
I got a map and made a plan. (Download the map pictured below on the venturacountytrails.org site.)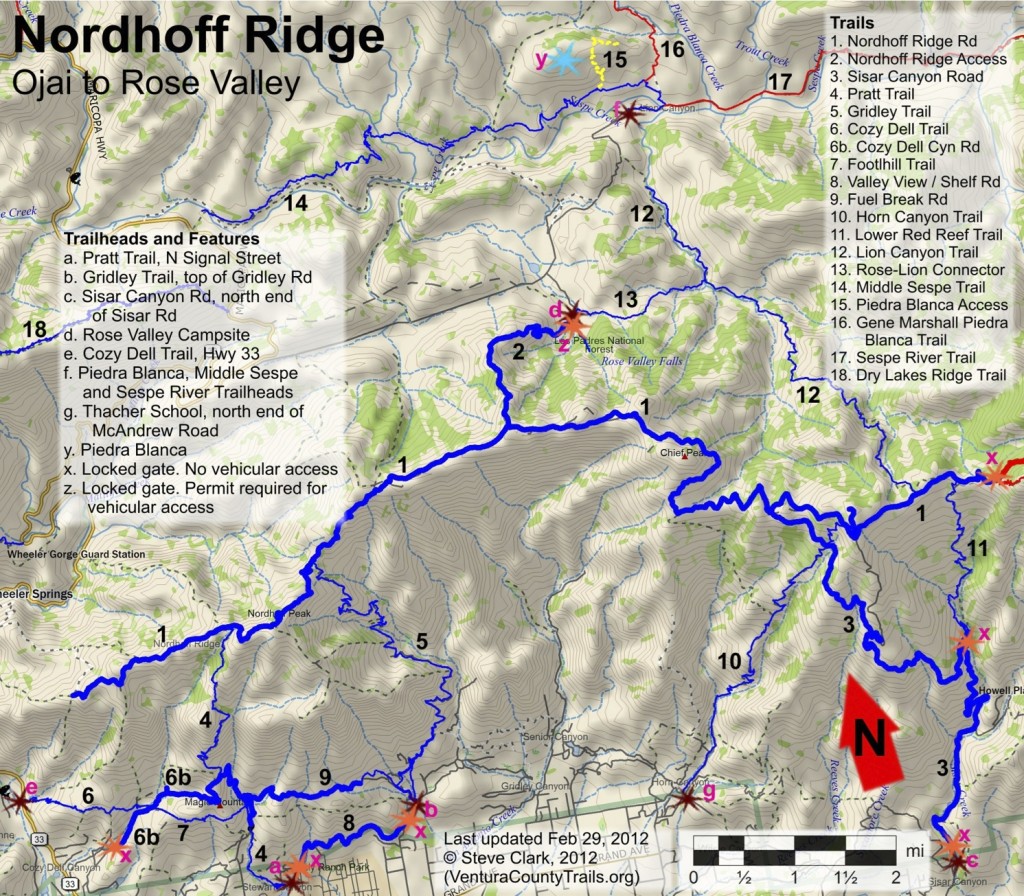 I would run just over 4 miles across the East End, on Thacher Road and Grand Avenue, from the pink "g" in the map, which is the Thacher School, to the pink "b," the Gridley trailhead at the top of Gridley Road. From there, I'd go up Gridley Trail (#5 on the map) about 6 miles and almost 3500 feet. Then, hang a right on Nordhoff Ridge Road and run over 8 miles on trail #1 all the way around the backside of Chief Peak, which involves about another 1500 feet of climbing, to the intersection of Sisar Canyon Road (trail #3). Finally, I'd run about 4 miles down from the ridge and return to Thacher via Horn Canyon (trail #10). The total mileage would be between 22 and 23.
Going solo and self-supported, I knew a big challenge would be to carry enough water. I had to assume there would not be water along the way. (I wouldn't want to do this loop in summer, when the triple-digit heat bakes the valley.) I carried two hand-held bottles with 20 oz. each, a hydration pack with a 30-oz. bladder (unfortunately, I didn't have a larger one with me), and a soft flask
 in my pack with another 17 oz.
[UPDATE: For long, unsupported runs/hikes like this, I now use and recommend Ultimate Direction's women-specific Adventure Vesta (or for men, the new SJ Ultra Vest 3.0). It fits great and has plenty of pocket space for gels, snacks and other small items. Best of all, you can carry a great deal of water. I used three 17 oz Body Bottle Plus soft flasks —two in the shoulder holsters, one in the outer mesh pocket in the back— plus a 70-oz reservoir in the back, filled to about 50 oz, so I had a total of approx 100 ounces of hydration for a four to five hour outing, which is necessary in that dry climate. See this post for more info on these vests & bottles.]
I ran relatively quickly across the East End, eager to climb Gridley Trail. Gridley offers a wonderful variety of terrain and vegetation, from highly technical, rocky switchbacks bordered by dry, spiky yucca and sage, to smooth, runnable stretches pleasantly shaded by manzanita. After only about a mile, the valley comes into view in all its beauty.
Only a couple of miles up Gridley, however, and a little more than an hour into my run, I started to worry about rationing water. I had depleted one bottle already, and I had barely begun the hard climb. Looking up at the sunny, steep, long ridge that loomed ahead, I knew I would probably run out of water before starting the descent.
Just as I was berating myself for poor planning, I turned a corner and encountered a horse trough that sits by the trail just under three miles from the trailhead. Hallelujah! Who cares if it was mossy and had bugs on the surface? It had a trickle of water from a hose feeding it, so it wasn't stagnant, which was good enough for me. I gulped a bottle's worth, refilled, and felt ready to tackle the rest of the route.
[UPDATE as of spring 2016: This spring, sadly, is not running, in spite of winter rains. Do not plan on getting water there. Here is a photo of how it looks now, with a puddle of rainwater but no freshwater flowing into it.]
More than halfway up Gridley, the trail revealed views of canyons I never had seen before. I got a kick out of seeing Chief's face from a different perspective. After always looking at the left side of his profile from the valley below, it was fascinating to gaze through the hills and realize I was looking up Chief's nose (the west side of the peak). It was also a bit daunting to realize I had to run the ridge around and past this peak, which still looked a long way away.
After some tough switchbacks, the trail finally reached its intersection with Nordhoff Ridge Road. If I had more time and water, I would have liked to go left and run a mile up to Nordhoff Peak, but that would have to wait for another day. I turned right instead and headed east on the dirt road that straddles the Ojai Valley and Sespe Wilderness.
The dirt road along the ridge felt challenging because it still climbed more than 1000 feet, but it was easy in terms of terrain. I could stop looking down at my feet to avoid tripping hazards and instead look up and around, soaking in the views. Frequently I paused to identify landmarks below, such as the massive white boulders of Piedra Blanca in the Sespe or certain tracts of orchards in the valley.
Looking down at all that land and the ocean beyond, I connected the dots geographically and felt awestruck. The region looked so vast, unusual and interconnected. The Ojai Valley, nicknamed The Nest, had always seemed to me like its own little world carved out of a symmetrically shaped, perfectly aligned east-west valley. But it is in fact sprawling and multi-layered, branching out with hills and canyon crevices I never knew existed. It was not isolated at all; I could see vividly from each vista how it connected to the Los Padres National Forest, Ventura County and the coast. I had the feeling you get when you've known someone a long time in a single mundane context and then discover that person has dimensions to his or her life that you would not have expected, like the clerk at the UPS store I've been talking to for years and recently learned is a world traveler and competitive tango dancer.
After a couple of miles, I reached the intersection with another major road that heads down to Rose Valley in the Sespe. I stayed up on the ridge, continuing east, and from there I guess the road changes its name from Nordhoff Ridge Road to Chief Peak Road, or at least that's what this sign indicates:
The road continues to climb until reaching a summit on the back side of Chief Peak. From there, it blissfully makes a backwards-S turn all the way around the peak, toward the intersection with Sisar Canyon Road. This stretch rewarded me with the easiest running all day (not counting the first paved four miles across the valley to the Gridley trailhead), and I made the most of it, striding out faster on the downward slope. Lilliputian-like, I was running around the chief's nose!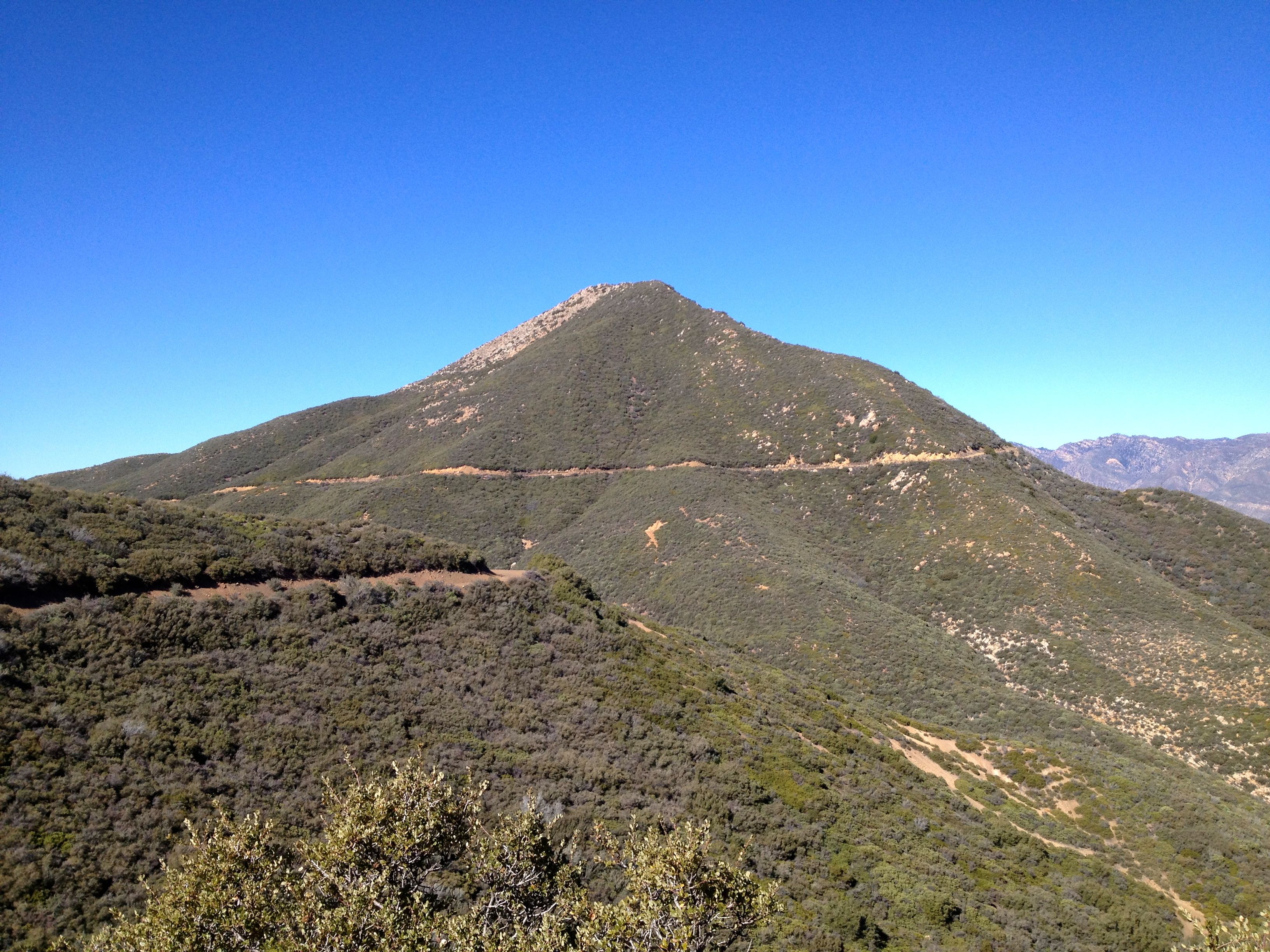 At the next intersection, I forked right onto Sisar and ran an easy three-quarters of a mile to the Horn Canyon Trail. My GPS indicated I had gone a little over 18 miles by the time I got there. I felt relief and a sense of accomplishment upon seeing a signpost that would lead to the familiar campground, The Pines, and take me back to the scheduled meetings and special time with my daughter that awaited me on the Thacher campus. But I also regretted that this morning for exploring was coming to an end. I began dreaming up plans to run to Piedra Blanca in the Middle Sespe next time.
Horn Canyon to and through The Pines is one of the most difficult parts of this run: rocky, overgrown and very steep. I scuttled down and busted through sagebrush, reminding myself to check my body carefully for ticks later in the day. Then I paused to enjoy a mini picnic at the lovely Pines, the campground that used to seem so far away but now seemed quite close to home base.
By the time I returned to the starting point of my grandfather's house, just down the road from Thacher, my GPS recorded 23 miles and 4900 feet of elevation gain.
While contemplating life during this run—sorting through memories, thinking about family, making plans—I reflected on my relationship to trail running, and the freedom and strength gained from it. There was a time during college—1989, to be exact—when I came back to Ojai for an alumni celebration, and several alumni ran "the Pi race," a 3.14-mile route covering part of the Thacher campus and one block of the East End. This was before I had started running, and I told myself, I could never do that. I felt too lazy even to walk those three miles. A couple of decades later, I find myself running the ridge (I ran to Chief Peak!) without too much difficulty and with abundant joy. Who would've thought?
Final notes:
For safety's sake, this is a trail where it's smart to keep your ears free of earbuds! You need your ears open and alert to listen for mountain bikers, who frequent these trails, and also for the rattle of rattlesnakes and other critters. Snakes tend to stay out of your way if you stay out of theirs. 
In addition to the route described above, I have since run and recommend a loop outlined on the map above that goes: up Gridley Trail (#5 on the map) > west on Nordhoff Ridge Road (#1 on map) > down Pratt (#4)  > return east on Shelf Road (#8)  to get back to the Gridley trailhead. The loop is approx 14 miles; for details on these trail segments, see  VenturaCountyTrails.org.