I wrote this post five years ago. Having just spent a few days in Yosemite Valley, I decided to repost it because now (during winter) is the optimal time to plan and book Yosemite lodging or camping reservations for the coming summer. I updated the links and info on Half Dome permits, and added a couple of additional trail-running Yosemite resources at the end. 
Last summer, Morgan and I couldn't decide where to go and run while our kids went to sleep-away camp for a week. Yes, that's a nice problem to have! We solved it by running for five days straight in Yosemite. If you might like to head to Yosemite this summer, then check out our recommended running itinerary below and make reservations as early as possible (ideally, six months in advance) for lodging or campsites.
We settled on Yosemite because of the diversity and drama of its environment. Yosemite National Park is so vast—1,169 square miles—that the options for running and hiking seem as limitless as the view from the top of Glacier Point.
Planning where to go in a limited number of days inevitably makes for tough trade-offs. We wanted to go everywhere, from Tuolomne Meadows to Wawona, but given our training level and the park's jagged elevation profile, we knew we should limit ourselves to "only" 15 to 20 miles per day.
We decided to stay in one place and take day trips, rather than carrying our gear from point to point and camping, so that we could run without being weighed down and recover with a hot shower and cold beer at day's end. We also didn't want to spend an hour or more driving on windy roads to trail heads. We therefore decided to stay in Yosemite Valley at Curry Village and focus on the valley's renowned trails and summits (Half Dome, El Capitan, and Glacier Point), saving destinations like Lyell Canyon, Clouds Rest, and Buena Vista Peak for another trip.
Day One: 4-mile Warmup
We checked into a Curry Village canvas tent cabin and locked our supplies in the bear storage container outside our screen door. A pie-sized pile of bear poop ten feet from our cabin reminded us that yes, you must be bear aware in Yosemite!
I then got acclimated with a 4-mile run on the mostly flat bridle path to Mirror Lake and back. The valley's bike paths and roadside trails offer endless combinations for easy runs. It's not difficult to look past the cars parked along the road and the hordes of peak-season tourists and focus instead on the smell of pine needles, the sound of the Merced River, and the sight of the valley's chiseled granite walls. The crowds thin out as soon as you get more than a mile past any major intersection or trail head.
On our first night, Morgan and I laid out our gear for the next day's long run:
water (60 liters each in a hydration pack plus extra in a hand-held bottle)
at least 1000 calories each in the form of gels, bars, trail mix, and sports drink
blister care, toilet paper, ibuprofen, and other basic first aid
sunscreen, sunglasses, and hat
a safety whistle
iodine tablets to treat stream water in case we ran out
a camera
We left the cell phone behind because we wanted to be "unplugged" and there's no reception on most of the trail anyway.
Day Two: Half Dome via Mist Trail, returning on the John Muir Trail (18 miles)
Getting an early start to Half Dome during summer months is essential. By early afternoon, fatigued hikers clog the final climb to the peak. We left our cabin by 7 a.m. and ran the mile from Curry Village to the Happy Isles trailhead. From there, the first mile is a paved climb up to Vernal Fall Bridge, the last point to refill water, and then the trail splits between the Mist and John Muir Trail. We went up the Mist, though it's less runnable, to get close to the falls and climb all those slippery steps. You go up, up, up from the Valley Floor, elev. approx 4000 ft., to Nevada Fall (5900 ft.) on the way to Half Dome's peak (8836 ft.).
After the falls, the Mist Trail rejoins the John Muir Trail, and Little Yosemite Valley opens up for a blissfully runnable, mostly flat stretch. Enjoy it while it lasts, because the trail again turns to steep switchbacks, and the dirt gives way to sheer granite.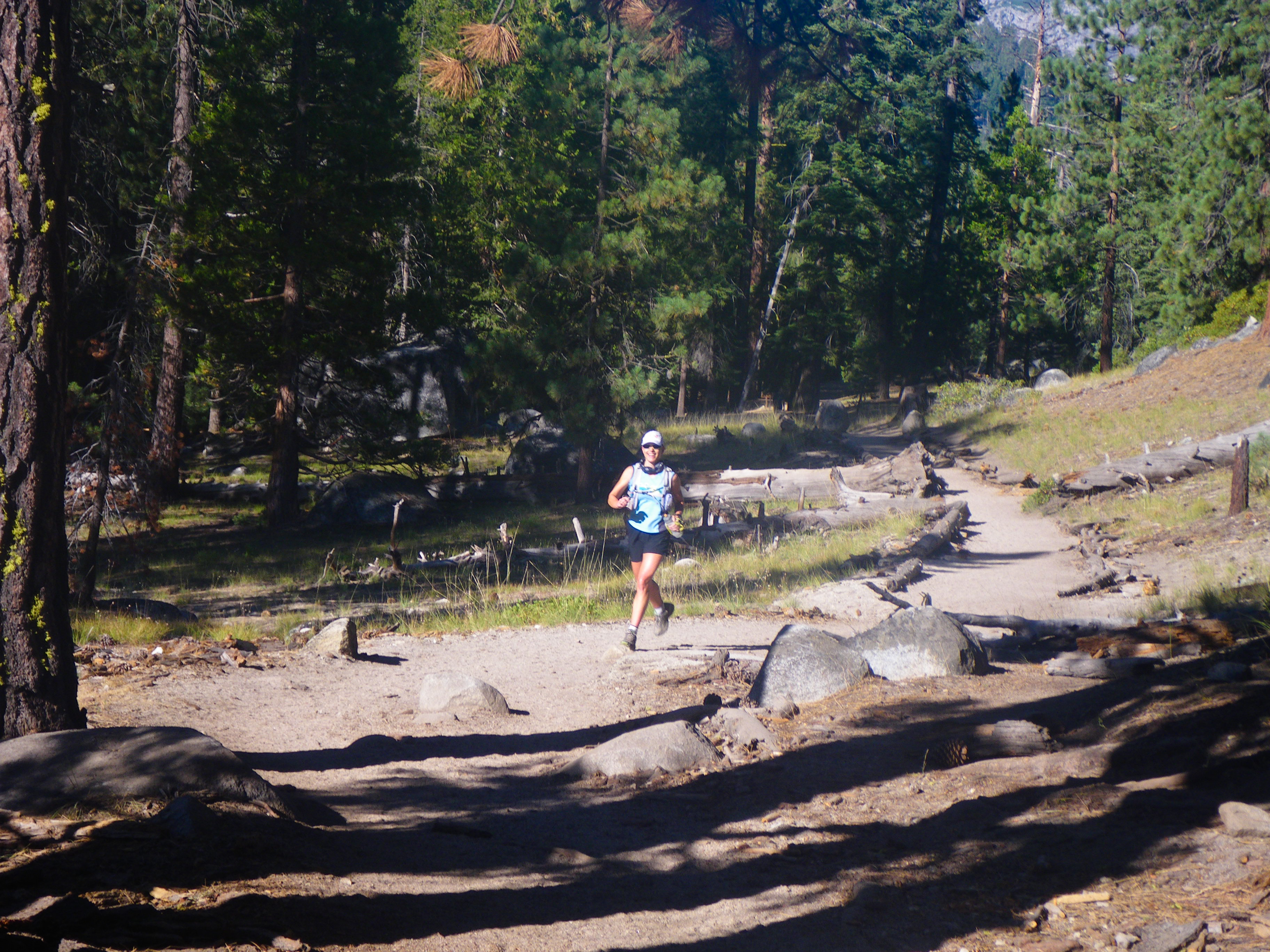 Finally we reached the base of the summit, where a pair of vertical cables and a series of horizontal wooden rungs help hikers pull themselves up the last quarter-mile. Note: permits are required seven days a week when the cables are up. A max of 300 hikers are allowed. See the link for details; there's a pre-season lottery period in March to obtain permits, and limited numbers of daily permits are available during the season.
A pile of thick gloves sits at the base of the cable for hikers to borrow; we found a pair and began the climb.
After just 50 feet or so, I realized this would be harder on my hands and arms than on my legs, since my hands aren't used to gripping for an extended period. The payoff is this view from the top: Spectacular!
On the way back to Curry Village, we took the John Muir Trail (JMT) back to Clark Point once we reached Nevada Fall rather than the Mist Trail. This stretch of the JMT is a bit longer than the Mist but easier to run. We finished the 18-mile loop in around five and a half hours.
Day Three: El Capitan from Tamarack Flat (17 miles)
You don't have to climb the face of El Cap to experience its summit. Just run up the backside! Easier said than done. This challenging route is as much a hike as a run–but so worth it.
We drove 40 minutes to Tamarack Flat, a campground on Tioga Road about three miles past the Crane Flat intersection. We started on an old logging road that's on the edge of a burn zone from a big 1990 blaze. Tamaracks–a type of pine–stand everywhere, dropping their pretty, football-sized cones. Massive outcroppings of boulders sprout from the earth.
The trail starts easily, with a two-mile drop on the logging road down to Cascade Creek. As soon as we entered the dense forest, I was struck by how remote and isolated it felt. About a mile into the run, I heard a rustle to my left. I grabbed Morgan's arm, pointed and said, "A bear!" Up the bank, about 50 feet away, lumbered a roly-poly medium-sized bear. Its brown fur rippled as it ran, thankfully running away from us.
We crossed Cascade Creek and turned left onto a single track trail (all these trail intersections are well marked; just follow the signs to El Capitan). The trail climbed steadily and at times disappeared, but trail markers—cairns, or stacks of rocks—guided the way. The trail hit the marshy Rainbow Meadows, where branches covered with fuzzy moss look like giant green pipe cleaners, and then it climbed more and–ta, dah!–opened up near the face of El Capitan.
The best view of El Cap comes a half mile or so before reaching it, when the forehead of the rock face emerges and the valley spreads out way below. We got near the edge here to take in the view and then ran the final stretch to El Cap's top.
"Awesome" is a terribly overused word, rendered almost meaningless, but sitting on El Capitan and looking at Half Dome across the valley (our previous day's destination) and Glacier Point on the side (where we planned to go the next day) was awesome, pure and simple. Humbling, too. It's times like that, in places like that, when you can't help but feel like a blip in the span of time.
The run back was, predictably, easier and faster—just be prepared for the final two-mile climb from the creek back to the campground. The whole outing, including breaks, took us about six hours since we hiked rather than ran much of the uphill.
Day Four: Glacier Point via Four-Mile Trail, returning Panorama and JMT (17.5 miles)
We saved the best for last. If we had to choose just one of these three long runs to recommend, this would be it.
We ran westward along the bike path just over two miles from Curry Village and picked up the misnamed Four Mile Trail, which is 4.6 miles to Glacier Point. The trail was first built in 1872 and originally four miles long, then rerouted and lengthened to 4.6 in 1929. Every switchback reveals more drop-dead-gorgeous views of the valley.
El Capitan rose to the west across the river, while Half Dome emerged on the east end and the contours of Yosemite Fall sprang out straight across the valley. Morgan said for at least the third time, "Have I told you how much I love this trail?"
About two miles from Glacier Point, near the top of the switchbacks, the trail makes a little detour for about 200 feet to Union Point. Be sure to go there to the edge to check out the view. Then continue on to the 7214-ft. Glacier Point. The ribbon of trail uncurls for a lovely, mostly flat runnable mile to the peak.
Glacier Point itself is a bit of a disappointment because the Visitor Center attracts such a mass of people who arrive by car or shuttle. It's unsettling to encounter such a crowd and so much concrete after the peacefulness of the trail. Still, the grandeur of the lookout is undeniable.
We left the lookout, ran past the Visitor Center and took off down the Panorama Trail. Whoo-wee, this is a fun stretch to run! It descends gently for a couple of miles to a bridge above Illilouette Fall, where the river widens to fast-moving pools. From there, the trail goes up again for another couple of miles—not too steep to run, but it is taxing on the legs. At this point Half Dome comes into view from the backside—a strange perspective, like a giant thumb, with its sheer face hidden from view.
Soon the sound of Nevada Fall comes into earshot, and the trail reconnects with the John Muir Trail. From there, it's a steep, rocky four miles back down the same route as the return from Half Dome, reconnecting with the Vernal Fall Bridge and Happy Isles and, finally, the last mile back to Curry Village, returning about five hours after starting out.
Day Five: Recovery Run on the Valley Floor
I woke early and ran a five-mile loop from Curry Village to the meadow by Sentinel Beach, near the Four Mile Trail, and looped back through Yosemite Village. The Merced River's sandy banks beckoned to take off my shoes and soak my legs. We checked out of Curry Village early in the day.
After five days and some 60 miles on the trail, I felt far more fulfilled than fatigued, perhaps because, as John Muir once said, "In every walk with nature, one receives far more than he seeks."
If you stay in Curry Village as we did, pack these not-so-obvious things:
a padlock to secure belongings in the bear-proof storage locker
earplugs to block the sound of other residents at night
rubber flip-flops to wear in the public showers
towels to supplement the small ones provided
sleeping bags for extra warmth at night
groceries and a cooler, to be kept in the bear-proof locker. Groceries from the village store are quite expensive, so it's better to stock up on snacks and drinks ahead of time, and buy ice from the store to cool drinks.
For more advice on where to run in Yosemite, check out the National Park Service's Yosemite site.
Additional resources:
The Yosemite Half Marathon, just outside the national park (since races are not allowed within park boundaries), took place last October and presumably will again this fall. I have not run it; it appears to be a mostly road rather than trail race.
And what do you do if you have a dog? Dogs are NOT allowed in Yosemite National Park. We found a dog boarding place in Groveland, which is a town we pass through on Highway 120, 20 miles from the park's western entrance. Our dog seemed to enjoy Big Creek Boarding just fine during the three days he was there, and the owner seemed friendly and trustworthy.