Every year I discover a few products for running and for the outdoors that I genuinely like, and this annual gift guide is my chance to recommend things to buy for yourself or for another runner/adventurer in your life. I hope you enjoy this eclectic list of stuff.
For full disclosure, I admit I'm also doing this gift guide to make some small change off an otherwise non-monetary blog, because if you click through to buy these products, then I'll make a small commission.
Check it out and please let me know in the comments below: What products did you discover this year that you would recommend; and, what would you really like for a holiday gift?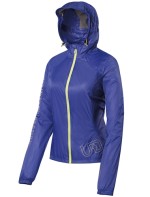 Ultimate Direction Ultra Jacket: UD has a new lightweight, waterproof and breathable jacket for men and for women that weighs less than 6 ounces and folds into a tiny pouch. I like how it has a built-in chest pocket to hold and protect an iPhone 6 (yay, no more dealing with a Ziplock bag to protect my phone!), an adjustable hood, and even hand covers that flip down from the sleeves. Yeah it's a little pricey at $180 but worth it. Check out Buzz modeling it: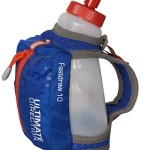 Ultimate Direction Fastdraw 10: Sometimes, for shorter runs or for races with a lot of water stops, I don't need all the capacity of my hydration vest (which is an Ultra Vesta). Instead, I like a little handheld. I used to use 20-oz. handhelds but found that holding a full 20 ounces in one hand made my arm swing and running unbalanced. Consequently, I like smaller handhelds, and often like having two 10-ounce bottles—one in each hand—for more balanced running. Bonus: When you trip and fall, they do a heck of a job protecting your palms. My favorite is the Fastdraw 10 because it's so little and handy, with a just-right-size pocket for a key and couple of gels. $18.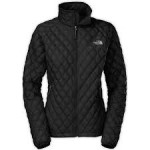 The North Face ThermoBall Jacket:  I searched long and hard for a cozy yet slim-fitting, lightweight jacket, without a hood, with a synthetic alternative to down. I'm really happy with this ThermoBall style by The North Face. It comes in lots of colors besides black and also a men's version as well as women's. (And a hoodie version.) It retails at $200.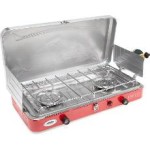 Camp Chef Everest Camp Stove: I bought this stove on impulse last spring, when I had a coupon for REI and was daydreaming about summer outings. I'm as happy as my dog at the dog park when I get to cook outside while car camping. We put this awesome little stove to good use last summer, both at Pinnacles National Park (pictured below) and on cookouts near Telluride. It's easy to set up and easy to turn on. The wind shields on the side work well, and the gas canister is not too tricky to attach. I can't wait to hit the road to use it again! $110.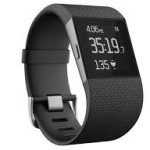 Fitbit Surge: I recently splurged and got this as an early Christmas present to myself, since my low-end Garmin keeps malfunctioning and I want to use my watch for more than only pace and distance (the only things I currently use the Garmin for). Throughout my years of running, I've periodically tried heart rate training, but I have never been able to wear a heart rate monitor around my chest comfortably. No matter what I do, it rubs and chafes painfully. Consequently, I'm giving this Fitbit Surge—with a wrist-based HR monitor—a try, and I'm curious to see how its other features (monitoring daily steps, calorie burning, sleep, and more) affect my fitness. I just got it, so the jury is still out, but I'm optimistic it'll motivate my training.  Here's a comprehensive review that I based my decision on (the review faults it for being "bulky and utilitarian," reducing its appeal since you're supposed to wear it all day long, but the look and design don't bother me). [UPDATE 11/29: I am really liking my Surge! I'll write a post about it in a few weeks.] $250.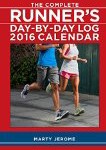 The Complete Runner's Day-by-Day Log 2016 Calendar
: You might wonder, if I'm using a high-tech watch that captures so much data and seamlessly transfers it to an app for tracking, why would I need a pen-and-paper running log? Because I love it! For the past 20 years, I have kept a running log, and it doubles as a paragraph-long daily dairy. About five years ago, I started using this Runner's World one by Marty Jerome. There's something comfortable and reliable about logging my workouts in a "secret diary" that's for me and me only to see. I have logs dating back to 1994, and if our house ever caught on fire, the pile of running logs is one of the things I'd try to rescue. Even if you use Strava or a similar data-driven electronic log, try using a written journal too, to record your feelings as well as your workouts. $11.
I read several good books this year (All the Light We Cannot See
by Anthony Doerr my favorite), but for the endurance athlete on your gift list, I would recommend either of these: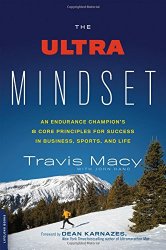 The Ultra Mindset
 by Travis Macy, which I previously reviewed. The book gives smart advice, hooked onto powerful stories from ultras and adventure races, for developing mental fortitude and positive traits such as resiliency on and off the trail. $17 (plus discount through amazon).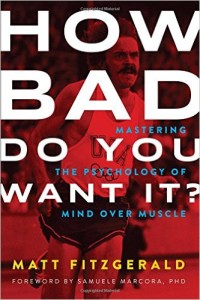 How Bad Do You Want It?: Mastering the Psychology of Mind over Muscle
 by Matt Fitzgerald. I'm nearly done with this book and plan to review it soon. Let me simply say here it's the best and most helpful thing I've read on the psychology behind performance, and most chapters are compelling because they open with a narrative about a real-life athlete, told with the skill of a top sportswriter. $15.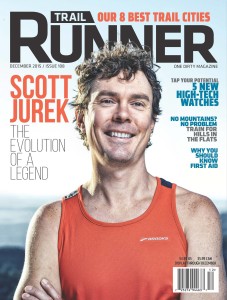 Speaking of reading … please don't read Trail Runner only online. While the magazine publishes a lot of content on its website, the print magazine has the best articles and photo spreads. Get yourself a subscription and one for a friend, too, as this current deal is for a 2-for-1 subscription at the price of $21.95. I have been writing for this magazine since 2008—regularly contributing feature stories, and every other month writing the "Last Gasp" first-person column—and I'm proud of how the publication has grown. I wish more friends got the real print version!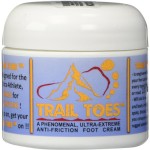 Trail Toes: Phenomenal Ultra-Extreme, Anti-Friction Foot and Body Cream
: This thick waxy cream was developed by ultrarunner Vincent Antunez, whom I met during 2012's Grand to Grand Ultra. It works! I lube my toes and spots prone to chaffing with this stuff before a long run. $12.
Make a Donation in Someone's Name: Instead of buying more stuff, give the gift of supporting a worthwhile nonprofit organization, such as Free to Run or Team RWB. I always try to make end-of-year donations to favorite environmental groups that support the areas where I love to hike and run, such as Save Mount Diablo, Bay Area Ridge Trail, East Bay Regional Park District and the Grand Canyon Trust.
While it's fun to buy new gear and put it to good use, remember that spending money and time on experiences and relationships is always the best investment, way better than any of these products!