UPDATED 8/7/15: Grand to Grand Ultra and Challenge 2016 registration opens Saturday, Aug. 8, and the first 30 people to register will get an early-bird discount of 20% off. If you decide to register for the Grand to Grand and have found out about it through my articles and social media postings, I would really appreciate if you would put my name on the registration form, in the field where it asks how you found out about the event. You can register through the website g2gultra.com.
Anyone who knows me or reads this blog knows that I am passionate about the Grand to Grand Ultra stage race. It's not an overstatement to say that twice finishing the 170-mile seven-day, self-supported, desert-crossing stage race was a life-changing adventure.
Unplugging for a week to run and hike from the edge of the Grand Canyon in Arizona to the pink cliffs of the Grand Staircase in Southern Utah—while surviving on the most minimal gear and calories carried in my backpack, living at night like a tribe in a communal tent—gave me greater confidence about my abilities, new perspectives on the world and my place in it, and friendships that will last for years. And it was incredibly fun!
Now I'm eager to get the word out about ways I'm helping others—maybe you?—learn about it, prepare for it and reach the finish line at the fourth edition of the Grand to Grand Ultra from September 20 – 26.
Before I go on, I must stop you if you're saying "there's no way I could do that." When I first found out about the Grand to Grand in the spring of 2012, from the editor at Trail Runner who asked me to participate and write about it for the magazine, I said, "There's no way … too crazy … too risky … too far … too time consuming …"
The excuses for not even considering it—and the sinking feeling that it was beyond my capabilities and just too "out there"—filled my mind and weighed me down like sand in my shoes at Utah's Pink Coral Sand Dunes.
(Speaking of those gorgeous dunes, wouldn't you like to try running, hiking and scrambling over them? I did it at nighttime under the stars. This first photo is of front-runner Michele Graglia who reached them before sunset; the other one is of a back-of-the-pack participant who reached them the next morning. Photos courtesy Grand to Grand Ultra.)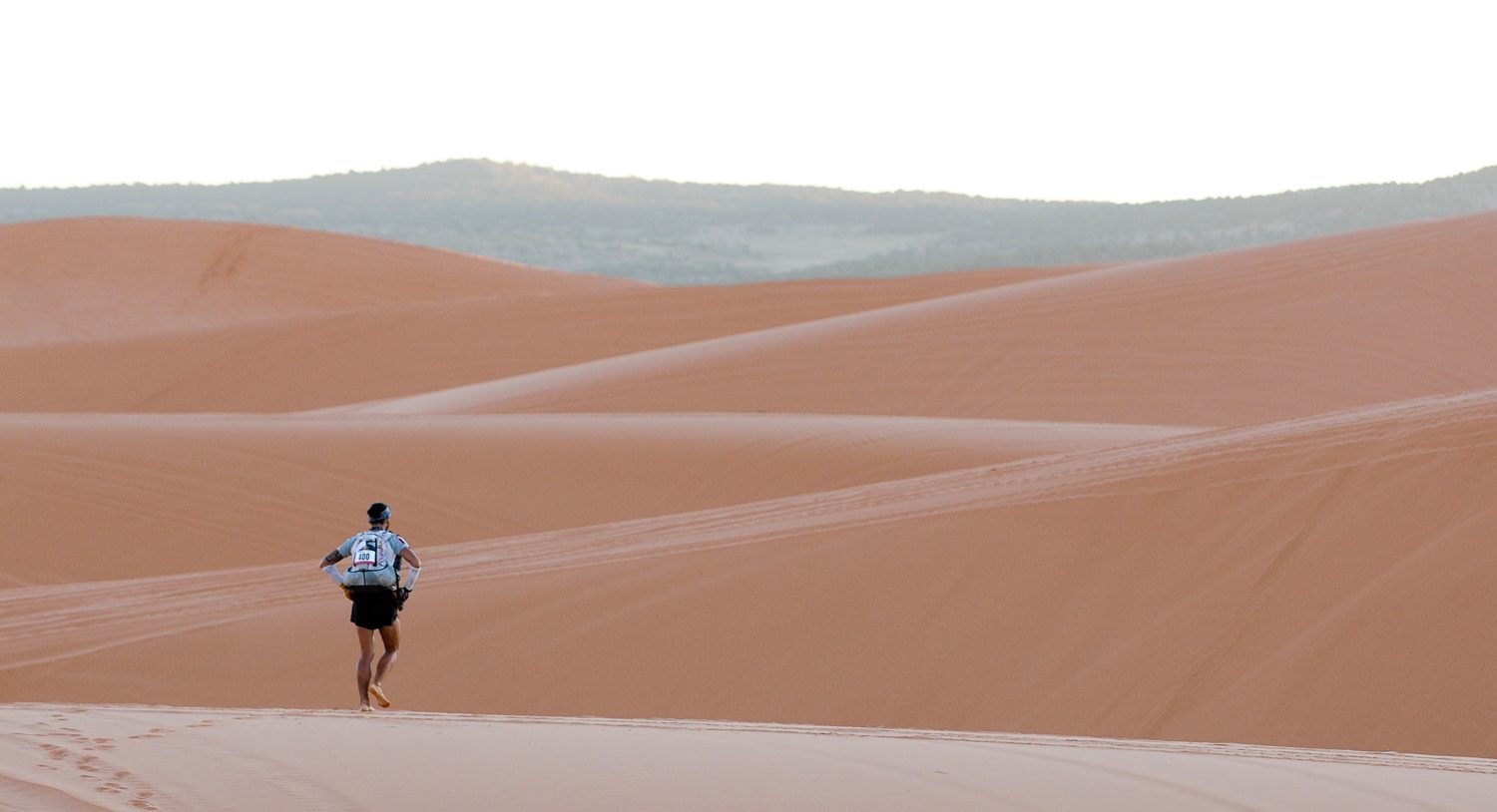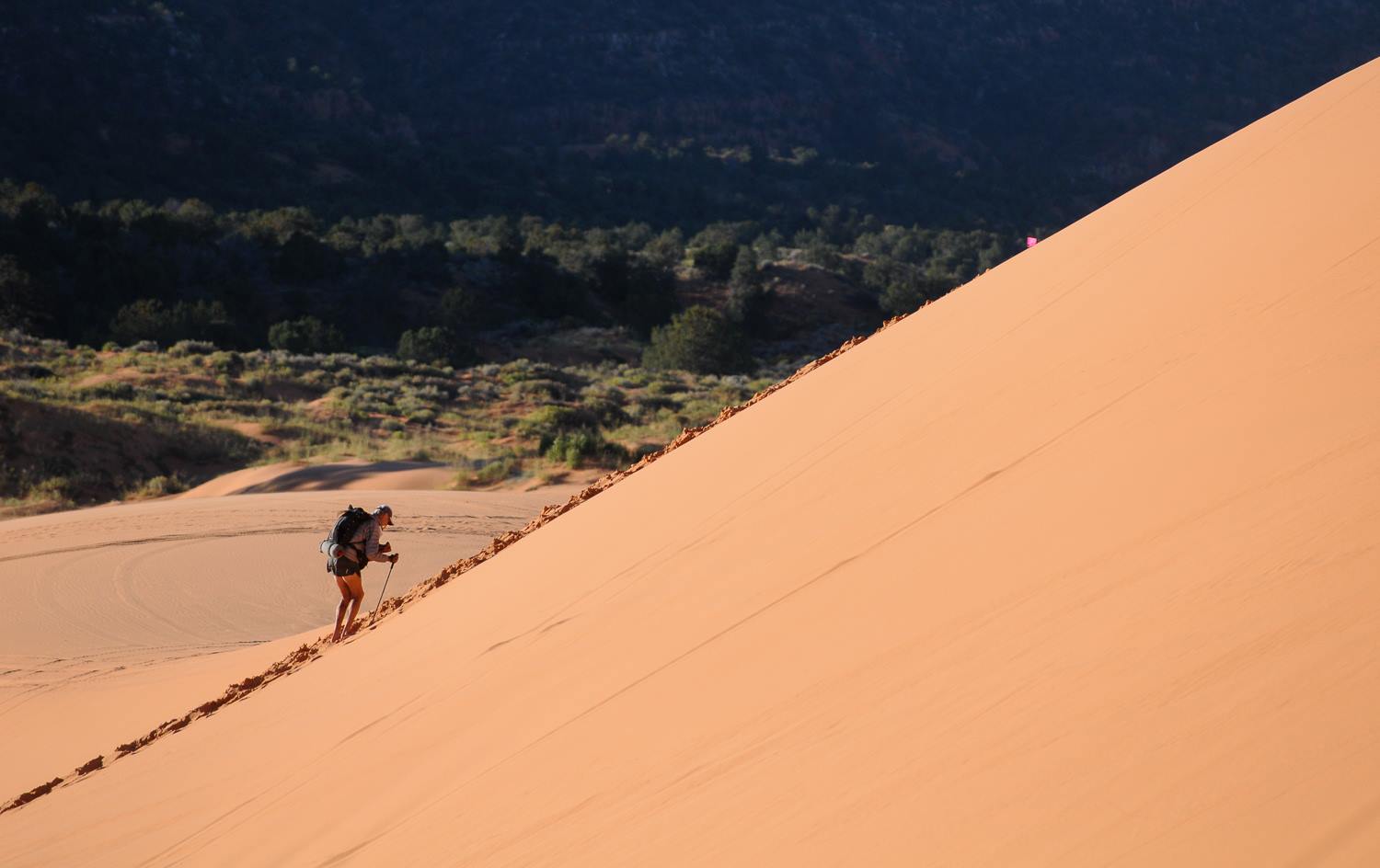 So for the moment, please set aside those "no way" thoughts and consider the following:
First, if you want to experience the Grand to Grand but think the daily mileage is just too much for you to cover due to your pace or level of endurance, you may be encouraged to know that the race directors have introduced a companion event for 2015, the Grand to Grand Challenge, which is slightly shorter. As their announcement states, "The Grand to Grand Challenge will take place on the same course, and at the same time, as the Grand to Grand Ultra, also comprising of six stages over seven days; however it will be a total of 108 miles (173 kms) only. All Grand to Grand Challenge participants will get to enjoy the same wonderful course, views, terrain and camp life!" They are accepting only 30 participants for this shorter option.
Also, I'm happy to announce that I've been asked to join the Grand to Grand Ultra's small group of recommended coaches. I'm available to coach—in person if you're in the Bay Area, or by Skype/phone and email if you live farther away—on all aspects of G2G preparation, from base-building to pack and peak training, to mental preparation, to gear and food planning. I have the experience as a certified coach and as a two-time top-3-female G2G finisher to help beginners and experienced stage racers alike. Please see my coaching page for details on my qualifications, and contact me.
Meanwhile, for more info and inspiration, check out the compilation of Grand to Grand Ultra articles I've written and watch the short video below.
UltraRunnerPodcast.com interview about the experience of the 2012 G2G
If you do register for the Grand to Grand Ultra, please mark on the registration form where it asks "how did you hear about this event?" that you found out about it from me.