I'm getting on the gift guide bandwagon to spotlight some products I discovered and genuinely like. Perhaps, instead of "gift guide," I should call this "random recommendations."
(Note: I linked several of these products to amazon, and if you buy through the link, I will receive a very small commission to help support this mostly non-commercial site.) Be sure to scroll all the way down for a handful of charitable organizations I urge you to support in this season of giving!
Gear and Clothing for Runners
This year, I moved away from running with a hand-held bottle in one or both hands, and instead use a hydration pack for hands-free long runs, because I find that having both hands empty helps me run in a more balanced way. In races, however, it can be a time-consuming pain to take out and refill a hydration bladder.
That's why I was pleased to discover Ultimate Direction's women's specific Jenny Vesta. The vest has two 10-oz. bottles on the shoulder straps and space for a hydration bladder in back (sold separately). For races, if the aid stations are plentiful enough, I use only the bottles and quickly refill them along the way; for longer unsupported runs, I can add the bladder for more water reserves. I like the way the vest fits my chest, feels minimalist, yet has adequate pockets up front that are easy to access, plus thoughtfully designed pockets in back. I'm 5'7″ got the small/medium size, and it fits snuggly; the pack comes in med/large too (specify your size if you click through; the link defaults to med/large). [UPDATE: You can get a free 20 oz. UD water bottle with their handy kicker valve on purchases of $50 or more if you use these links to purchase through their site and enter the code "BOTTLE" at checkout.]
But what if you need a real backpack to carry several days' worth of food and gear? If you're looking for something for fastpacking or stage racing, I recommend the pack that got me through the seven-day Grand to Grand Ultra: the RaidLight Ultralight Olmo 20L.
This pack managed to eliminate almost all bounce from running (thus minimizing chafing). It features shoulder holsters for two large bottles (included), roomy pockets on the hips, internal pockets, a removable holder for trekking poles, an optional hydration bladder reservoir, and my favorite thing: two stretchy exterior mesh pockets where you can stuff lots of extra stuff!
I discovered a reasonably priced ($70), strong headlamp that I  REALLY like: the Fenix HP25 Headlamp with a max of 360 lumens. The battery pack sits in back and carries 4 AA batteries, so it's a bit heavy, but I don't mind it since the batteries' weight on the back of my head balances the weight—and reduces bouncing—of the headlamp in front. I liked the dual lights' levels, output and adjustability.
For an even better lighting system (as described in this previous post), I like to combine a headlamp with the handheld Fenix PD32 compact flashlight
. I love this powerful, lightweight flashlight (it runs on 2 CR123A batteries that are included), and often it's enough to run with just the flashlight and not a headlamp.
I know that running with earbuds is controversial, but I enjoy music or podcasts for longer runs. I try to limit having sound in my ears to when I'm on a wide-open fire trail with good visibility, rather than on single track. This year, I finally discovered earbuds that are comfortable and don't fall out: Yurbuds Sport Earphones. This makes a good stocking stuff as well as ear stuffer!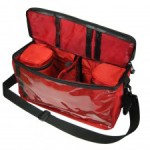 For ultrarunners who care about maximizing their efficiency at aid stations, the Victory Sportsdesign gear/drop bag is an ideal accessory for a gift. Designed by my friend Victor Ballesteros, the Victory Bag comes in three models to meet your needs for quick access to gear and energy food/drinks when you're breezing through an aid station. They also double as a great alternative to a cooler or shopping bag when you're packing your car for a day trip. Victor also sells cool trucker caps and "mountain head wraps" aka buffs (but he can't call them by the trademarked name "Buff"). Buy them through his site or at these retailers.
Here's a pic of me wearing the Victory Sportdesign trucker cap, with Victor on the right and our friend Robert Rhodes during last week's Trails In Motion Film Fest, with Victor raffling off some products: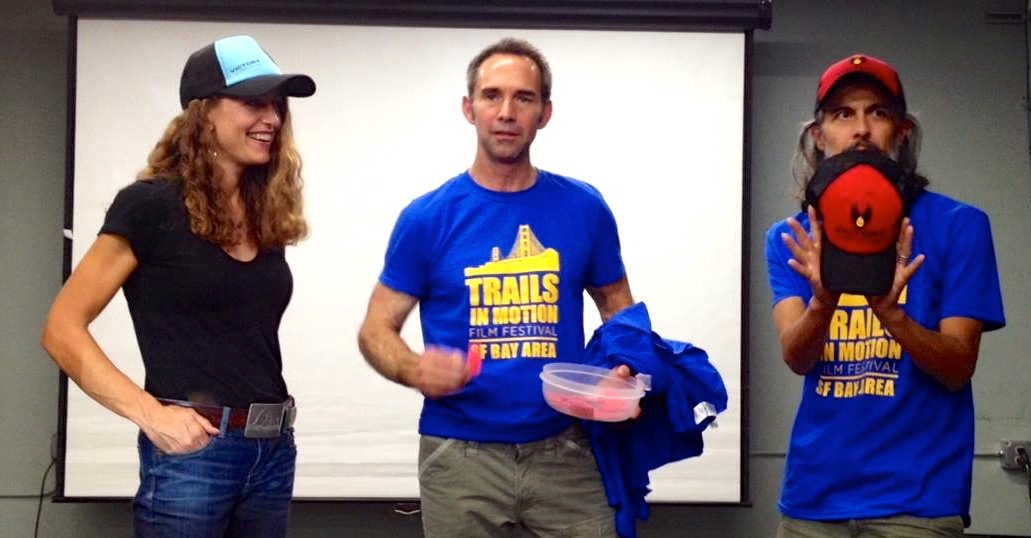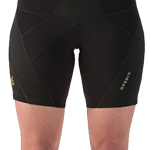 A few months ago, the company Opedix sent me some of their Core-Tec compression shorts to try out. I generally am not a fan of compression shorts or capris, because I don't feel they make much difference—but the real problem is that they hamper my ability to pee quickly on the trail! (I like wearing loose-fitting shorts so I can pull the crotch to the side and pee without pulling the shorts all the way off, whereas with compression shorts or tights, you've gotta pull the waistband all the way down and bare your butt.) But, I've become a fan of these pricey ($165) shorts, which claim to improve core stability, "optimize muscle function and joint alignment" and reduce lower back pain. I can't say whether they really do all that, but they DO feel good, and now I'm interested in investing in a pair of their tights for colder-weather running. For details, read Meghan Hicks' great review on iRunFar and purchase the products (for both men and women) through the company's site.
I've long believed in the benefit of compression socks for recovery and travel. I wear them running only occasionally, but I always put on compression socks the day after a tough ultra or when traveling on long flights to improve circulation and aid recovery. For this reason, I recommend Zensah Compression Socks.
Interestingly, I recently interviewed a handful of top runners for a forthcoming article in Trail Runner on advice for minimizing travel stress and arriving race-ready at destination races. All of them said: wear compression socks when you travel!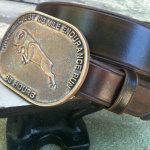 If you've earned a buckle by finishing an ultra, you should take it out of its box and wear it with pride! I recently heard about this leather company that specializes in making belts for ultrarunners' buckles: California Bohemian Leather. Get a belt for yourself or someone else to show off that buckle. [How nice! After I first posted this, the owner of the company wrote in the comments below, "You or any of your friends and readers are welcome to use a this special coupon code for 20% off: ULTRARUNNER20."]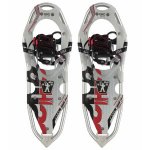 I haven't tried these out, but given that I love running in snowshoes and the ones I own are quite beat up, I'd like a pair of these Atlas Run Snowshoes.
Trail Runner magazine writes in their review: "The Run has hit the sweet spot for trail running, with its price point ($210), durability, comfortable fabric bindings and ample flotation on groomed trails or lightly packed snow."
Well, this looks cool! My friend Helen Pelster, an ultrarunner from Truckee, just told me about this and recommends it: the Grand Trunk Nano-7 Hammock.
It's an ultralight hammock that stuffs into a tiny sack. It measures 9′ x 4′ and weighs just 7 oz. Straps to hook it to a tree or to polls sold separately. Helen adds, "This is the top-of-the-line model, but the same company also has a $20 one that I've heard is also excellent, just a little heavier."
And for safety's sake, if you don't have one already, get a RoadID bracelet or shoe tag for yourself or your loved one. Most of us don't carry ID when we run. If something happened to you while running—such as you lost consciousness or got hit by a car—you don't want to be an unidentifiable Jane Doe.
 Books
 I never read Matt Fitzgerald's book Racing Weight, but this cookbook that it's based on boils down his nutritional advice and delivers a few dozen worthwhile recipes of varying degrees of culinary difficulty. I turn to the Racing Weight Cookbook: Lean, Light Recipes for Athletes
 at least once or twice a month for healthy meals with the right balance of protein, fat and good carbs.
If you're new to ultrarunning and want a book that lays out all the practical advice you need for training and successfully racing, then I recommend Hal Koerner's Field Guide to Ultrarunning: Training for an Ultramarathon, from 50K to 100 Miles and Beyond.
 I'm a fan of Hal's (who isn't?) and admire his plain-spoken, spot-on advice. Bonus: Listen to this interview with Hal that I co-hosted on UltraRunnerPodcast.com last October to hear Hal talk about his book and life.
Here are two great nonfiction reads for runners or endurance athletes: Unbroken: A World War II Story of Survival, Resilience, and Redemption
 by Laura Hillebrand (yes, the movie is coming out, but read the book too!), and Endurance: Shackleton''s Incredible Voyage
by Alfred Lansing. As detailed in my Grand to Grand Ultra report, the story of Endurance helped me conquer hunger and feelings of hopelessness during the most difficult part of the race's long stage.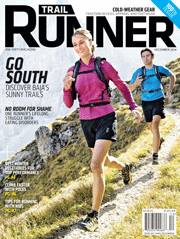 If you haven't already, I hope you'll subscribe—or get a gift subscription for someone else—to Trail Runner, the magazine I write for. The magazine's quality of storytelling, photography and advice seems to get even better each year.
Charity
This year, an ultrarunner I greatly admire, Stephanie Case (see previous interview), founded a nonprofit called Free To Run that promotes running and physical fitness to help empower women in violent-prone regions of the world where women are discouraged from exercise and education. This year alone, Stephanie and her organization made a difference in the lives of women in South Sudan and Afghanistan. Please check out her site, like her Facebook page and consider making a donation.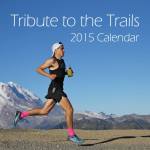 The Tribute to the Trails Calendar is back! This project, now in its tenth year, features gorgeous photos by trail runner and professional photographer Glenn Tachiyama, and sales go to support the Washington Trails Association. You can buy one at specialty running stores such as the San Francisco Running Co.; see this list on where to buy or order online.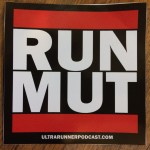 Get a cool sticker like this by making a donation to my friend Eric Schranz's site, UltraRunnerPodcast.com. Eric works tirelessly and for hardly any compensation to produce high-quality podcasts (which are great for long runs or long drives) and to digest the news in URP's Daily News (to which you should subscribe). I've got both this Run MUT sticker and URP's Singletrack Mind sticker on my van. Join the club!