(This post is meant to be read following Part 1 and Part 2.)
The walls of our canvas tent billowed and snapped furiously in the wind as a deluge of rain pounded sheets of water against the roof and sides. A bolt of lightning briefly illuminated the forms of five men lying around me, and two seconds later, a clap of thunder pierced the night like a shotgun blast.
Mickey, next to me, rolled closer to get away from a trickle of water flowing in from the corner. We sat up and arranged our mylar emergency blankets to try to make a barrier between the pooling water and our sleeping bags.
It was around 2 a.m. on the final night of the Grand to Grand Ultra. I knew I couldn't fall back asleep, so I lay awake and absorbed the moment. Would our tent hold? Probably. I wasn't worried. I actually felt calm, cozy and secure. Over the past six days, I had developed a mindset of taking anything and everything in stride. Whatever happened, happened.
Mostly, I felt a twinge of melancholy—the anticipation of goodbyes and nostalgia—knowing it was my last night living and sleeping this way.
I was the only woman in this tent because Sabine had dropped out two days earlier during the long stage. She transitioned to work as a volunteer and began sleeping in the volunteers' tents. That left Michele (Mickey) and Roberto from Italy, Dan from Chicago, Danny from the UK and Simon from Australia.
A couple of them snored. A thick stubble covered their cheeks, and dirty bandages clung to their rotting feet.
I had grown thoroughly familiar with these men's mannerisms, their laughter and their strong smell. I recognized all their pieces of clothing and their piles of gear. And that's probably why I felt safe and content in this tent in a severe storm: because I was accepted and respected in this fraternal little tribe. I had become one of the guys, and I felt stronger, younger and more capable than ever.
Don't get me wrong—I profoundly love my husband and kids. But at the moment, I did not miss my regular life as a wife and mother. I felt a wave of guilt that my husband had to manage things at home and work hard while I was away. Then, I briefly thought of a presentation I had to prepare and deliver in front of a lot of important people the following week, and I audibly groaned. The prospect of looking and acting professional, and meeting deadlines, terrified me more than any physical challenge I faced in the wilderness.
Listening to the storm and lying in that tent, I pushed away those stressful thoughts and nursed happy, crazy memories from the past couple of days instead.
***
Stage 4 was a victory of sorts. I ran hard for those 26 miles, pushing through muscle soreness from the prior stage's 53-miler. The first 20 miles felt steady and runnable, in spite of scorching heat hitting the mid-90s, and I felt an almost giddy sense of accomplishment. About half the stage followed deep-sand tracks, so I wore full-cover fabric gaiters on my shoes again. I slogged through the sand, over the slick rock, and up a dry and rocky riverbed where good footing was nearly impossible to find. (Photos on the course by event photographer Matt Brown.)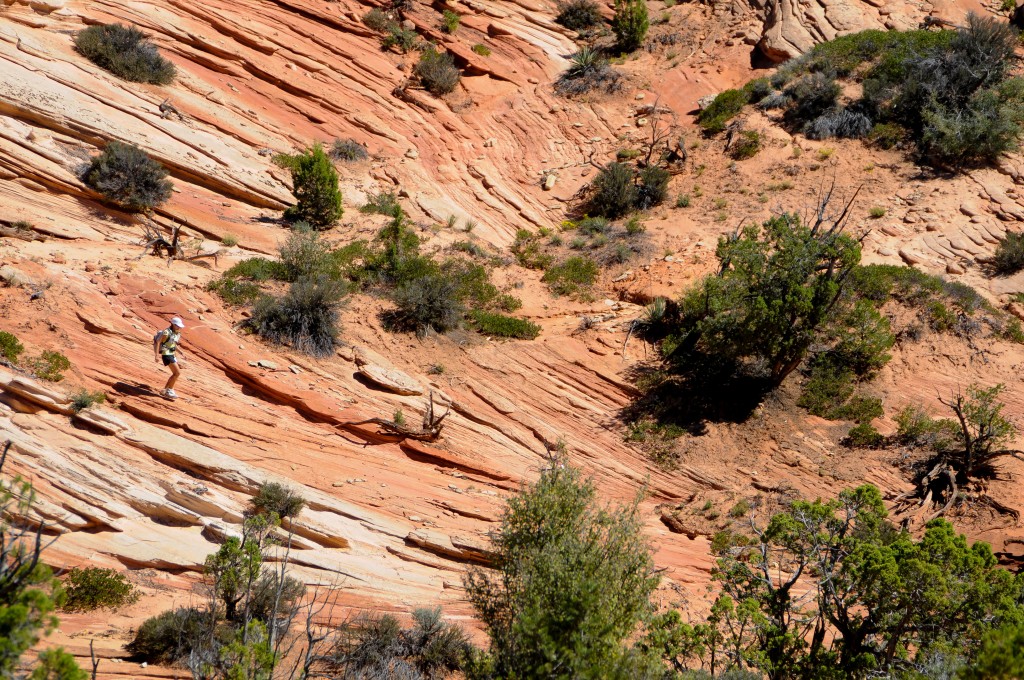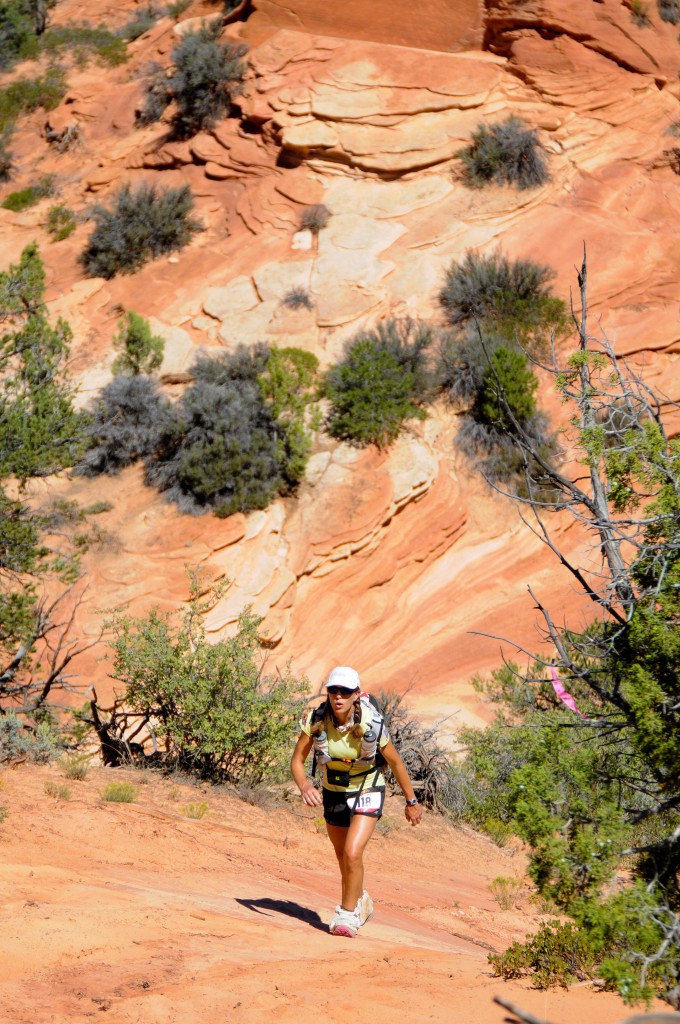 When we had to run through a tunnel, my eyes had a hard time adjusting to the darkness, so I tripped and stumbled for the one and only time all week. Then I had to grab a fixed rope to pull myself up and out of the cavernous passageway, which was fun!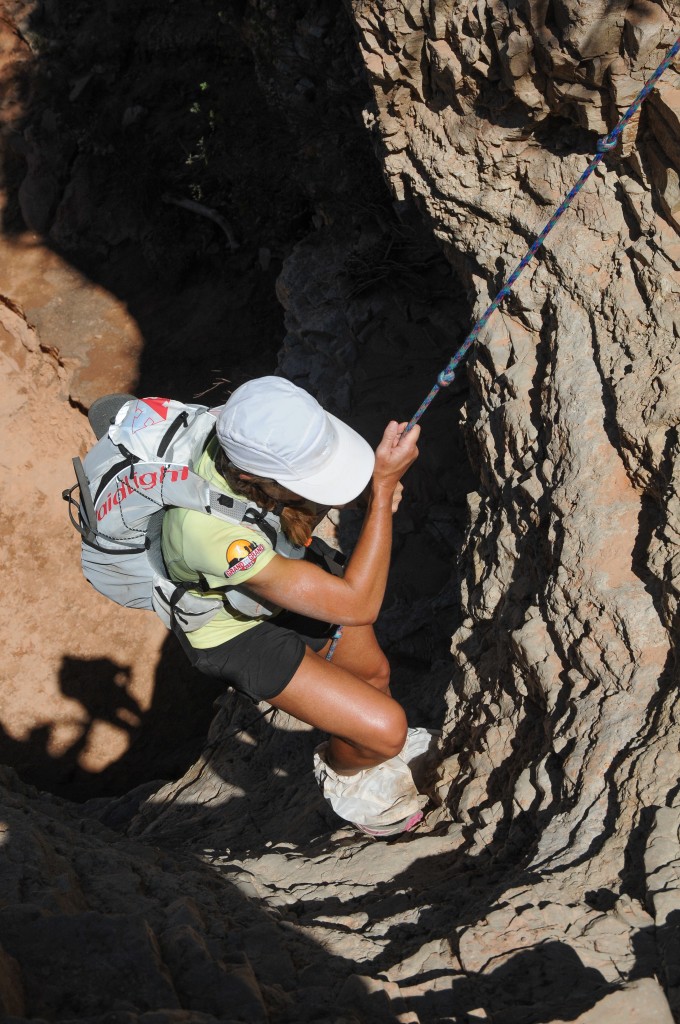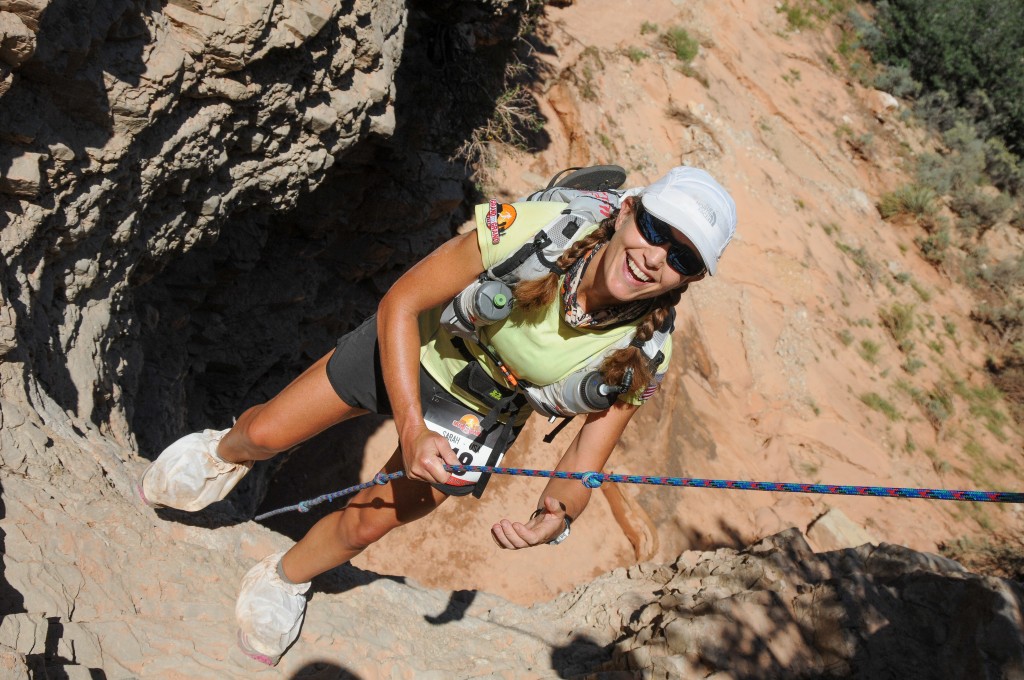 On the final stretch of Stage 4, as we climbed more canyon walls and trudged across sandy roads, I passed and then got passed back by a German guy named Soenke. I really wanted to beat him. Why? Because it's a race, that's why! Plus, it bothered me how throughout the week, it always felt like he would stalk me and sneak up on me, and then he'd blow past me. I wanted to do the same to him. So I did—I picked a stretch where I could muster strength to run past him decisively, and then I opened up a gap between us.
I was feeling pretty darn smug and contemplating whether I could take a Top 10 spot from Soenke when all of a sudden, while running along that forest road, I had a horrible realization that I hadn't seen a course marking ribbon in quite some time. I kept going, though, because I saw footprints in the sandy road. But after a few more minutes, I decided I must certainly be off course, and the footprints must be from some unfortunate runner ahead of me who had made the same mistake.
I turned around and measured the time it took to get back to a course ribbon—more than five minutes, so I had taken more than 10 minutes out-and-back on this wrong way. I had missed the markers that directed the route off road and through thick vegetation toward another canyon. Cursing myself, I headed down the trail and looked in the distance, to a canyon ridge I would have to climb. And there on top of the ridge, way far away, I spotted Soenke's tall and thin frame. Shit. 
It's hard to mentally regroup after a setback like that, so I focused on a secondary goal: breaking 6 hours for this stage. When I ran this stage in 2012—and didn't go off course—it took me 6:11. I felt stronger this year and determined to do better. I channeled all my frustration at going off course into breaking 6 hours, so when the course transitioned to a slightly downhill asphalt road leading to camp in the last two miles, I flew. I got to camp in 5:55, five minutes behind Soenke. I was still the 2nd place female and in 12th place overall.
I'll never forget this camp—the worst by far, so awful it was funny. Wicked calf-high brambles full of spiked goat-head thorns covered virtually every square foot of camp, except where large anthills spilled biting fire ants. Everybody tiptoed around camp as if walking barefoot on broken glass. I had to wear my hot and dirty running shoes, rather than flip-flops, because the ground was so threatening, so I couldn't really clean and air out my blisters.
The only relief came when the local lady who manages the porta-potties drove in to camp to clean them out, and she invited some of us to line up and get sprayed by her hose. I let her blast me full force with the cold water, and it was possibly the best shower ever.
***
The 26-mile Stage 5 was like dessert—the treat we'd been waiting for all week—because it featured four miles through a gorgeous slot canyon. At sunrise, camp buzzed with a sense of late-in-the-week wildness and anticipation. In a tent nearby, one guy yelled out in a maniacal tone: "It's showtime, bitches! We're gonna rock this 26 miles in 32 hours!!"
I decided to take the first hour of this day's run slowly—to put the racing on hold for a bit, and just savor the moment. As I looked up at the curving canyon walls and squeezed down its trail, in places no wider than a doorway, I felt like a desert creature burrowing below ground.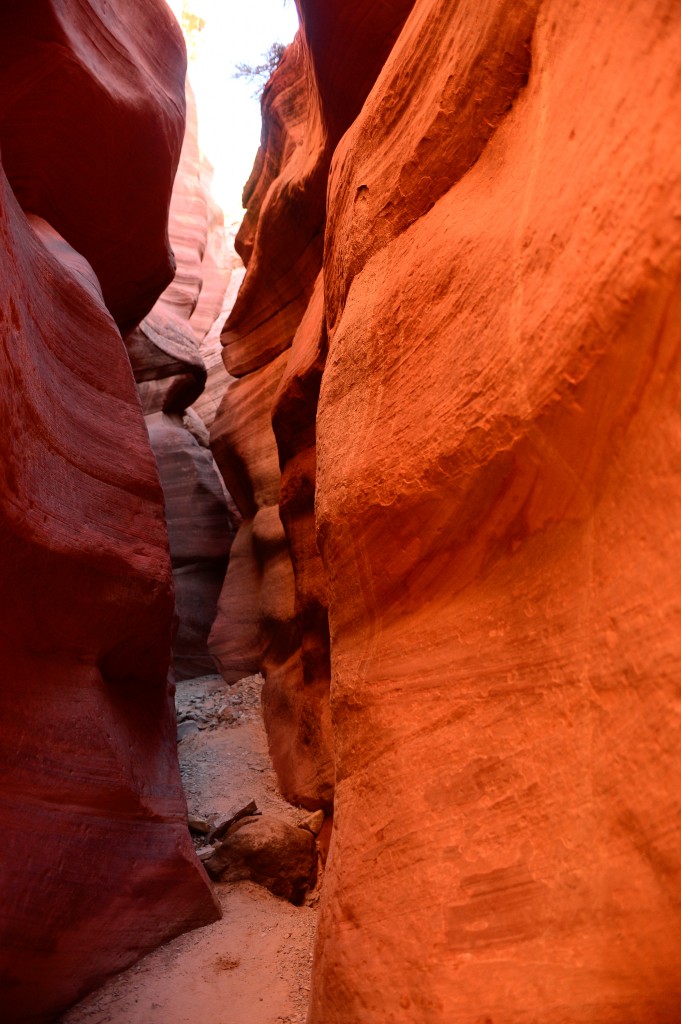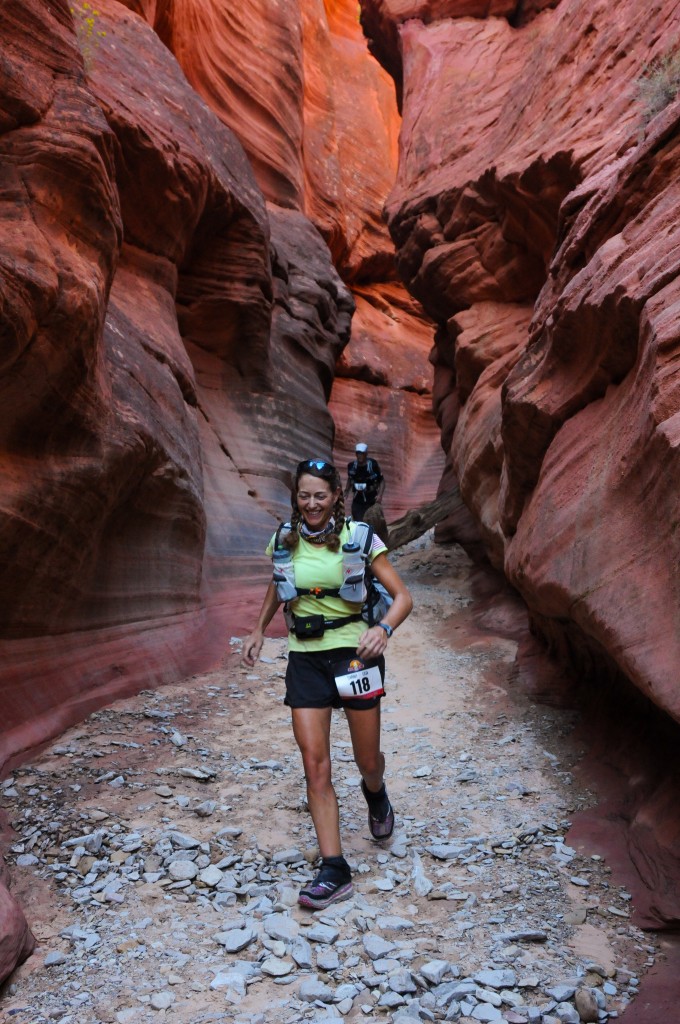 Following the canyon, I hooked up with a small pack of runners and drank up their gallows humor as we hit yet another stretch of thick, slow sand.
"I don't know what I'm going to do next week, walking on a hard surface," said one man in a British accent. "I'm quite going to miss this sand."
"I'm going to miss eating out of a bag," said another.
Stage 5's steady climb, through another riverbed and along a gravel road, depleted me almost as much as Day 3's Long Stage did. I tried to grind out the miles, but I was hurting—and hungry. A week of calorie deprivation was catching up to me.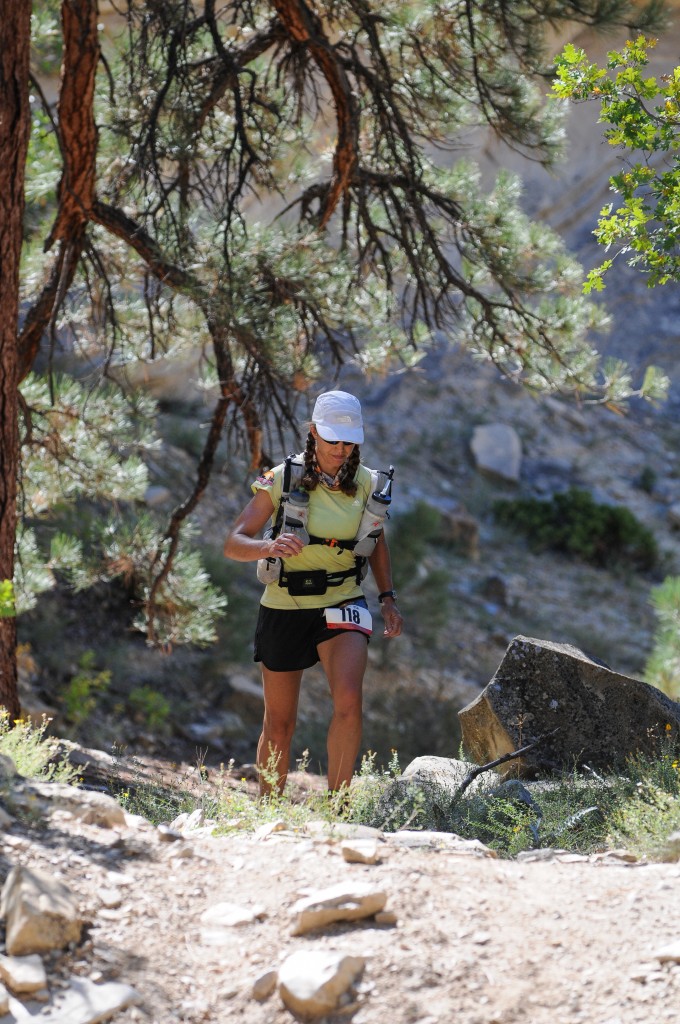 Traversing the last 4-mile stretch to camp, which followed a monotonous road, felt totally shitty—there's no other way to put it. I took a minute-long walking break every three minutes or so, and I felt frustrated as the ratio shifted to more walking, less running.
Goodbye, hopes of Top 10. That was a fun dream while it lasted.
Like a car that had blown a gasket and run out of gas, I was trying to coast on fumes. I was breaking down and had almost nothing left in me. But finally and inevitably, I rounded a corner on a hill and saw the last camp—a camp so beautiful and carpeted with lush wild grass that it more than made up for the previous day's awful location.
That night, as I recovered and relished the banter around the campfire, I felt the lingering effects of 163 miles on my legs from the week. But I also visualized the next morning's final short stage—the 7.5-mile "sprint" to a summit on the Grand Staircase formation, framed by the sandstone spires known as hoodoos—and I vowed to run as fast and as hard as I could. I would give it everything I had left in me, to show myself and others that I possess speed as well as steadiness.
***
I never really fell back asleep after the downpour of rain and the electrical storm that woke me up in the middle of the night. We were so incredibly lucky with the timing of this storm, I thought, because if it had hit 24 hours earlier, then flash floods would have filled the slot canyon and riverbed that we ran through yesterday. Either we would have been trapped, or (more likely) the race directors would have rerouted the whole stage, depriving us of the prior day's beauty and challenge.
But it turns out we weren't entirely lucky with the storm's timing.
It was still dark out, around 5 a.m., when the race directors Tess and Colin Geddes came to our tent. They were going to each tent with an important announcement: "We're canceling the last stage."
All of us were dumfounded by the news, and we peppered Tess and Colin with questions. They explained that another severe storm front was forecast to hit during the late morning hours, when the slower runners would be reaching the finish line. The risk of snow and hail was too great. The buses, scheduled to pick us up around 11 a.m. and transport us back to Kanab and then Vegas, might not be able to navigate the mountain road. The highway to Vegas might flood and become impassable.
They would try to put together a short "fun run" a couple of miles long to celebrate the finish, but they needed to clear out camp earlier than anticipated.
We took the news hard. We looked outside the tent and saw stars, and then a beautiful sunrise. The sky was clear! If they needed to reroute the course away from the summit, then why couldn't they figure out an out-and-back route that went the full distance of 7.5 miles at a lower elevation near camp? A two-mile "fun run" sounded bogus.
We were pissed off and felt deprived of the sense of completion and victory that the final stage was supposed to bring. We wouldn't get to run all the way up the Grand Staircase after all.
After a while, though, we calmed down and empathized with the extremely difficult situation and decision the race directors faced. We took heart in their promise to deliver pizza to the finish line. Danny made us all laugh with a Crocodile Dundee riff, "You call that a pizza? This is a pizza!" and he threw a wild punch in the air.
Dan, with a devilish grin, said he still planned to surprise everyone on the last sprint. I wondered what he had up his sleeve. He had done the Grand to Grand with me in 2012, and he surprised everyone on that last stage by motoring up the hill like a monster truck, nearly catching up to me. This year, with a heavier pack and minimal training under his belt, he had hiked the whole week. But I knew that Dan at heart is a runner.
With a sense of finality, we put on our backpacks the last time. The packs felt so light, since we had eaten through our food supplies. Clouds started gathering again, and I rubbed my arms to try to stay warm. I had moved past my disappointment and now felt eager to run—to sprint—to warm up and see how damn fast I could go. Two miles? That actually sounded fun!
At this point, there was nothing left to decide or prove in terms of the competition. This celebratory 2-miler wouldn't change the rankings. Michele Graglia, the phenomenal athlete with so much ultrarunning potential, would be the champion by a margin of more than five hours, followed by Ken Letterle, a really nice guy I bonded with because until recently he lived in my hometown of Ojai. Chantal van der Geest, a superwoman with a great smile, would finish first woman and third overall.
And me? With a cumulative time of 39:26, I was lucky 13th! I missed the Top 10, but I didn't care that much, because I had scored a personal victory: I took approximately three hours off my 2012 time. Even adjusting for this year's slightly shorter course, I still finished a couple of hours faster than I hoped or imagined I could. Plus, I was second female and first in my age group.
It was time to celebrate by running this 2-miler as fast and fun as we could.
I lined up near Mickey, Dan and others. The wind started to blow, and tears sprung to my eyes as Colin counted down the start for the final time. And then we took off.
Mickey streamed ahead, as I expected, along with a couple of other fast guys. But then to my astonishment, Dan started chasing them and catching up.  He was trying to beat them! Well, if Dan could do that, then I would try to catch him.
I ran as if on the first lap of a 6-minute mile, my lungs burning and heart racing in the high altitude of 7000 feet. I closed the gap on Dan, who was trying to close in on Mickey.
Suddenly, one of the most unexpected and ridiculous things of the week happened: a box of Nerds candy fell out of the pocket of Dan's shorts.
I started laughing so hard, I almost collapsed and had to slow my stride. It was absurd and yet perfectly fitting that Dan would hoard candy. I struggled to catch my breath, and then I sprinted as hard as I could to catch up and tell him what had happened.
"You dropped your Nerds!"
"Oh no, that's my energy juice!"
Mickey and a couple of other frontrunners rounded the turn-around and headed toward me. I high-fived each of them. They looked surprised and said things like "smokin'!" and "nice!" when they saw me running near the front of the pack. After the turn-around, I high-fived everyone else coming my way.
The finish line was in sight. I paused to let Dan catch up so we could finish together. Then he paused to search through the grass and find his box of Nerds, which he did and pocketed.
I told him, "When we get closer, I'm gonna sprint, and you will too, OK?"
"OK."
A few strides later, I said, "You ready?"
"Yes."
"Let's do it!"
He and I sprinted with every ounce of our spirit. We grab each other's hands at the end.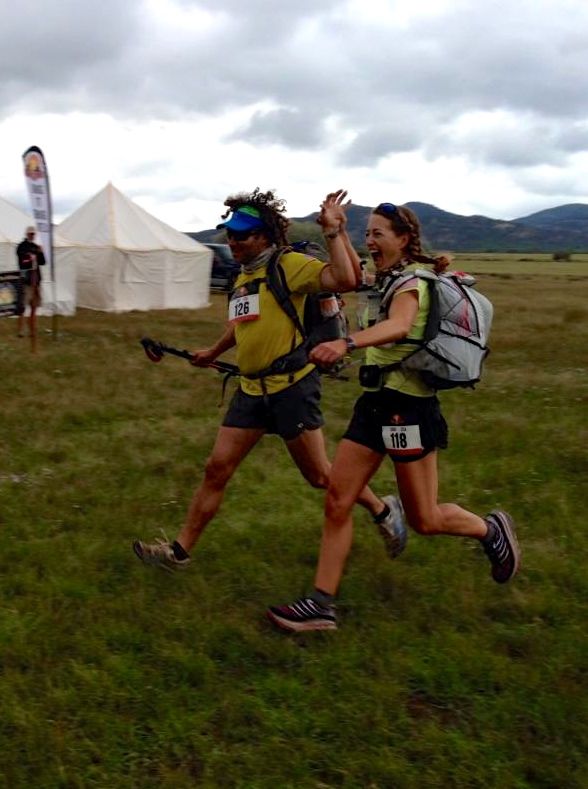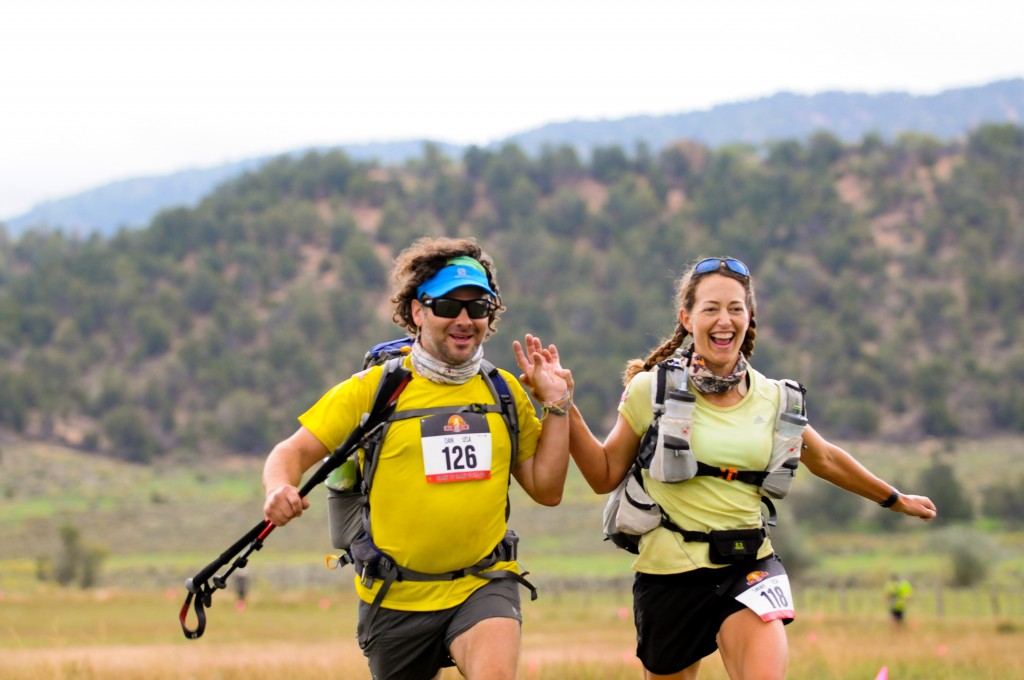 I hugged Dan, Tess and Colin, and the guys who had finished ahead of me, and then I got teary again as I watched more finishers come across. When everyone from our tent was at the finish, we got together for one last photo.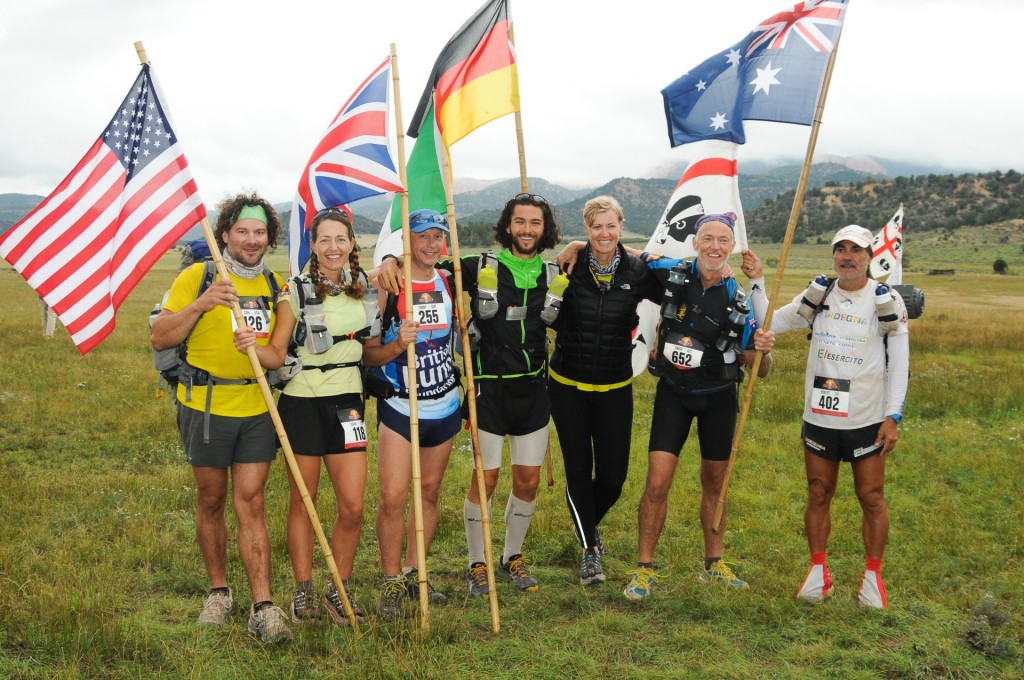 I tried to thank every volunteer who made the week possible. They were wonderful, and I will miss them, too.
Then we had to get on a bus and go—first to Kanab for a community celebration, then to Vegas for the party. I drank a beer on the bus and tried to suppress the sense of sadness that competed with the feelings of satisfaction.
For the record, Tess and Colin made the right call to shorten the last stage and evacuate camp as quickly as possible. Soon after we left, golf ball-sized hail with bizarre spikes pelted down from the sky. The camp volunteers who remained had to take shelter in SUVs. Our bus could barely navigate the downpour on the highway.
That night, after a good long shower, I celebrated, ate, danced and savored the company of my friends for as long and as much as I could.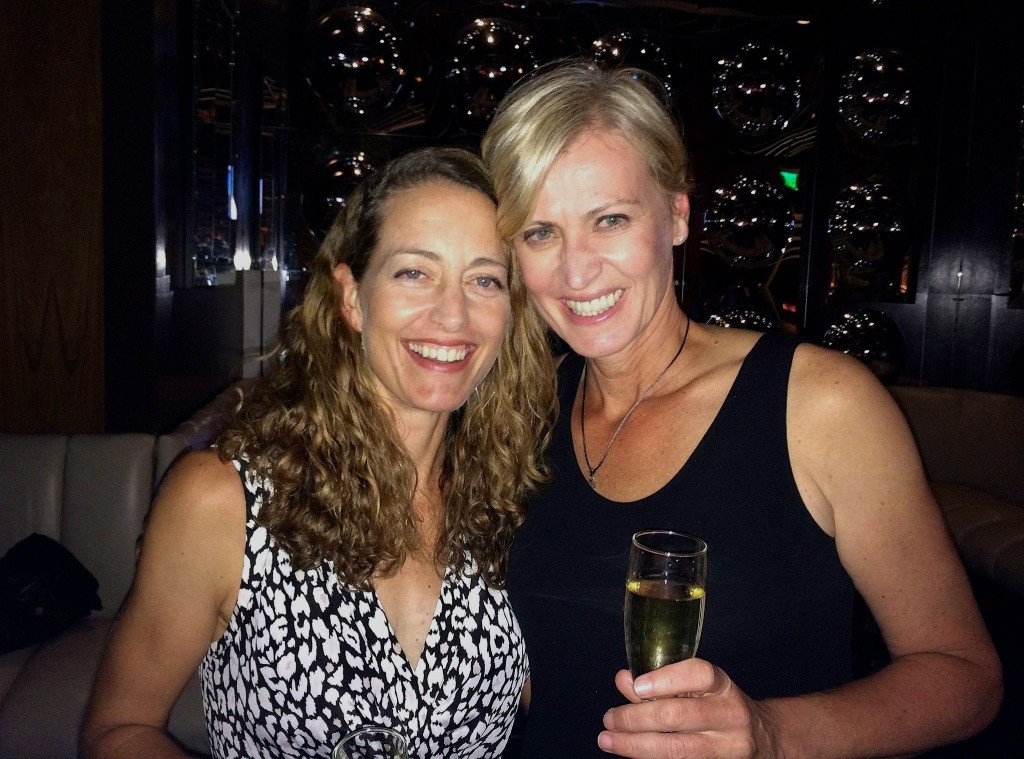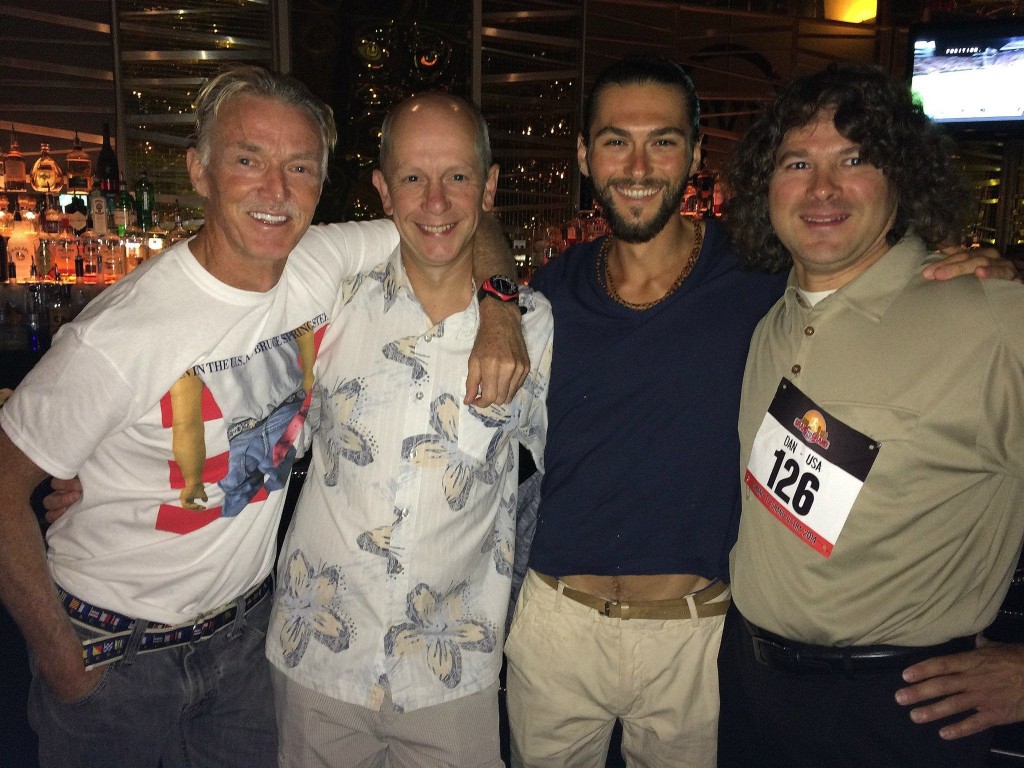 When Tess and Colin called my name to get a trophy, I felt so uninhibited from the week that I danced and fist-pumped my way to the stage.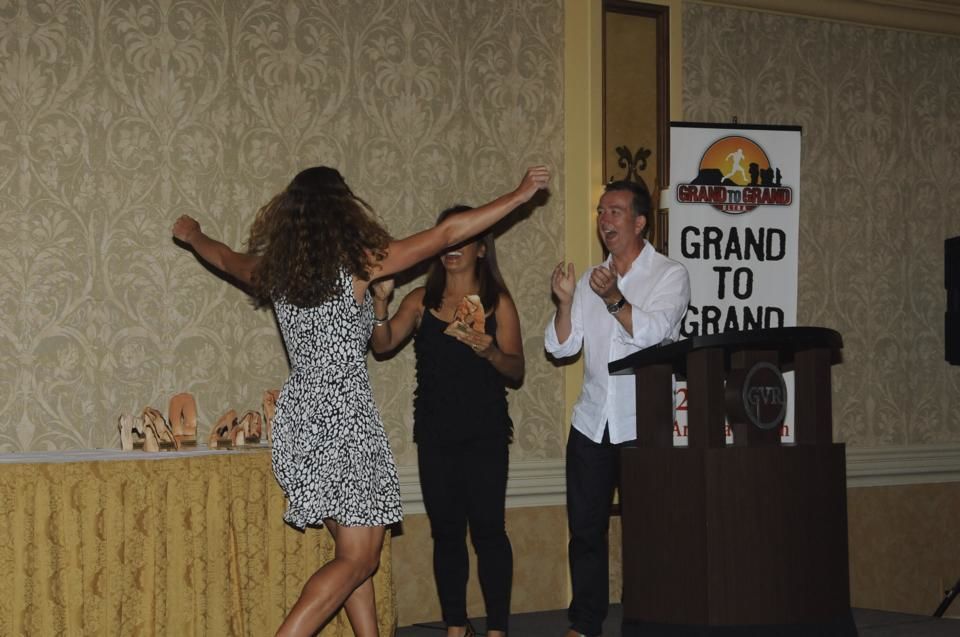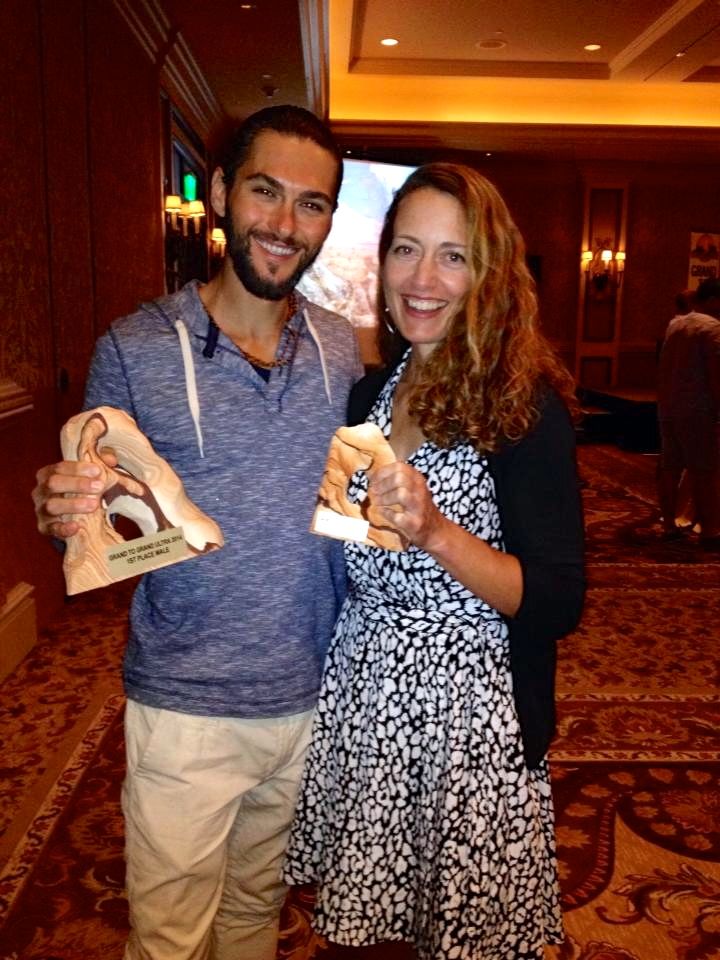 And now, here in my lovely home three weeks later—in between trips to the grocery store, school meetings, loads of laundry and a few work deadlines—I can look at these mementos and think: Yes, that really did happen. Twice. And I'm a better person and immensely grateful for it.