UPDATED after the event with some additions and deletions to the list; see below… also, I'm a member of the Grand to Grand Ultra Training Team for 2015, which means I'm a recommended G2G coach and available to help runners of all levels prepare for the challenge. Read this post for more info and check out my coaching page.
In two weeks, I'll travel to Kanab, Utah, for the week-long Grand to Grand Ultra 170-mile self-supported stage race that goes from the north rim of the Grand Canyon to the pink cliffs of Southern Utah's Grand Staircase-Escalante National Monument.
As friends and readers of this blog know, I did the event two years ago; consequently, prepping for it this time seems a little less daunting—but getting ready still feels mentally and physically taxing. I obsessively strategize about what to bring, weighing the tradeoffs between gear and food that could be helpful but that add weight to my pack.
"Self-supported" means participants need to carry all food, clothing, sleeping and safety gear for the week. The event organizer provides communal tents and hot water, so I don't need to bring a tent or stove. My pack will lighten as the week progresses and I eat through the food supply; my goal for Day One is to keep the weight—including water filled in two water bottles—to 20 pounds. With everything listed below (not including the clothes I'll wear while running), the total weight is 21.8 pounds (this includes the water bottles full, which weigh 3 pounds). [UPDATE: I got the weight down by at least a pound so it's now approx 20.5 pounds]
I know I could get the pack weight down. But, I'm a big eater, and I crave certain non-essential things (like a mini notebook and pen for journaling). If I reduced my food to the required minimum of 14,000 calories (2000/day), I believe I'd feel weak from hunger and would sabotage my race by bonking. So I'm struggling with how much of the following things on this list to actually bring. That's why I'm putting it out here for you, the readers who have stage-race experience, to give feedback and tell me what to eliminate.
Here's the elevation profile and stage/mileage breakdown (click graph to enlarge):
Stage 1: 30.8 miles – starts Sunday, Sept. 21
Stage 2: 26.9 miles
Stage 3: 52.7 miles (followed by a rest day)
Stage 4: 25.7 miles
Stage 5: 26.0 miles
Stage 6: 7.6 miles – finishes by noon on Saturday, Sept. 27, and we travel by bus back to Las Vegas for event's closing celebration
And here's the Big List!
Many thanks to my favorite local running store, Transports on College Avenue in Oakland, for providing me with GU products for training and for the event week.
FOOD
Breakfast:
7 Starbucks single-serve instant coffee pouches = 0 calories
7 2tbs servings organic hot cocoa mix with dried milk, 110 ea = 770
6 ProBars av 370 ea  = 2220
BackPacker's Pantry Banana Raisin Oats & Quinoa (breakfast for non-running day following long stage) = 340
Lunch/snacks/calories for during and after run:
6 4 Lara bars  = 1280 [I took out 2 so these calories are down to 900]
6 5 baggies full of nuts/dried fruit/M&M trail mix 200 ea = 1200 1000
6 Honey Stinger waffles 160 ea = 960
32 30 GUs regular and Roctane = 3200 3000
12 GU Brew electrolyte/carb drink mix servings 70 ea = 840
2 servings potato leek soup mix (for late in long stage) 140 ea = 280
5 packets Hammer Recoverite recovery mix 170 ea = 850
BackPacker's Pantry Cold Couscous Salad (lunch for non-running day following long stage) = 220
Dinners (only 6 needed; race organizers provide dinner the night before the start, and the last stage ends with lunch):
2 Alpine Aire Three Cheese Chicken Pasta 580 ea = 1160
2 Mountain House Mac & Cheese 900 ea = 1800
2 Mountain House Chicken Teriyaki with Rice 440 ea = 880
1 Wild Salmon pack = 240 (a "special treat" to supplement dinner one night midweek when I'm really hungry)
Total calories for week = 16,240 new total: 15,460
GEAR
(* = mandatory according to race regulations)
* pack: RaidLight Ultra Olmo 20
* sleeping bag: Montbell Super Spiral Hugger #3
* sleeping pad: Klymit Inertia X Frame inflatable pad
* two water bottles: one 750ml RaidLight bottle with built-in straw; one 22oz Nathan bottle
collapsible plastic bowl that doubles as mug
spork
CLOTHING THAT I WEAR WHILE RUNNING
North Face Flight Series cap
sunglasses
buff around neck
Adidas TechFit bra
Adidas Climalite shirt (* with country patch on sleeve)
North Face shorts
Timex watch (basic stopwatch w/o GPS so battery will last all week)
DryMax medium-weight trail running socks
Hoka Stinson shoes modified with strip of Velcro around base for dessert gaiters
Running Funky gaiters (for hard pack stages)
Rough Country Silkworm gaiters (for sandy stages)
EXTRA CLOTHING FOR CAMP
* light down jacket: Sierra Designs women's Gnar Lite
gloves (for cold nighttime, not for running) [I'm thinking of leaving these behind; I didn't need them in 2012, but I heard last year's event was much colder at night. I could keep my hands in my down jacket pockets for warmth though.]  [I nixed the gloves—but in their place, I added one extra pair of DryMax socks. I recalled that on Stage 1 we run through a lot of cacti, and if I can't get the cactus needles out of my socks, then I want a fresh pair. Plus, it would be nice midweek to change to fresh ones.]
long-sleeved wool top (because it gets cold at night)
long underwear (ditto)
 one pair underwear to change into when not wearing running clothes
thin light tank top (to wear during hot afternoon when running clothes are drying/airing out)
flip-flop sandals (to air out feet after each day's run)
TOILETRIES, MEDS & BLISTER CARE
Tums and candied ginger for upset stomach
small tube of Aquiphor
earplugs
lip balm
comb and hair bands
Strips of Cover-Roll stretch tape (for back, to prevent chafing)
emergency meds: Azithromycin, Loperamide, Cipro, Aleve
* blister kit: alcohol wipes, Leukotape, BandAids, blister pads, pins for popping, Wet-Ones, travel scissors, nail clipper [note: I went back and removed about half the amount of bandages and tape, to make this blister kit less bulky]
sunscreen
SalonPas pain relief pads (in case my lower back acts up)
eyedrops for dry eyes
toothbrush & toothpaste in Toob travel carrier
small travel-size lotion
MANDATORY SAFETY & MISC GEAR
* compass
* knife with 5cm blade
* signal mirror
* whistle
* space blanket
Hefty trash bag (to wear for rain/wind protection)
* two light sources: Black Diamond Spot headlamp and Fenix PD32 flashlight
* spare batteries
waterproof compression sack and straps to hold and strap my sleeping bag & down jacket to exterior of pack for the first couple of days, until food supply reduces to the point where I can fit my the sleeping bag and jacket in the pack
patch kit for inflatable sleeping pad
small amount of duct tape
small notebook and pen for journaling
Platypus 17oz soft bottle flask (in case it's extra hot and I want to carry more water between checkpoints) [decided I don't need this. The weather forecast calls for hot but not too hot weather, and the checkpoints are close enough that there's enough water to prevent dehydration.]
Amphipod pouch (for carrying small items on waist belt, including "race passport" with map)
iPhone: I'm keeping it turned off, and in Airplane mode when turned on, to use sparingly as a camera only, not to go online or to play music (using a phone or going online during the event is grounds for DQ, and there won't be cell coverage anyway). I'm taking it not only in case I want a camera, but also to have my phone available during the long bus ride back to Vegas after the finish.
A one-inch-square carved stone buffalo, which is a talisman; my brother and sister-in-law gave it to me before the G2G in 2012 with the note, "

The Zuni were an ancient people who lived in the area through which you'll be running on the G2G. They had talismans—'fetishes'—that represented different values. This buffalo was meant to symbolize 

endurance to overcome

, and was a provider of 

great emotional courage

 to those who possessed it."
A few notable things I decided NOT to take:
4L attachable front pack that goes with my pack. I purchased it thinking it would be good to transfer some weight to my front, but I find the front pack annoyingly bulky and bouncy. I'd rather gain space by strapping my sleeping bag and down jacket in a stuff sack to the base of the pack, like this:
compression socks or calf sleeves; I don't really feel I get much benefit from them.
trekking poles: I used them while pacing at Hardrock, but I don't think they're necessary for the Grand to Grand's terrain, and I would get tired of carrying them.
iPod Nano. After much consideration, I'm leaving the iPod and earbuds at home. I don't want to have to debate in my head about whether or not to get it out to play music and then worry about the battery life; I'd rather have no music, no wires, and be fully immersed in the environment.
nut butter squeeze pouches. These were one of my favorite things last time, but this time I'm opting for small baggies of trail mix instead for the crunch and variety.
UPDATE: I went for a practice run with my pack fully loaded, as pictured above, and realized I didn't like the way the sleeping bag pressed against my butt. So, I rearranged everything and made it all fit inside—sort of—with the only things strapped on below being my flip-flops, which do indeed flip, but they don't hit me and thus don't bother me. (Post-race update: I did not have the flip-flops strapped like that; I shoved them into one of the outside mesh pockets.)
(Here's how my pack actually looked during the race.)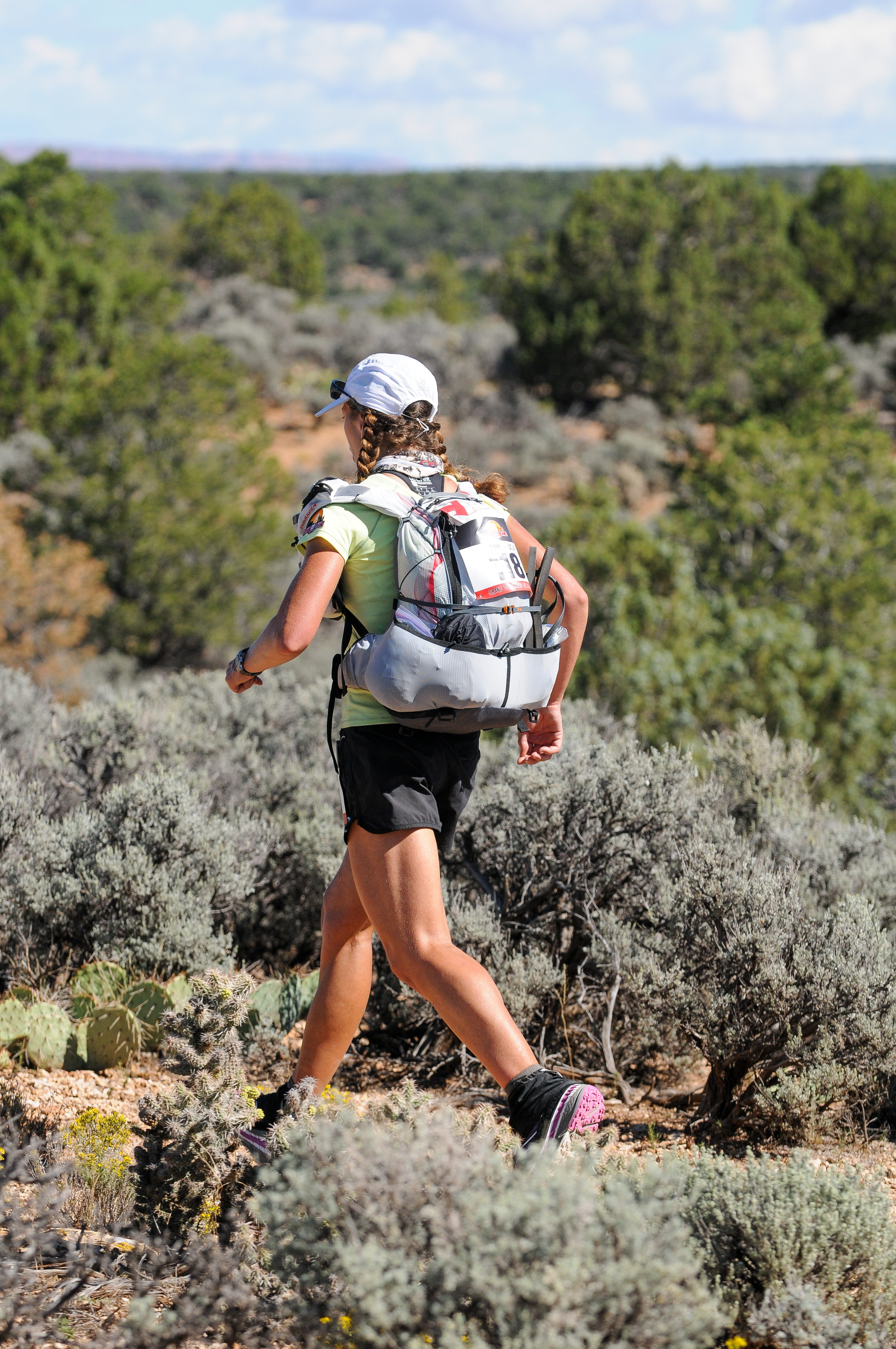 If you haven't watched the Grand to Grand Ultra's event trailer, check it out! It gives a great overview of the incredible environment and the challenge of the race.
During the race, participants are allowed a limited amount of time in the camp's "email tent" to send outgoing messages; volunteers then drive the laptops a long distance back to town to upload the messages. I will try each day to compose an update to my husband and ask him to post it on
my Facebook page
, so if you want updates, please like the page and follow along.
You can also follow the event's updates from Sept. 21 – 27 on the G2G website's news page and on the G2G's Facebook page.
And if you want to send a message to me or the other competitors, email
competitors@g2gultra.com
with the name of participant and/or the bib number in the subject line. My bib number is 118. Email messages will be accepted and transmitted to participants from Saturday, Sept. 20, through Thursday the 25th.
Not much else to say except I'm SO EXCITED and grateful for the opportunity to do this event a second time!