The full moon hung in the mid-October night sky as big as the sun, silhouetting the redwood and eucalyptus trees along the ridge of Redwood Regional Park. With a headlamp on my forehead and small flashlight in hand, I ran up the final hill of a 10-miler back to the Skyline Gate parking lot, high-fiving Nate, the other runner training to do the Nov. 9 Rio Del Lago 100.
He, three other runners and I embarked on the after-dinner run to practice nighttime running, and I felt strong and steady throughout. The two injuries involving my big toe/ball of foot and lower back/piriformis, which overshadowed summer's training and made me cancel plans for September's Pine to Palm 100, were things of the past. I felt not a trace of discomfort, just a satisfying level of general fatigue from peak training.  The prior week, I ran 70 miles; this week, I'd hit 75, plus a spin class and strength training. In a few days it would be time to taper, to be as ready as possible for my first 100-miler. As described in the last post, my training was not optimal, given the summertime injuries, but it was as good as it could be, and I felt totally committed.
During the day, I worked on a spreadsheet that detailed my race plan and drop bag content list. Hour by hour, aid station by aid station, I visualized the course and anticipated what I might need and how I might troubleshoot. I estimated a conservative pace range for each segment to force myself to go slowly and stay steady. I lined up two friends to pace me—one from miles 54 to 78, the other from 78  to the finish—and made hotel reservations. I spent a bunch of money at Zombie Runner on energy gels, special tape for my toes, new socks, a new hydration pack and myriad other things I might need during the 24 to 30 hours on the trail. I cut caffeine out of my morning routine so the caffeinated gels would pack more punch during the second half of the race when I might suffer overwhelming sleepiness. I even taste-tested different frozen bean and rice burritos, knowing I'd want to pack one in foil for my drop bag that I'd hit at the 31-mile mark, around lunchtime.
I ran 20 miles the morning after the nighttime run. The run felt manageable and steady, not particularly long or arduous, but I noticed a new ache in my left foot, in the mid-foot range toward the top that bugged me with the impact of running downhill. Good news! I told myself optimistically. It's not the trouble spot of my big toe and ball of foot. It's just a touch of tendonitis. No big deal. I iced it afterward. The next day, during an easy 7-mile hike/run during which I swept the 10K course of a trail race, it felt fine.
I did a gym workout the next day and only ran a few miles in the afternoon while coaching the middle school's cross-country team. My legs felt deep-down tired and "tweaky," and I decided I needed a real rest day—no cross training, just rest—which I hadn't taken in nearly two weeks. 

Wednesday, October 23, I set out on a standard eight-miler I've done scores of times from my Piedmont house to and around Oakland's Lake Merritt and back. The prior day's rest gave my legs some of their old zip and spring. I hadn't done any track or speed workouts for months, focusing entirely on endurance and injury recovery and injury prevention, and now I felt I wanted to go just a little fast, to a "comfortably hard" tempo pace, around the lake. I lengthened my stride, elevated my heart rate and ran halfway around the lake feeling nostalgic for the speediness I used to gain for road racing, because when your legs feel this tuned up and sharp, going faster feels like pure fun.
Halfway around, at the corner where the Camron-Stanford grand Victorian house sits, I hit my favorite straight-away: a perfectly smooth dirt running path along the sidewalk that lasts  about a quarter mile before curving back down to the lake's paved rim. I upped the tempo pace closer to a sprint for that interval and then slowed back down.
It was during that transition point, returning to the slower pace, when the ache I first felt on the weekend's 20-miler re-emerged. I kept going while assessing it. It definitely was not my old big-toe injury; it was something new, in the midfoot behind my third and fourth toes, and it hurt both on top and on the underside. It hurt to land, and it hurt to push off. This was not good, and I was nearly four miles from home.
By the time I finished the Lake Merritt loop, the ache had increased in intensity to more of a burn. I had to run home to get back in time, so I did sort of a limping jog. I tried to reassure myself that it was not a big deal, I just needed to rest, so I rode the stationary bike the next day and iced my foot.
Friday, October 25, my foot still felt achy, but in a dull way. I really wanted to meet my friend for our weekly neighborhood run at an easy conversational pace. I told myself I'm officially starting my two-week taper a few days early with this easy run, and I would take it so easy that it would be fine.
One mile later, when I reached our meeting point and started running with her, the ache had sharpened to an ouch every time I landed on my foot. I was thinking, "This can't be happening," and as if to make that thought a reality, I pretended it wasn't happening. I greeted my friend and started running with her as if everything was OK. A half mile later, however, I admitted out loud that my foot really hurt. But I wanted to keep running, because if I can't run a slow, easy four miles, then what does that say about my ability to run 100 in two weeks?
A mile later, I couldn't focus on our conversation anymore because I couldn't ignore the pain that felt like a blunt nail being hammered through my midfoot. I apologetically told her I had to walk. Walking felt better, but still hurt. A little ways later, I took a few running steps and the pain shot through my foot, so I immediately walked again. Shit, shit, shit. I went from thinking this can't be happening to, I can't believe I did this.

We walked and I tried to sound matter-of-fact, but inwardly I felt like crying. I told my friend to run ahead and get her car so we wouldn't be late, and then she picked me up and gave me a ride home.
That was two weeks and one day ago, the last time I ran.
Monday, October 28, I went to a physical therapy appointment that turned out to be a complete waste of time and $250. I was hoping to get some kind of high-tech treatment that would magically alleviate the pain, but the therapist couldn't diagnose the problem, and the taping he gave me did little good. I needed to see a real sports doc, Dr. William Ross, which I did two days later. I still held onto hope of running Rio del Lago.
Dr. Ross said it would be too soon to see a stress fracture on an Xray, so he used ultrasound to see what was going on in the midfoot. The ultrasound showed no sign of fracture, just a lot of fluid from soft tissue trauma.
He made me face the obvious: that if it hurt to step on, and if there is no way I could hop on the one foot without shooting pain, then running was out of the question unless I wanted to cause damage that would put me out for several months, not several weeks. He put me in a Velcro boot to minimize the impact and prevent forefoot flexing.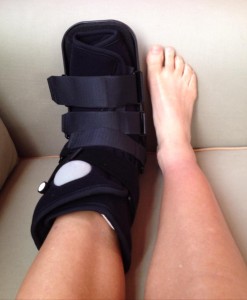 I took solace in spin classes and borrowed a bike to go on a long ride with Morgan. Back to coffee, back to wine.
Sorry, I told my pacers and the race director of Rio del Lago. I'm not going to start my first 100 feeling pain and lacking confidence. I got my second DNS (did not start) of the season. Scratching from the Quad Dipsea on Thanksgiving weekend will make it three in three months.
One week later, last Wednesday, November 6, I got into see the podiatrist Dave Hannaford, widely recognized as a top expert in Northern California to diagnose and treat injuries related to endurance sports and flawed biomechanics. I've seen him off and on over the years. I explained that this is a new problem, not the old problem from earlier in the summer, and he said actually they're probably related; that is, if I shifted pressure off the ball of foot and big toe to relieve pain there, then I put added pressure on the other side of my foot and developed a weak link there.
Hannaford pinpointed a spot of sharp pain an inch behind my third metatarsal and guessed at a stress fracture, but that would not account for the pain that's also on the underside of my foot, closer to my 5th metatarsal. He took an Xray and said a fracture should show up by now. But as he peered at the Xray with a magnifying glass, he said he could see no sign of anything wrong with the bones, and in fact, my foot looked quite healthy.
I asked why my foot still hurt so much when I walked on it barefoot and why I didn't feel any improvement after nearly two weeks of no running. He apologized for not being able to say definitively what was wrong; it's likely a soft tissue "stress reaction," or it could be a neuroma (enlarged nerve)—but that's less likely—or it could be the early stage of a stress fracture, or some combination. But it's definitely not a real fracture. He gave me an orthotic to wear in the Velcro boot to transfer the pressure away from the sore area.
I left confused and frustrated—no clear diagnosis and no idea of how long it will take to heal. I perversely envied a real fracture as being easier to understand and treat.
As if to punish me for such a thought, I got a distraught call that night from my brother, who's in Colorado. His daughter, my beautiful 26-year-old niece Siobhan who lives in San Francisco, was in a bike accident during the evening commute. She had to swerve to avoid a car, at which point her tire got caught in a Muni train track and caused her to fall. As she lay in the street in excruciating pain and several onlookers crowded around, one good guy stopped to help her and take her to the hospital, but another used the opportunity to walk off with her phone.
Siobhan fractured her forearm so badly that she needed an operation Thursday night to piece it back together with metal plates and screws. Her radius snapped, and the end of her ulna near her wrist shattered into multiple pieces. She was in severe pain and feeling added stress from the prospect of losing income and missing classes—she works while attending graduate school—yet she remained unfailingly stoic and optimistic. She literally never complained; she just kept talking about how fortunate she was that it wasn't worse and expressing gratitude toward those who were taking care of her.
I spent much of Thursday and yesterday at the hospital with her, looking at her splinted arm that looks like a broken wing and marveling at her inner strength, and as the Rio del Lago runners gathered yesterday afternoon in Folsom for the pre-race check-in, I realized how guilty I would feel if I were up there rather than with my niece. Compared to her pain and the physical therapy she faces to regain full range of motion in her hand, my bum foot seems no worse than the road rash on her knees.
Siobhan was released from the hospital last night and is recovering at home with the help of her boyfriend. I'm heading up to Folsom later today to crew for my friend Nate from midnight through morning and to cheer on the finishers. Thanks to the events of the last 72 hours, I won't feel sorry for myself anymore that I didn't get to run the 100 miles to the finish line with them. Life happens, and meanwhile, I'll switch up my plans and try again to reach my goal next year.