Mid-Coast and Islands on Dwellable
My husband Morgan and I could have called our Backroads trip the Backup trip. Going with the Berkeley-based, cycling-focused travel group Backroads to bike around Maine was not something we ever thought about doing. I honestly don't really like to bike.
But it became the unexpected Plan B after we scratched a plan to spend a vacation week running around the Tahoe Rim Trail. (Morgan realized that running double-digit mileage in high altitude wasn't his idea of fun, and I felt badly for pushing the Tahoe trail run in the first place.) We both wanted a special and active vacation for this week when our kids were at sleep-away camp.
We've known about the Backroads company for over a decade but never seriously considered doing their trips, because I was convinced that I suck at cycling and we didn't think we would like traveling with groups. Then last year's trip to Alaska with a tour group opened our eyes to the benefits of having cheerful, skilled guides who handle all the logistics.
The Maine tour worked with our dates and looked idyllic. So with little thought beyond "Why not?" and never having heard of Acadia National Park before, we got the last two spots in a group of 23 for six days of exploring the Maine coast. I figured I could run the routes if I really didn't like riding the bike.
Turns out I ran 46 miles and biked 89 during an unforgettable—and surprisingly restful and relaxing—week.
 Portland
Portland was our starting and ending point for meeting the group. What a cool city, especially the Old Port area of brick and cobblestones. Not much more to say except for these recommendations:
Where to Stay: Regency Hotel, upscale historic hotel from 1895. Ask for a room with a balcony on the top floor.
Where to Eat: Five Fifty-Five for an outstanding fixed-menu dinner. It's Maine's Chez Panisse. For a filling, funky breakfast spot, The Good Egg (no website; 78 Middle St.).
Where to Run: Any loop around the city should include the 2-mile Eastern Promenade Path, which starts at the waterfront downtown, passes historic railcars parked on the railroad tracks and lots of boats in the harbor. Then it follows a bike path along the waterfront and through a grassy area called Fort Allen Park. Pick up the Eastern Prom Midslope Trail, which runs parallel to the bike path on the hillside, and it'll take you to Washington Ave to return to town.
Bar Harbor and Acadia National Park
My last post details some of the history and trails of Acadia National Park on Mount Desert Island, which is about 3.5 hours north of Portland. Our group shuttled via two vans up there on Day 1, and after a lobster lunch at Northeast Harbor, we biked around the island to Bar Harbor. This was an easy, 17-mile "get to know your bike" introduction to the island, and pretty soon I felt comfortable peddling past woodsy driveways that led to tucked-away mansions while taking in views of Somes Sound as we curved around the northern part of the island. The weather was sunny and downright hot and humid, but the next day it became overcast with occasional showers, which was more comfortable for cycling and running.
Where to Stay: We checked into a really lovely place on the waterfront, The Harborside Hotel. (Backroads handled all of these arrangements, and the lodging and meals were included in the trip price. We just had to pay for alcohol and one on-our-own dinner midweek.) Bar Harbor gets its name from a sand bar that appears in the bay and then gets covered up by the high tide. We changed out of our biking clothes and enjoyed strolling in gift shops, looking at all the knickknacks related to lobsters and blueberries. Listening to locals, you realize they really do pronounce "er" like "ah," as in lobstah.
Where to Eat: The first night, we had "suppah" (dinner is still called supper in Maine) at The Burning Tree, 69 Otter Creek Dr., outside of Bar Harbor. I had the best-ever house-smoked salmon, a "donut" of deep-fried gruyere, cod crusted with olive tapenade, and homemade chocolate ice cream with white chocolate chunks. Good thing I'd burn a lot of calories running 13 miles and biking 18 the next day. The next night we all ate at a Bar Harbor restaurant called Havana, which was an exceptional "nuevo latino" place with incredible fish dishes. One of the fun things about being on a Backroads trip is sharing a table with others, so we got to know guests from Tennessee, Florida, New York, Sacramento and Southern California. They  ranged from college students in their late teens or 20s (traveling with their middle-age parents) up to one couple in their mid-70s still fit enough to bike for several hours a day.
Where to Run (and Bike): You can't miss the Carriage Roads of Acadia (see last post for details), and I also recommend going to the summit of Cadillac Mountain to take in the view of the myriad islands dotting the coastline. I never realized how many islands are off the coast of Maine, and what a fascinating and beautiful area it is geographically. Cadillac Mountain is only about three miles to the top and 1700′ elevation. I had to bite my tongue when people from flatter regions kept saying, "I can't believe that mountain … what a quad buster!" Inwardly I was thinking, "Um … it's only half of Mount Diablo!"
Deer Isle
Our 24 hours on Deer Isle on Penobscot Bay might be the most memorable part of the trip. The island, about a 1.5 hour drive from Bar Harbor, is home to a mix of artisans and lobstermen.
First on the itinerary: a picnic lunch (prepared by our guides) and tour of Nervous Nellie's Jams and Jellies. It sounds like a gift shop that sells jams, which it is in part, but it's so much more and so weirdly wonderful. Part folk art, part living history, Nervous Nellie's is run by a couple named Peter and Ann who produce over 300 jars of jams and chutneys a day in a low-tech tiny cottage kitchen. All around this cottage where they make the jam stand other small cottages that are re-creations of Maine history produced by Peter, who is a sculpture artist heavily influenced by the 1960s ("You can walk around hallucinations, and I wanted my art to be like that," he said at one point on our tour).
First he took us to "Hardy's General Store," a store that operated for three decades out of a home on another part of Deer Isle. Peter's sign on the wall read, "When I learned the store was closing, I was moved to try to preserve a scrap of this community icon, one of the last of a vanishing breed of idiosyncratic country stores." So he moved the house to Nervous Nellie's lot, accumulated a lot of the things that used to be in the store, such as the hot dog heating machine and the vinyl car seat that people use to sit on to play checkers, and then he re-created the store with a wood carving of the owner, Neville Hardy, at the checkout counter.
After lunch at Nervous Nellie's, Morgan and I biked about 23 miles around the island, stopping frequently to take photos of the islands off the coast, the lobster cages in yards, the colonial era buildings, and much more that seemed quintessentially Maine: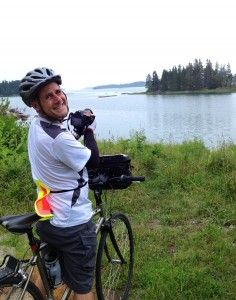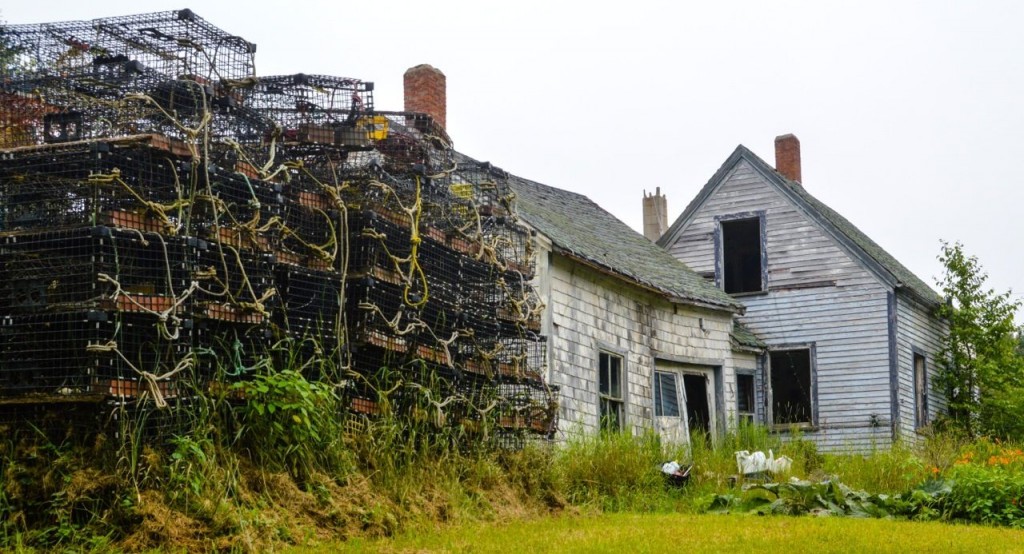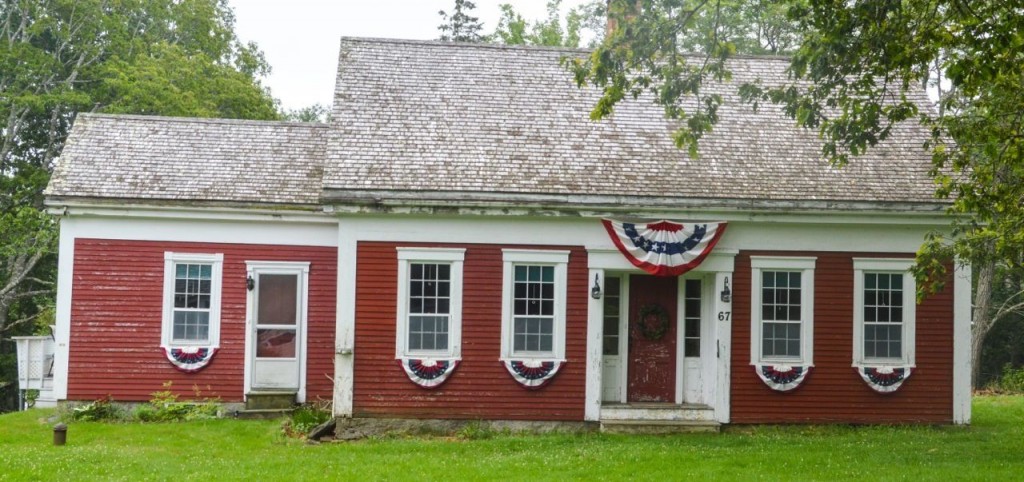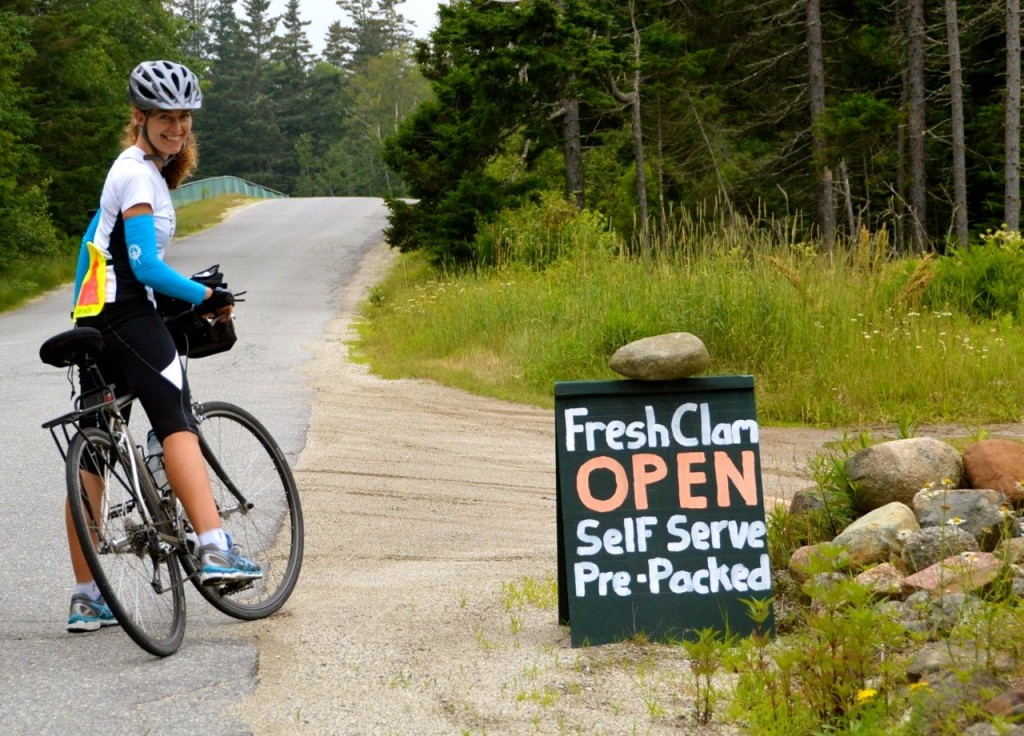 Where to Stay & Eat: I have mixed feelings about The Pilgrim's Inn where we dined and stayed. It's probably the best place on the island, and it's a gorgeously restored lodge built in 1793. The dinner of lobster and risotto were excellent. But the staff in the dining room seemed stressed and cranky, and the innkeeper is a fussy B&B type who scolded me for taking a mug out of the dining area. Our shower on the top floor didn't work, but I loved the sloped ceilings and historic details of our room so I didn't mind too much.
Where to Run: After our bike ride, I ran a lovely 10K loop across the causeway from The Pilgrim's Inn on Pressey Village Road to Dunham Point and back on Perez Cross Road (see here for route).
Camden
The group spent our final two days and nights in Camden, another popular tourist destination (meaning: its main street and sidewalks were a bit crowded during the day). I was actually getting into the groove of biking by this point and sad that our trip was winding down. We shuttled from Deer Isle 1.5 hours to the town of Belfast, 20 miles outside of Camden, where we were dropped off and given a route map to bike bucolic back roads to our hotel.
I should mention that Backroads always did a great job of giving us detailed route maps with turn-by-turn directions and elevation profiles. I liked how we could ride at our own pace and find our way without having to stick with the rest of the group, and the guides would have someone riding "sweep" at the back to help anyone who had trouble such as a flat tire.
Riding into Camden, we got our first glimpse of Lake Megunticook and its vacation homes, where we could spot families hanging out on their private docks, lounging in Adirondack chairs or splashing in the water, a Labrador completing the picture of a perfect summer spot.
Where to Stay: We were really happy with the Camden Harbour Inn and our Art Deco room. The innkeeper went a little wild with a recent remodel using Gatsby-style decor, plush linens and high-tech bath fixtures—and we loved every bit of it. We also enjoyed sitting on rockers on the porch, overlooking the harbor. The only thing we didn't like so much was the slow service and overly ornate style of their restaurant, Natalie's.
Where to Eat: We had a superlative meal at Francine's, whose unpretentious exterior and rustic interior belie the sophisticated gourmet menu. This was the one night we were on our own, apart from the group, so we had a choice of where to eat. I'm so glad we picked this restaurant. We also were glad we blew off the complimentary breakfast at the hotel and instead went to Zoot cafe downtown for a fresh-baked breakfast, including many vegan choices.
Where to Run (and Bike): On Day 5, I took a break from cycling and deviated from the Backroads itinerary to explore Camden Hills State Park, which is two miles north of town on Highway 1. This is a wonderful, densely wooded place to run, with many single-track trails branching off a main 5-mile multipurpose trail. I stuck to an out-and-back on the multipurpose trail, however, because I was alone and there's no cell reception, so I didn't feel safe exploring the slick, technical trails solo. Besides, the single-track was so challenging and slippery from a light rain that I would have had to hike on them instead of run, and when I slowed to walk, the mosquitos started attacking!
After I ran to and around Camden Hills State Park (14 miles), I wanted to add on a 6-mile loop to make it 20. So I did part of that day's Backroads bike route: a 10K around the quaint community of Rockport. This is a great route (see here for map) that follows postcard-perfect country roads along the water.
On our last day, we rode 18 miles all the way around the lake, deviating from the highway to explore narrow lakeside roads—a great last ride before getting in the van to drive back to Portland (see here for route).
Final word on Backroads
The guides make or break a trip like this, and we can't say enough good things about our guides. We felt so fortunate to have Hanna, Devin and Caitlin leading our trip. They were funny, attentive, highly competent and knowledgeable about the destination. Now we're looking into doing another Backroads trip—next time, with our kids—which sums up how much we liked it. Yes, we want to do it again! And I don't suck at cycling after all!