Update in early May: Unfortunately, we've decided to cancel our Tahoe Rim Trail trip. For a variety of reasons, my husband Morgan is not up for a multi-day running trip. I still hope to do an Adventure Running Co. trip someday with Andy and Kim Holak as guides, and I encourage readers to check out their website for trips. Since Morgan likes to cycle and we want to explore more of New England, we're going on a six-day Backroads Maine biking tour around Acadia  National Park in July.
I'm sharing the details of two group adventure trips that my husband and I booked for the summer because both still have space available and sound amazing—so sign up to join us if you can!
Typically we avoid tours, but last summer we joined four other families and two guides for a week in Alaska, and we discovered the camaraderie and comforts of being with others while the guides handle the logistics and cooking. It's sweet! I did quite a bit of research into these two outfitters, so I feel confident recommending them even though I haven't been on their trips yet.
5 Days on the Tahoe Rim Trail with Adventure Running Co.
Morgan and I have a kid-free window of time during summers when our two kids head to sleep-away camp, so we like to plan something as a couple that we couldn't do as a family. In other words, hit the trail and go far! We could do a running or backpacking trip by ourselves as we've done in the past (and save a lot of money), but we want to enjoy the company of others at the end of the day and treat ourselves to having someone else plan the route, food and lodging while transporting our gear from point to point.
"You run … we take care of the rest" is the tagline for Adventure Running Co., which leads small groups of runners (typically 8 to 10, a maximum of 12) on lodge-to-lodge or camp-to-camp trail runs over several days. They break up epic wilderness trails into manageable segments with daily mileage in the mid-teens to low 20s, and they transport all of the participants' gear and food, so we don't have to carry much on the trail besides water. For the Tahoe tour, which is July 15 – 19, we'll cover 74 miles of the rim trail and stay in lodges or inns at night, but other Adventure Running Co. tours involve camping.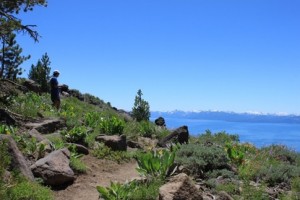 I wanted to go on a trip with Adventure Running Co. in large part because I'm impressed by the couple who run it and who lead most of the tours. Andy and Kim Holak of Duluth, Minnesota, started the company in 2008 as a second career. Like us, they're in their mid-40s and have teenagers. But their running credentials put ours to shame. They've each finished several dozen ultras, including several 100-milers. Kim is a two-time Hardrock finisher, and they both have made many pilgrimages to Northern California over the years to run Western States and the Quad Dipsea (Kim placed 2nd in the QD in 2011).
Morgan was reluctant to sign up for this trip, because he might be the slowest and doesn't want to hold up the rest of the group at day's end. He has not run more than a marathon, and these days he's only running two to three times a week, 10 to 12 miles at the longest. Doing back-to-back runs in the 15- to 20-mile range, at altitude, is a daunting prospect for him at this point. What helped convince him was this podcast interview with Andy (it's worth listening to if you're at all interested in an Adventure Running Co. trip). In it, Andy explains that the trip truly is for all paces. He wants people to hike when they feel like it, stop to take a bunch of photos, and go at whatever pace feels right. It's a vacation, not a race! When runners reach the support vehicle at the end of the day's trail segment, they're treated to a spread of food and drink, so hanging out and waiting for the others to arrive is a pleasure, not a drag.
The Holaks also have a Mt. Rainier tour planned for mid-August, and two tours of the Appalachian Trail set for late June and late September; see their tours page for dates, prices and details, and their Facebook page for photos from past trips. The cost for the Tahoe Rim Trail trip is $1295/person.
8 Days on the Colorado River with Grand Canyon Expeditions Co.
A Grand Canyon river trip has been on our wish list for practically our whole lives. We didn't manage to do it before starting a family, and then we needed to wait until our youngest was old enough to handle it. Finally, the time seems right. (Our son will be 12; age 8 is the youngest recommended.)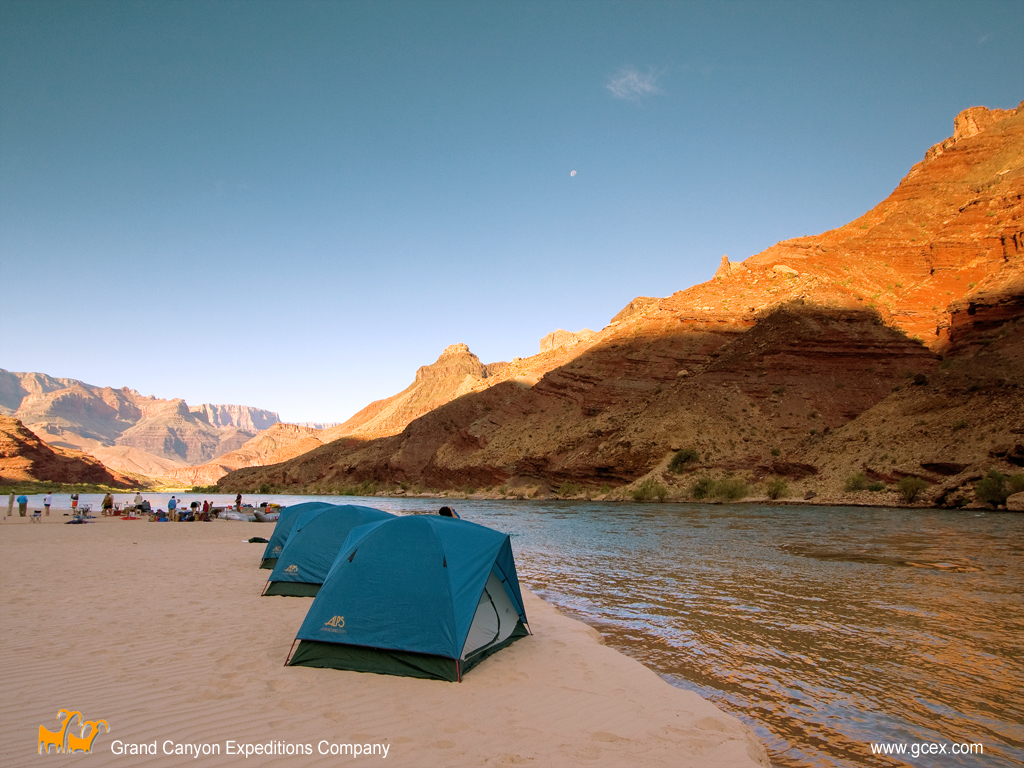 Planning a Grand Canyon rafting trip takes a fair amount of research into the many outfitters who operate on the Colorado River, and decisions about the options available. Two big decisions to make are motorized vs. non-motorized and inflatable raft vs. dory (which is hard hulled). Many people choose non-motorized rafts and dories because rowing down the river without the hum of an engine is a more authentic and physical way to go. Also, the non-motorized vessels carry fewer people.
The drawback, in our view, to the non-motorized excursions is you can't cover as many miles and therefore don't see as much of the canyon. Also, non-motorized trips generally begin or end at Phantom Ranch (near Grand Canyon Village on the South Rim), which involves a strenuous hike of nearly 10 miles in potentially triple-digit heat. Morgan and I could handle that, but we doubted it would be fun for our kids. Therefore, we opted to go all 277 miles of the canyon on a motorized inflatable raft, beginning at Lees Ferry, at the base of Lake Powell, and ending at Pearce Ferry, at the mouth of Lake Mead.
After comparing prices and reviews, we chose Grand Canyon Expeditions Co. for an all-inclusive 8-day trip. "All inclusive" means they prepare all the meals and handle the gear while guiding us down the river; plus, they also include transportation to and from Las Vegas, and a room for our family at the Marriott Residence Inn in Vegas the night before and the night after our trip. Most other similar trips by competing outfitters charge the same amount (around $2500/person) for 6 or 7-day trips and don't include the hotel lodging the night before and night after the trip (which is a special promo that Grand Canyon Expedition Co. is running for their 25th anniversary).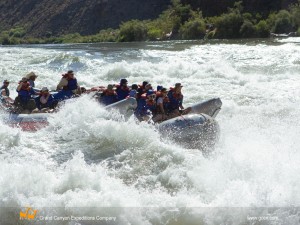 Our trip runs July 25 – August 1 on one or two rafts (depending on how many people sign up). Each raft carries up to 14 guests and one or two guides. That's another thing I liked about Grand Canyon Expedition Co.: their rafts can accommodate more people, but they don't cram on more, unlike some outfitters that put more guests on a raft. We also like that it takes eight days to cover the stretch that other companies do in six or seven days, because the more leisurely itinerary allows more time for day hikes and swimming around camp. Grand Canyon Expedition Co. has 8-day trips available on other dates as well as two-week trips on dories.
Call for comments: Do you have an outdoor adventure vacation planned for summer? If so, what & where?