Many dedicated runners, myself included, started following the career of champion ultrarunner Scott Jurek between 1999 to 2005 as he won the Western States 100-mile Endurance Run a record seven times straight—years before Chris McDougall's bestseller Born to Run
brought him celebrity as the American who raced the mystical Tarahumara Indians in Mexico's Copper Canyon in 2006. My runner friends would talk about how they saw Jurek scarfing down concoctions of tempeh, avocado and beans while he blazed through aid stations at ultras to win in record times, or about how they got to chat with him while he volunteered like a regular guy at trail races.
I lined up behind Jurek at my first trail marathon, a low-profile event on Mount Diablo in 2005 (he was running the 50-mile option, not the 26.2), and as I studied his distinctive profile—chiseled cheekbones and a headband with bushy, wild curls that sprouted like something he might grow in his garden—I thought, How cool that Scott Jurek is here running with the rest of us, and, He seems like such a nice guy.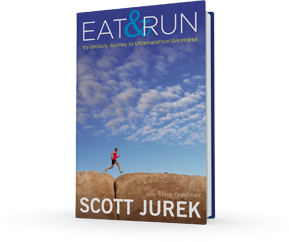 Though I never got to know him personally, I admired him from afar. To me and probably to many others as well, he personifies the earthy, authentic, humble spirit of the sport (in contrast to another well-known ultrarunner, Dean Karnazes, whose celebrity and marketing rub many—including Jurek, as captured in this interview—the wrong way).
So I picked up Jurek's new book, Eat & Run: My Unlikely Journey to Ultramarathon Greatness,
 eager to read his reflections on his journey as an athlete, since he had been on my radar screen for more than a decade. Also, I was curious about the nutritional side of his book. I'm trying to move myself and my family toward a more plant-based diet for the sake of our health and the planet, and while I've eliminated beef and eat poultry and fish less frequently, I lack the culinary skills and motivation to fully embrace a vegan lifestyle.
But I almost didn't make it past Chapter One.
His book opens with a scene from the Badwater Ultramarathon in 2005, when he's suffering and overheating. As he zooms in on a physical and emotional low point as a way to introduce himself and the sport, he presents an overly familiar litany of the wackiness and masochism of ultrarunning, which has been chronicled by many others in books and magazine articles. Good grief, I thought, I've read this too many times before. In fact, Karnazes himself wrote about the Badwater experience better—and without the help of a co-author (Jurek's book was written with Steve Friedman)—in Karnazes's bestseller Ultramarathon Man.
Thankfully, I hung on through Chapter Two, because that's where the book's story—its heart—emerges and grabs the reader. It's about a scrappy Minnesota redneck who finds his passion first in skiing, then in running, through unusual circumstances handled with resiliency. I became fully absorbed in Jurek's early story less as a runner and more as a parent, as his adolescence presents another example of how the "school of hard knocks" (in his case, a seriously sick mother, an authoritative father and no money for anything) produces self-reliant kids who find their passion and become good students in a self-motivated way that leaves parents like me wondering how we can produce similarly bright, driven kids—without the dysfunction and deprivation of a tough upbringing.
Those early chapters in Minnesota also introduce a central character in the book, Jurek's buddy and fellow runner Dusty, whose portrayal alone makes the book worth reading. If Scott Jurek ever reads this review, he's probably going to cringe at all the mentions of Dean Karnazes, but I can't help draw one more comparison between these two celebrity ultrarunners who are like oil and water: Just as the bromance between Karnazes and Topher Gaylord form some of the most compelling parts of Ultramarathon Man and Karnazes's followup memoir, Run!, so too does the relationship between Scott and Dusty make for some of the best passages in Eat & Run. That friendship, along with the portrayal of friendships Jurek forms within ultrarunning's fringe subculture, remind us that living without meaningful relationships is like running without ever feeling the high.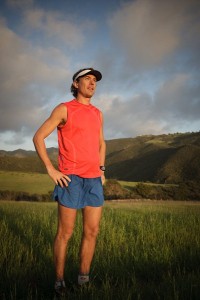 The subplot of his nutritional transformation unfolds persuasively, demystifying the ingredients that add such great flavor to vegan dishes but are, well, kinda weird—things like hemp milk, nutritional yeast, spirulina powder, agave nectar, chia seed, adzuki beans and do-it-yourself rice milk. I've got my shopping list ready, and I'm heading to Whole Foods to get the ingredients to cook up his recipes! My only "beef" with his pitch for veganism is the editor's choice to place the recipes at each chapter's end. It really compromises the reading experience. He should have placed the recipes in an appendix in the back. As it is, the reader finishes a moving chapter—such as the one with Jurek and his mother together for the last time—and incongruously confronts a recipe for Carob Chia Pudding.
As a middle-aged trail runner seeking to improve and avoid burnout, I found several of his chapters about Western States and other ultras engrossing. Being in the San Juan Mountains this week, days before the Hardrock 100 (where I'm spectating, not running, but I've run portions of the spectacular course), I couldn't help be enthralled by his chapter on Hardrock, in which he captures the otherworldly challenge of getting over Grant's Pass, when the loose scree crumbles underfoot. And anyone who read Born to Run  will want to read Eat & Run as well to get Jurek's perspective on the events chronicled in McDougall's book.
Jurek saved the best for the end in his chapters "Lost" and "Secrets of the Dark Wizard," in which he reaches new lows, including divorce and debt, and wonders if he can find a way out through competitive running, or whether his best days are behind him. He ponders the path of other champion ultrarunners who peaked and then virtually disappeared—people like Kyle Skaggs, who set amazing records but then abruptly quit, or Ann Trason, who won 14 Western States and then became reclusive. Jurek includes a quote from an interview I did with Trason in early 2009, in which she says, "I just wish I could go out and run every day. I think I took it for granted. I knew I'd slow down and get older, but I didn't know there'd be a cliff." Jurek wonders, "Had I reached my cliff?"
I found the questioning that Jurek voices in these final chapters, and the equanimity he seeks through running and other balance-oriented exercises, to be some of the most inspirational parts of the book. He is a truly phenomenal runner whose wisdom about training and racing can help runners at all levels. Ultimately, however, I care less about the fact that he rebounded to set a U.S. record at the 2010 international 24-hour championship, and more that he's asking the kinds of questions that lead to a healthy, examined life. In that regard and many others, I hope to follow his example.
For more:
Photos for this post courtesy of Jurek's website and Facebook page.
Call for comments:
If you've read Jurek's book, what do you think of it?
How have you tweaked your eating to improve your running?