Neuquen on Dwellable
Registration just opened for the November 17, 2012, Salomon K42 Adventure Marathon in Villa La Angostura, a picturesque village in the Lake District of Argentina. Morgan and I ran this event in 2009. "Epic" and "unforgettable" are not overstatements. I'm still on the mailing list for the organization that puts it on, Patagonia Eventos, and every time one of their emails lands in my inbox and I brush up my Spanish to decipher it, I recall that magical, crazy day when I traversed a peak in the Andes overlooking lakes and ski towns. I'm dusting off and publishing my report to encourage others to make the journey there and discover Patagonia Eventos' series of trail running events:
Two hours into the Salomon K42 trail marathon in Patagonia while approaching the halfway mark, the course hit a low point that coincided with my own. After the thrill of sprinting down a forested single track as slick and curving as a luge course, I hit a flat stretch that briefly intersects with a main road just a quarter mile from our rented cabaña in this Argentina ski town called Villa La Angostura. My frustration with a problem involving my shoes was telling me to call it quits and chalk up the effort as a solid half-marathon. I planned to peel off the course, walk back to the cabaña, get out of those dang shoes and hug my kids. Then we would all head to the finish line to cheer on Morgan, who was on the course somewhere behind me. Yes, that's what I'd do. It seemed so reasonable.
Then, in a split second I'll never regret, I changed my mind and stayed on course.
The Salomon K42 calls itself an "Adventure Marathon," but I didn't expect its course or my experience on it to go to such extremes. I figured I could run it without much special preparation, since I had run seven other marathons or 50Ks since the start of 2009. Suffice to say I was reminded that it's best to expect the unexpected and prepare for any and every thing that the course might deliver.
An hour after almost dropping out, approaching Mile 18, I was grasping at branches of shrubs that lined a narrow chute of mud and snow on a stretch of trail that seemed as steep and slippery as a wet playground slide. At one point I had to scramble to the side to avoid being toppled by a guy who lost his grip and came skidding butt-first toward me.
But I dug in and hiked ahead, and when I finally emerged on a blissfully runnable stretch, I noticed I was slightly ahead of a couple of women who, unlike me, had low race bib numbers designating an elite status and the advantage of a seeded start. Squinting in the brightness of endless snow-white Andes peaks and deep-blue glacial lakes, I picked up my pace and ran hard toward a ski lift that marks the summit of the course.
I was clueless about the Salomon K42 Adventure Race series until just three weeks before this final event, which Morgan and I stumbled upon through a Google search for Patagonia running. We were still on a high from having run the Buenos Aires marathon on October 11 and hoped to find a trail running event during our family's month-long stay around Bariloche, in the Lake District of western Argentina.
We settled into Villa La Angostura, which sits on the shores of Lago Nahuel Huapi, a vast lake in the middle of the country's oldest national park and about 26 miles from the border with Chile (so we could have run a marathon to another country!). Six smaller lakes also color the map blue around Villa La Angostura. The water and its wind-driven breakers come into view around every corner. Several forested islands emerge from the lake, and on every shore a mountain peak juts ups with jagged, nearly black rocky ridges that cut through swaths of white snow. It looks as though the most dramatic peaks of the Rockies were lifted out of their range and transplanted to the surface of a bay.
Salomon's event in Villa La Angostura actually features two races, a 42K and 15K, with about 1200 runners doing the long course and 800 the 15K. The 42K (26 miles) has a total elevation gain of about 10,000 feet as it traverses the mountains behind Villa La Angostura and climbs a peak called Cerro Bayo, site of a small ski resort. It also crosses a river with glacial water at Mile 8, which in past years has been knee high.
Fresh snow fell five days before the race but mostly melted and left the mountains fairly muddy for race day. This being Argentina, where people dine at 10 p.m. and go to bed past midnight, we weren't surprised that the race had a relatively late start of 10 a.m. Morgan and I donned our sky-blue race shirts (everyone is required to race in the same matching shirt) and took at taxi to the start at Lago Espejo, or Mirror Lake, on the outskirts of town.
(At this point, everyone always asks, "What did you do with your kids?" We left them in the care of the owners and teenage daughter of the lodge we rented. We felt very good and trusting toward that family, and the kids felt safe and happy there. They ended up having a great day.)
The first 100 seeded runners assembled in a corral up front, followed by the 42K runners and then those doing the 15K. Since it's not a chip-timed race, some pushing and rushing ensued to get toward the front right before the start, and Morgan and I found ourselves smashed somewhere in the middle.
It was stop-and-go, push-and-trip, wait-and-walk for the first couple of uphill miles, as runners funneled into a trail that could fit only two abreast. By the time the trail widened to a dirt road and evened out, I was ready to run. When we hit the first big pocket of cheering spectators at an intersection, I was so jazzed and happy that I called out, "Gracias! Soy de los Estados Unidos!" The spectators pumped up the volume upon hearing that, and from then on I felt quite proud to be an American and grateful that every time I mentioned los Estados Unidos I got a positive reaction.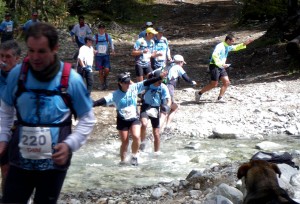 ¡Ojalá! That's Spanish for "if only" or "God willing." If only my wet shoes and socks had cooperated. Or if only I had taken the tree bridge and stayed dry. I soon discovered, on a steep uphill after the arroyo, a problem never encountered: my wet ankle-high socks began to slip under my heel and bunch up on the uphill climbs. If only I had worn taller socks. As I ran and hiked up a steep slope, the fabric formed a hard ball under my arch. The back of my heel, meanwhile, give warning signs of a blister as it rubbed against the shoe.
I had no choice but to pull over, sit down, take off my shoes and pull up my socks. The procedure only took a minute, but five or six people I had worked hard to pass on the single-track sped by as I messed around with my shoes, so I was stuck in the back of their conga line again. You might guess what happened a half mile later: same thing. Those socks kept slipping, and I kept stopping. After the fourth time, I discarded the socks for good and felt my bare feet squish around the shoes' dampness. I was around Mile 12 at this point, convinced I had set myself up for blisters on both feet. Running poorly and feeling overly sorry for myself, my energy and spirits tanked.
I neared the halfway point and settled on my plan to drop out and return to our cabaña to reunite with the kids. Two things kept me on the course: (1) not experiencing significant pain, which would have been a legitimate excuse; and (2) realizing that the pleasure gained from ending a lackluster run would be short lived, while the inevitable disappointment with myself for quitting would last forever.
The second half of the course proved more challenging than the first, not because of my feet (which thankfully turned out to be okay barefoot in my shoes) but because the terrain grows increasingly steep, muddy and technical.
Morgan and I definitely underestimated the severity of the course. My hopes for breaking four hours quickly faded after I hit the halfway point around 2:10 and saw the muddy miles-long ladder we had to climb. But I kept power hiking and clawing my way up. Around this point I heard a back-handed compliment from a guy: "Corres bien para mujeres" (you run well for women).
I ran up a dirt road to the base of a ski lift and finally reached the course summit. Whoo-hoo! I was ready to fly down the next eight miles to the finish. But what happened next seemed like a scheme Wile E. Coyote would cook up to catch the Road Runner: Spread several tons of gravel and quicksand in the roadway to stop the unsuspecting Road Runner in his tracks.
I was utterly surprised and dismayed when I followed the trail off a ridge, down a slope—and promptly sank past my ankles. I looked down at the bare ski slope we had to run down and realized the footing was loose-packed pebbly dirt. It filled every air pocket in my shoes, and when I pulled my foot free and took a step forward, dozens of tiny pebbles poked my soles. Ouch! I tried to run and couldn't take the discomfort and weight of carrying so much dirt in my shoes, so I took them off yet again, emptied them out, and resumed running. A few yards later I found myself in the same predicament. I took off my shoes again and tried to run barefoot down part of the slope. But the stones were too sharp, so I resumed the on-again, off-again pattern of filling and emptying my shoes. Meanwhile, three women I had passed on the uphill zoomed past me (they were smart enough to wear gators and/or better at toughing it out). I lost count of how many times I sat and messed around with my shoes during this race.
The footing returned to normal shortly before Mile 20, and the final 10K was mostly uneventful—just steady running through a dense, winding forest on a trail that reminded me of the French Trail in Oakland's Redwood Park. I thought about the highs and lows of the first 20 miles and committed myself to the goal of running steady and staying positive, which I did, and the final miles just kept getting better. To be able to say that about a marathon is a gift indeed!
The race runs its final mile through Villa La Angostura's main street, and it seemed as though the entire town turned out to cheer on the finishers, with every sidewalk full of spectators. I ran solo the whole three-block stretch of the city center, and the cheering motivated me to sprint all out and feel ecstatic when I saw the finish.
I crossed the line 4:35:12, or 122nd overall, which I felt pretty good about, all things considered. The amazing men's winner finished about an hour and a half ahead, in 3:07! I felt even better when I learned I had finished as the tenth woman (the winning woman was from Brazil, in the 35 – 39 age category, with a time of 4:11). And then, as I was waiting for Morgan to finish, I heard my name announced repeatedly (Sah-rah Smeeeth!) because I was being beckoned to the podium to take the first-place trophy for the 40-44 age group. ¡Qué sorpresa!
Morgan crossed the finish with a big smile on his face (read his race report), and we both agreed this was one of the best destination marathons ever, reminding us of why we love to run trails and motivating us to travel to an extraordinary corner of the world.