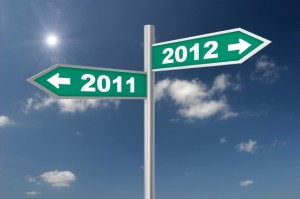 Last December, I went public with my 2011 new year's resolutions. Most of us set goals around January 1 and forget about them by February. For the first time, I tried to remember and make progress on my goals all year long.
I didn't exactly accomplish them, but I didn't forget them, either. Here's how I measured up–and my resolutions for 2012.
2011 Goal Scorecard
Goal: Run at least as much as in 2010. Result: Not quite—but close.
In 2010 I ran more than ever: 2070 miles. That was a big stretch for me, since previous annual totals ranged from about 1000 to 1500. I wanted to reach 2100 for 2010. Then I took about 5 weeks off in August due to a calf injury. Mileage total as of today: 1976. I'm running a 50K on Saturday, December 31, so I'll roll past 2000 by the new year.
Goal: Try fastpacking and/or a staged race for a multi-day running experience. Result: Nope, not yet.
My travel and work schedule simply didn't open up time for Morgan and me to do this. At least I had a fastpacking-like adventurous experience for 12 hours while pacing the final 30 miles of the Hardrock 100.
Goal: Keep doing strength training at least twice per week, and work lower-body exercises into my routine. Result: Yes!
I've been a very good girl in this regard. I recognize it's key to injury prevention and improves my running.
Goal: Eat at least one meal a day mindfully, and do not eat at the keyboard. Result: Sort of, sometimes. I try, I really do.
Oops, I just spilled some drops of milk from my cereal bowl onto my laptop.

Achieving moderation in eating and drinking, and eating mindfully in accordance with my body's hunger and fullness cues, is an ongoing challenge because I'm prone to be a multitasking, plate-picking, have-another eater and drinker. I got hooked on the cause of mindful eating back in 2008, when I wrote a story for Oakland Magazine called "Every Bite You Take: How Mindful Eating Can Help You Lose Weight and Make Peace With Food." I periodically re-read the article because I find the experts' advice so helpful—but so easier said than done.
It's an ongoing, non-quantifiable goal that I will embrace again in 2012.
Goal: Plan a trip abroad for 2012. Result: Some quality travel planned, but not abroad.
After our ten-month journey in 2009-10, I vowed to keep nurturing our family's far-flung travel dreams and our simpler, less materialistic travel lifestyle. I'm not talking about week-long vacations to resorts; I mean authentic travel to live in and learn from a different place.
To that end, I started this blog and made it about travel, not just running, and I stepped up to organize and host the 2011 Meet, Plan, Go! event for San Francisco. As detailed in "5 Steps to Get Out of a Rut and Plan a Dream Trip," I tried to keep an eye on a bucket list and keep planning travel even when the reality of our professional and financial situation made a big trip seem highly improbable.
Morgan and I managed to plan a couple of special things for 2012: a New York trip for Spring Break, and an Alaska adventure for summer. We also hope to get back to Colorado in early July for a river trip, and to pace or crew again at Hardrock.
But the reality is that we're starting a new business, and we have two kids who are at an age that makes it very difficult to pull them out of school. Which brings me to 2012 …
2012 Resolutions, in order of priority:
1. Be the best parent I can be.
2. Be the best co-worker to my husband for his new business that I can be.
3. Be the best runner I can be.
I can't forget that #1 and #2 have to come before #3. My kids are at a crucial stage developmentally. My 8th-grade daughter, 13, is applying to private boarding schools for high school and has a great deal on her plate. (She truly wants to go away to boarding school for numerous reasons—a sign of her independence and a legacy of our long-term travel.) The prospect of her leaving home in the fall makes me cherish this time with her. My 5th-grade son, 10, is hitting puberty and spinning off in all sorts of directions, facing choices daily that shape his character. I feel strongly that what happens to them now—in particular, the influences and role modeling that Morgan and I provide—will shape them for life, even more so now than when they were little kids.
As for #2—work—this is a make-or-break time for Morgan's new firm, Cogent Legal. Last March, I took on the role of handling his marketing and communications, and helping with business development. Our long-term hopes and dreams depend on financial security and a flexible work arrangement, which is what we hope to achieve through this business. We'll get there—and it's an exciting ride, since the firm is taking off—but now we're in the start-up phase that demands as much as we can give.
So, you might think from reading this blog that my chief concerns and true passions are running and travel. And I do care about them deeply. But running, travel, blogging and myriad other hobbies—such as studying Spanish, fixing up our house, reading, freelance writing—come after those top two priorities.
What keeps running near the top, however—above travel and everything else—is my belief that "your health is your wealth." Running is essential to my physical and mental health.
With that in mind, I have three main running goals for 2012:
1. Run more miles than in 2011.
2. Train for and finish the races on my 2012 race calendar, and do so in a way that's more process-focused than outcome-focused.
3. Keep doing the strength training/physical therapy, and taking the recovery days, that prevent injury.
Enough about me. What are your resolutions for 2012? Please share in the comments below!