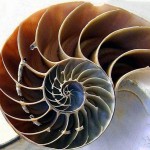 I went to a high school that begins each year by reading Oliver Wendell Holmes' poem The Chambered Nautilus, which is rich with imagery of growth and development. It's about making fresh starts, working diligently, and building and achieving something greater each year. Tradition combined with optimism dictate that the Head of School says after reading the poem, "Let's make this the best year yet."
I've been thinking of that poem and phrase as I plan the next year's calendar of races and travel. I'm going on 43 and starting my 18th year of running. Why not make it the best year yet? Why not explore new territory and go farther than ever before?
I'm feeling pretty pumped since the North Face 50 two weeks ago (race report) and receiving the news I got into the Miwok 100K. The growing demand to gain admittance to trail races (which are limited by permitted spots available), plus our family's complicated schedule, prompts me to plan a calendar now of races and travel, which in turn fuels optimism and motivation.
I decided to share my 2012 race calendar below. What's on your calendar for '12?
January
Jan. 8 Epiphany Run: This fat-ass-style ultra (see 2011 report) is a training run, pure and simple. My legs will be tired from the Dec. 31 Rodeo Beach 50K. I'll roll out of bed and see how far I can go.
February
Nothing but long runs and speed training, alternating between flatter road running in prep for Oakland Marathon and hilly trail runs.
March
Mar. 25 Oakland Marathon. Last year I ran it as a training run for American River 50M (race report). This year, I want to push it and run a faster time, which means goal-specific training and pacing. This isn't a PR course, given the hills and turns, but I'd like to get in under 3:15.
April
No races planned. We are spending Spring Break in NYC (hello, Central Park!).  I'll peak in long runs and then taper for Miwok.
(Photo above courtesy of Gretchen Brugman of Daily Adventures, a talented ultrarunner and blogger who will be at Miwok again.)
May
May 5 Miwok 100k (62 miles). This will be the longest I've ever run. The course crisscrosses the Marin Headlands and attracts a very competitive field. I can't wait!
Following Miwok, if my legs aren't too trashed, I'd like to do the Tilden Tough 10 on May 20, the first event in the East Bay Triple Crown Series (see below in June).
June
I'll try to hold onto my 2011 crown in the East Bay Triple Crown Trail Challenge, following the Tilden Tough Ten:
June 3 Lake Chabot Half Marathon
June 17 Woodminster 9M XC
I was stoked to pace or crew for Western States on the third weekend in June, but it turns out I'll be in Jackson, Wyoming, during that time—a nice alternative!
July
I'm actively lobbying Morgan and the kids to get to Telluride, Colorado, on or around July 1 so we can do another amazing river trip with my brother and sister-in-law, celebrate 4th of July in Telluride, and then be there July 13-15 to pace and/or crew friends who are doing Hardrock. Given how incredible pacing Hardrock in 2011 was, I would love to repeat the experience, with family in tow.
Later in July, I'm heading to four days of Geoff Roes' Alaska Trail Running Camp. Then Morgan and the kids fly up to meet me for an Austin Lehman Family Tour of the Kenai Peninsula. Pinch me!
August
Aug. 12: I'm hungry for a 50K PR. I'll bust my butt to go sub-4:45 at the Skyline 50K.
September
Nothing serious. Adjusting to school, focusing on work. I may do Coastal Trail Runs' Diablo Marathon or 50K on Sept. 15 as a training run.
October
Not sure. The Dick Collins Firetrails 50 or companion Golden Hills Marathon, second weekend in the month, are always tempting. But I'll probably skip it and just train if we do the November event below.
November
Nov. 10: The Catalina Eco Marathon is on my radar. Morgan and I ran the Catalina Marathon back in 2006, but this is a different course that eliminates the gut-wrenching early-morning boat ride to the start. If we can get the time off and if Morgan wants to go, I'd like to do it.
December

The North Face Endurance Challenge 50M in the first weekend of December—seeking to improve my time and overall experience there significantly.
I can't wait for the new year! I encourage you to share your race and travel plans in the comments below.