A few weeks back, I got a nice, thoughtful comment on my blog post from a marketing person. Since I receive so much spam through this blog related to marketing for SEO and content farms, I genuinely appreciated her comment because I could tell she was a real person who actually read and thought about my piece, and she contacted me to share her reaction to it—not to sell me something. She didn't even mention her business or products.
Now that I'm immersed in marketing for my husband's new firm, I see that many of us (yes, I'm guilty too) endlessly broadcast our own PR and retweet after barely glancing at the 140 characters, not bothering to click through and read whatever is attached to the tweet. The twitterverse and blogosphere become a deafening echo chamber where shout-outs count for conversation and skimming substitutes for reading. Yeah, I'm getting a little jaded about the whole thing.
So I clicked through to the URL attached to this person's comment and discovered a cool little start-up company based in my favorite New England town: Burlington, Vermont.  The company is Urban Adventurer. Two longtime friends from the Green Mountains traveled far and decided to sell travel and adventure products—especially nifty, tough bags—for the "urban adventurer," whom they define as someone with "a balance between the city and the country, an outdoor explorer with indoor ambition, a curiosity without restlessness, an all-around happy person." Hey, I can relate!
I browsed their catalog and actually liked their travel products, even though the site is mainly geared toward guys. A lot of the bags and travel accessories are unisex. I especially like their products from  Timbuk2. As the photo below proves, I love Timbuk2 carry-on bags and day packs.
I decided I'd like to help promote this company, and if I'm going to have any advertising on this site, I'd like to support a local independent business instead of only feeding Google.
Just so you know, I make virtually no money off this blog. Amazon sent me a $30 gift certificate once for affiliate fees, which I spent on a Pokemon game for my son (and then Amazon canceled its affiliate program, so I can't link to them anymore). Google hasn't sent me any money yet because I haven't crossed the $100 threshold for them to cut a check. Maybe the Google ads don't work so well because Google's intelligence sees this site for "runners" and figures it has something to do with carpet "runners," so half the time the ads that show up here are hawking flooring products. I've made $52 and change from Google ads—which was wiped out by a parking ticket this week. (I'm laughing as I type this—I truly find it funny. I know I'm largely to blame for the low revenue because I don't promote and update this site more. Someday maybe I'll try harder to "monetize" it, but for now it is what it is.)
But now, I have a real ad on this site that I feel good about! It's right there in the right-hand column and also at the end of this post. Click on it to check out Urban Adventurer, and if you decide to buy something, you can get 10% off. Morgan is gonna shop for a murse and wallet from there. I might get a new runner-friendly small pack so I can literally run errands. Here's the coupon: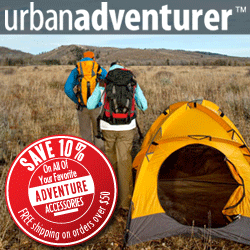 I'm glad to help get the word out about this company, since I admire the kind of lifestyle and travel it promotes. And if you buy something, I'll get a small commission. Maybe enough to cover that parking ticket.