When our family traveled in March 2010 to Hong Kong, a friend from high school said I should get in touch with a family from Oakland living and working there. I'd like her friend Stephanie, my friend assured me, because she's a mom of two, has run marathons and is into Dragon Boat racing. OK, I thought, she sounds great. But what about her husband, Joe? All I recall my friend saying was, "He runs these crazy races across deserts." I thought to myself, I definitely want to meet these people! So I did, and ended up having a lovely visit with them.
Joe Osha and his family are back in Oakland now, and Joe completed a run across the Gobi desert in late June, which he writes about below. The race was part of the 4Deserts series by the outfit RacingThePlanet (RTP).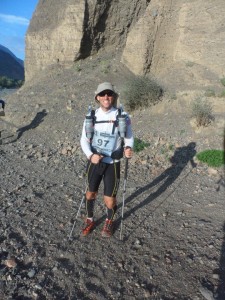 The website boasts of it as "the world's leading rough-country endurance footrace series that take place over 7 days and 250 kilometers in the largest and most forbidding deserts on the planet. Competitors are challenged to go beyond the limits of their physical and mental endurance. Racing self-supported in the most inhospitable climates and formidable landscapes, they must carry all their own equipment and food and are only provided with drinking water and a place in a tent each night to rest."
Joe, an avid cyclist and runner, got into long-distance trail running during his four years in Hong Kong. (This fact surprises me, since I found HK to be the most inhospitable place to run, but he swears there are great trails there.) "Post Gobi and post Hong Kong, I'm in the process of identifying the next challenge. I think it'll either be a 50-miler or an Ironman," he says. "I'm 45 but do my best to feel younger."
Here's his story, and for more photos and Joe's blog he kept during the race, see the Gobi March site.
Joe Osha's Gobi March
It's hot.
That thought, and that thought alone, has been cycling through my head for the last two hours as I feel my core temperature edge upwards. The iPod, the beautiful scenery, the challenge of the trip, the fact that I'm within striking difference of the finish—all of that has vanished, melted, dissipated in the unrelenting heat.
I make it to the next checkpoint, somehow maintaining a reasonably fast walk (running is out of the question at this point), get into the shade and immediately start pouring water over my head. So much for my plan that called for blowing through the checkpoints. It's close to 110 degrees, hotter on dark surfaces like the blacktop stretch I just crossed, and if I can't cool down I am going to pass out. My buddy Adam, who is holding up better than I am, gamely waits for a few minutes and then takes off. Time to pull myself together.
The Question—the one question every competitor knows not to think about—is creeping into my head. Why am I doing this? I'm suffering. This is idiotic. I should quit.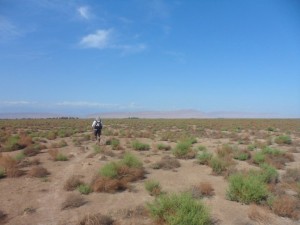 We're about halfway through the dreaded Long Day, an 80K (50 mile) leg of the 2011 Gobi March. Held in and around the Turpan Basin in the Gobi Desert, just outside of Urumqi in western China, the Gobi March is a week-long 250K (155 mile) foot race organized by Racing the Planet. Headquartered in Hong Kong, RTP also runs once-yearly 250K events in the Atacama Desert, the Sahara Desert and Antarctica, and one-off events in other locations including Namibia, Australia and Vietnam. Competitors carry their own food and supplies for the seven-day trip, with the exception of water and tents, which the organizers supply. During the last four years I've completed two races in the Gobi, one in Australia and one in Namibia.
Going 250K over seven days—in reality it's six days, with a quick sprint to the finish on Day 7—is challenging in ways that shorter distances aren't, although it's easier in other ways. Planning and preparation are all-important. An issue with food or feet may be an annoyance on Day 2, but can end your race by Day 5. Everything needs to be tried in advance, from food to backpack to shoes to electrolytes.
Funny things turn up. I discovered that I can't take Gatorade for more than a day (it makes me throw up), but I also discovered that my preferred breakfast is either spaghetti bolognese or chicken with rice (gross, but effective). Gu, Powerbars, Nuuns and Saltstick caps work for me. Perpetuem and Endurolytes don't, although other racers swear by them. Go figure.
Conditioning is important, but I've found that the cardio element is less important than muscle tone and core strength. Backpacks only weigh 22 to 25 pounds at the start, but moving quickly with the extra weight puts stress on your lower back and legs. With the exception of the elite racers, competitors aren't moving quickly. I finished 42nd out of 116 finishers, with another 31 DNF'ing, so I was in the middle of the pack, but my time on course of 45 hours works out to 5.5K per hour (about 3.4 mph). There's rough terrain in there, as well as cool-down intervals in hot weather, but even so I'm not averaging more than 7K or 8K, or 4 to 5 miles, an hour on open terrain. That's slow, but difficult to maintain over six days.
Getting enough calories down to avoid falling too far behind is a challenge. There's no way to consume enough to actually keep up—I'm probably burning 6,000 calories a day during a race—but it's important to eat as much as practical. I'm a pig by RTP standards, eating 2,800 calories a day, but other racers get along on as little as 2,000. I hate being hungry, and had problems with bonking in the 2010 Australia race, so my strategy this year was to put down as much food as possible. It worked, to the fascinated disgust of some of my tent mates who were forced to watch me eat.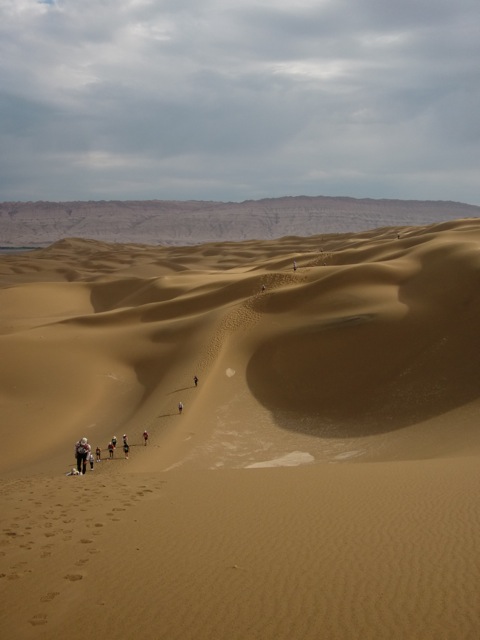 Long Day misery notwithstanding, RTP races are a lot of fun. Deserts are beautiful places, with far more color and variety than one might imagine. The Gobi 2011 course took us through high country, river canyons, sand dunes and open desert. It is remarkable terrain, the more so because we pass through places that few people ever see. Part of the course that we ran in Namibia was turned into a national trail after the race. In the Gobi, we passed through Uyghur villages that have rarely seen foreigners, let alone Western endurance runners. These are places that the modern world has not changed yet.
Running dunes, as we did this year, is cool. Open desert sand is beautiful, elemental and weird. The wind uncovers long, curved rims of dried mud flats that look like the spines of gigantic skeletons. When the wind lets up, there's utter silence—no birds, no movement, nothing. Plodding up dunes is hard, but running down is fun, like surfing or skiing. Neglecting to bring gators this year left me running the dune stage in sock feet. I felt like I was at the beach, only without the water.
With four races behind me, I can say that each event has been memorable and worthwhile. Would I do it again? Absolutely. I've met fascinating, wonderful people and formed lasting friendships. Besides, how often do you get the chance to run across the Namibian desert at 3 a.m. with a full moon in the sky and no one else around?
You don't forget those moments.