Catalonia on Dwellable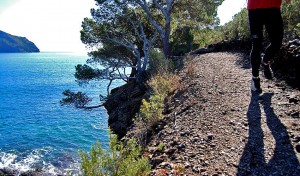 Costa Brava, the coastal region on the northeast tip of Spain, is one of my very favorite European destinations. Cobblestone paths and trails connect medieval villages that hug the rugged coastline. If you want to run from town to town, you can refuel along the way at cosmopolitan cafes next to castle turrets or fishing piers. Head inland, and you'll hit the Pyrenees, the mountain range sandwiched between Spain and France.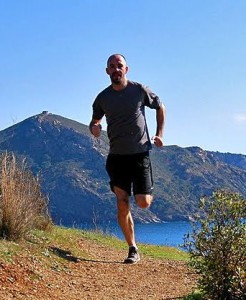 Want to run the region? That's a silly question—of course! The harder question is, how? It's logistically complicated—unless you hook up with someone who knows what he's doing. Someone like Ed Martinell, the guy behind a great site called TrailrunningSoul.com. He launched a trail running tour company last year to guide runners through amazing routes around the Costa Brava and Pyrenees.
I asked Ed to share the following information about his company, Traiectus, which means "crossing" in Latin. Ed is from Figueres, Spain, and has run races from 10K to 60K in several countries. His tours sound phenomenal. If you're fortunate enough to go on one, I also recommend spending time in the enchanting Costa Brava town of Begur (see our family travel post for photos and advice on where to stay).
Traiectus is the name of a project I started last year which, in a nutshell, is about offering trail running tours in the Pyrenees and the Costa Brava, two beautiful spots in the Northeastern corner of Spain.
As a sports and outdoors lover, I found out about trail running around four years ago. It completely hooked me, and I started to run less and less on pavement and more on the trails around Chicago, where I lived at that moment. When the time came to move back to Spain, I decided that I wanted to become an entrepreneur while doing what I enjoyed the most: running trails. Knowing there are extremely beautiful spots in the Pyrenees, I thought there had to be a way to make life easier for trail runners around the world who want to spend their vacations practicing their favorite sport in such a special environment. Few other companies worldwide offer specialized trail running tours—and none in Spain—so I decided that this would make the perfect project: one by trail runners and for trail runners.
So Traiectus was born to offer supported trail running tours. This means we take care of everything so you can simply enjoy your runs. When you book a tour, we make the reservations at each of the accommodations, we prepare our daily picnic "on the go," and we carry all your stuff to the next lodge while you run.
The tours can be either guided by one of our local experts, or self-guided for those craving more freedom. If you choose a guided tour, an expert mountain guide will lead the group (between 5 and 12 runners) so you don't have to worry about orienteering. If you decide to do a self-guided one, you will have a road book to guide you through the mountains. In both cases, you will have Traiectus' support at all times.
There are currently three different types of trail running tours available: coastal, medium altitude, and high altitude:
Coastal tours: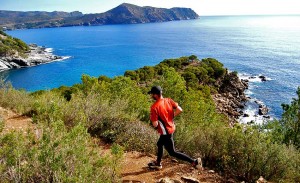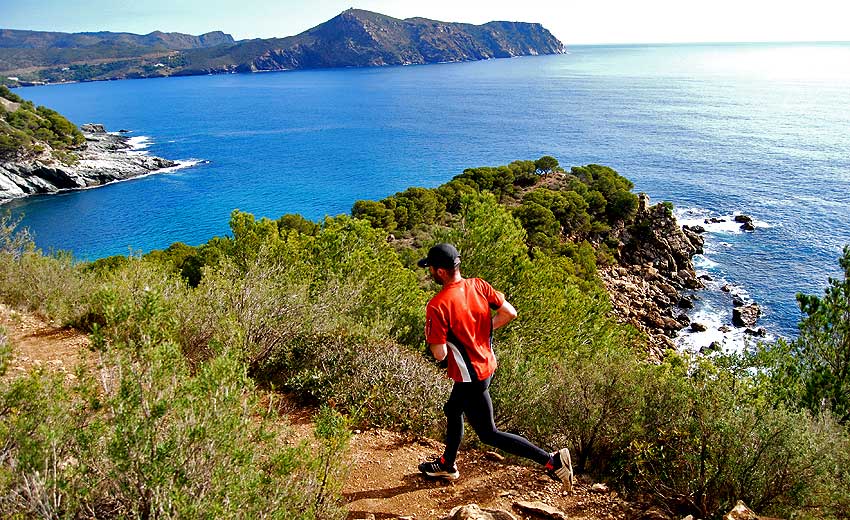 Trail Brava: a 3-day tour through the coastal trails of the renowned Costa Brava. You will visit beautiful coastal villages, stay in cozy hotels, and run on a great variety of trails (dirt roads, technical singletrack, beaches, etc). A combination of tourism, outdoor sports, and trail running perfect for an off-season trip (read: when the weather keeps you from running where you live).
Trail Brava 5: extending the above tour another two days, for those able to spend a week in this beautiful location. The first day will take you through beaches and a natural park, and on the last one you will run the last miles of the Pyrenees (where it meets the Mediterranean) right on the border with France.
Medium-altitude tour:
Trail Rocabruna: a 4-day option ideal for those wanting to get a taste of the Pyrenees. Ranging from 2300ft to 6500ft, this is a 55-mile tour that will take you through tiny mountain villages. Singletrack and dirt roads, mountain lodges and hotels, and the opportunity of running in a highly rich cultural environment. If you'd like to trail run through old churches and other interesting cultural sites in a single holiday trip, this is what you're looking for.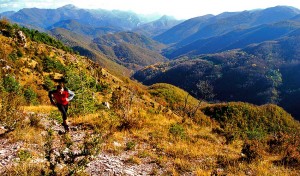 High-altitude tours:
Trail Malniu: 3 days right in the heart of the Pyrenees. This is a 45-mile high-altitude route through some of the highest peaks of the Eastern Pyrenees (up to 9000 feet). You'll stay in huts and live for three days the spirit of these mountains—and maybe even come across Kilian Jornet in one of his training runs ;-).
Trail Malniu 5: a longer version that shares the first 3 days with the Trail Malniu tour and then goes for 2 more days into Andorra, the country of the Pyrenees. This is a demanding tour with around 70 miles total, crossing beautiful spots in between two countries.
The tours can also be customized to the needs of each group: We can go out on any given dates, make the routes longer/shorter, easier/harder, and even combine tours. With the help of local professional guides (experienced trail runners), each tour gives the possibility of discovering Spain and its wild nature in a way not available until now.
If you ever thought of doing a trail running vacation, you should visit Spain! Head over to the website for details or find us on our Facebook page.