The May 2011 issue of Trail Runner magazine features my article profiling the glorious Eastern Sierra region, where I love to visit and run two or three times each year. Here's the unabridged version of one of the article's sidebars, "An Olympic Marathoner's Mammoth Trail Run." It's about Deena Kastor and her favorite trail near the town of Mammoth Lakes, California.
(Coming up and highly recommended: a chance to run the Eastern Sierra at the Bishop High Sierra Ultramarathon 100K/50M/50K/20M on May 17, 2014, now directed by Inside Trail.)
Deena holds the American record in the women's marathon (2006 Flora London Marathon in 2:19:36) and twice represented the U.S. in the Olympic marathon. She won the bronze at the 2004 Athens games and dropped out of the 2008 Beijing race after suffering a broken bone in her foot nearing the 5K mark. In February, she and her husband welcomed their daughter into the world, and Deena wrote on her blog that "delivering a baby is the hardest thing I have ever done"!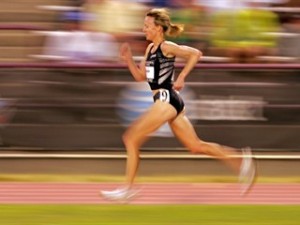 Since she lives in Mammoth Lakes, I asked her to describe how she works trail running into her training and also to share a favorite trail run in the area. (For directions to the Agnew Meadows/Thousand Island Lake route she writes about and other trails in the region, check out this Sage to Summit page.) What follows is by her.
Deena's peak training and favorite trail:
I add trail running to my training in a variety of ways. During marathon season all of my hard workouts are done on roads, so I do recovery runs on trails for the cushioning of my joints and foot strike. During cross country season, I run mostly on trails and grass to increase foot and ankle stability. During track season I take a break from running in circles and hit the trails to increase my agility over the rough terrain.
Trail running always has its place in a runner's training week, but for me the benefits are greatest for my mind. There is nothing better than connecting with nature and getting back to the simple joy of putting one foot in front of the other.
I run up to 140 miles a week, run twice a day, lift six days a week, take ice baths after runs, get five massages a week, nap every day, and meet with my coach one-on-one to review my progress and training schedule. Whether I'm training for cross country, track or road racing season, there is nothing as refreshing as leaving my regimented schedule behind and hitting the trails to explore the Eastern Sierra. I call them "rejuvenation runs," when I forget about time and distance and set my sights on exploring new territory.
This summer I got a chance to run to Thousand Island Lake with some friends. The distance is approximately 18 miles of the most stunning views of the Ansel Adams Wilderness Area. In early morning we started out of Agnew Meadows and took the Pacific Crest Trail. It was early August and the late snow melt gave us quite a treat as we ran past wild lupine, phlox, columbine, Indian paint brush and yarrow. The many streams and waterfalls that crossed our path fed the wildflowers that colored our views and perfumed the air as we brushed past them.
Just before Thousand Island Lake, the Minaret, Ritter and Banner Range came into view.  It was such a striking scene to round a blind corner and have these 13,000-foot peaks reaching up into the summer sky. Thousand Island Lake sits at the base of this range just below 10,000 feet.
We took a different trail back so we could enjoy more scenery. We came back on the San Joaquin River Trail after passing half a dozen lakes like Garnet, Ruby, Emerald and Shadow, and we soaked our legs in Shadow Lake before completing the last few miles. Once we were on the River Trail and in familiar territory, a couple of us got energized and picked up the pace. I'm not sure why we ran so hard back to the car, but it was surely exhilarating to speed around corners, hop over rocks, bound up steady hills and quickly chop steps over tree roots. When we arrived at the cars, we passed along high-fives and immediately put our hands on our knees in order to catch our breath.
The run was social yet so individually rewarding. Runs like these are spirit lifting and fill every corner of my body with gratitude. I need these exploration runs to rejuvenate from a busy training schedule and get back in touch with the purest joys of running.  It works every time.